Microprocessor communications have received a boost from the integration of electronics and photonics in silicon — a first step towards low power consumption and efficient computing systems. See Letter p.534
Access options
Subscribe to Journal
Get full journal access for 1 year
$199.00
only $3.90 per issue
All prices are NET prices.
VAT will be added later in the checkout.
Tax calculation will be finalised during checkout.
Rent or Buy article
Get time limited or full article access on ReadCube.
from$8.99
All prices are NET prices.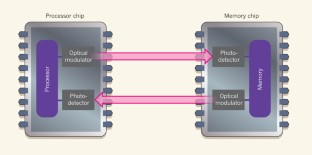 References
1

Miller, D. A. B. Proc. IEEE 97, 1166–1185 (2009).

2

Handbook of Silicon Photonics (eds Vivien, L. & Pavesi, L.) (CRC Press, 2013).

3

Sun, C. et al. Nature 528, 534–538 (2015).

4

Fedeli, J-M. et al. IEEE J. Sel. Topics Quantum Electron. 20, 8201909 (2014).

5

Baehr-Jones, T. et al. Nature Photon. 6, 206–208 (2012).

6

Narasimha, A. et al. In Optical Fiber Commun. Natl Fiber Optic Eng. Conf. http://dx.doi.org/10.1109/OFC.2008.4528356 (2008).
About this article
Cite this article
Vivien, L. Silicon chips lighten up. Nature 528, 483–484 (2015). https://doi.org/10.1038/528483a
Further reading
Elham M. T. Fadaly

,

Alain Dijkstra

,

Jens Renè Suckert

,

Dorian Ziss

,

Marvin A. J. van Tilburg

,

Chenyang Mao

,

Yizhen Ren

,

Victor T. van Lange

,

Ksenia Korzun

,

Sebastian Kölling

,

Marcel A. Verheijen

,

David Busse

,

Claudia Rödl

,

Jürgen Furthmüller

,

Friedhelm Bechstedt

,

Julian Stangl

,

Jonathan J. Finley

,

Silvana Botti

,

Jos E. M. Haverkort

&

Erik P. A. M. Bakkers

Nature (2020)

Denis Rainko

,

Zoran Ikonic

,

Nenad Vukmirović

,

Daniela Stange

,

Nils von den Driesch

,

Detlev Grützmacher

&

Dan Buca

Scientific Reports (2018)