Data from the Galapagos Islands exemplify how geology and climate can interact to cause episodes of isolation and fusion of the biota across a landscape. Different scales of such cycles dictate varying mechanisms of species generation.
This is a preview of subscription content
Access options
Subscribe to Journal
Get full journal access for 1 year
$199.00
only $3.90 per issue
All prices are NET prices.
VAT will be added later in the checkout.
Tax calculation will be finalised during checkout.
Buy article
Get time limited or full article access on ReadCube.
$32.00
All prices are NET prices.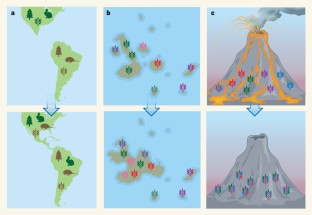 References
Ali, J. R. & Aitchison, J. C. J. Biogeogr. http://dx.doi.org/10.1111/jbi.12313 (2014).

Quek, S.-P., Davies, S. J., Ashton, P. S., Itino, T. & Pierce, N. E. Mol. Ecol. 16, 2045–2062 (2007).

Haffer, J. Biodivers. Conserv. 6, 451–476 (1997).

Bowen, B. W., Rocha, L. A., Toonen, R. J., Karl, S. A. & the ToBo Laboratory Trends Ecol. Evol. 28, 359–366 (2013).

Loh, Y.-H. E. et al. Mol. Biol. Evol. 30, 906–917 (2013).

Carson, H. L., Lockwood, J. P. & Craddock, E. M. Proc. Natl Acad. Sci. USA 87, 7055–7057 (1990).

Rius, M. & Darling, J. A. Trends Ecol. Evol. 29, 233–242 (2014).

Feder, J. L., Flaxman, S. M., Egan, S. P., Comeault, A. A. & Nosil, P. Annu. Rev. Ecol. Syst. 44, 73–97 (2013).
About this article
Cite this article
Gillespie, R., Roderick, G. Geology and climate drive diversification. Nature 509, 297–298 (2014). https://doi.org/10.1038/509297a
Published:

Issue Date:

DOI: https://doi.org/10.1038/509297a