Reversible oxidation of amino-acid residues can directly regulate the activity of cellular enzymes. This principle has now been extended to deubiquitinating enzymes, with implications for cell signalling and protein turnover.
Access options
Subscribe to Journal
Get full journal access for 1 year
$199.00
only $3.90 per issue
All prices are NET prices.
VAT will be added later in the checkout.
Tax calculation will be finalised during checkout.
Rent or Buy article
Get time limited or full article access on ReadCube.
from$8.99
All prices are NET prices.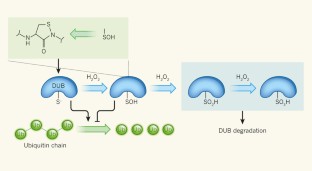 References
1

Paulsen, C. E. & Carroll, K. S. ACS Chem. Biol. 5, 47–62 (2010).

2

Kulathu, Y. et al. Nature Commun. 4, 1569 (2013).

3

Lee, J. G., Baek, K., Soetandyo, N. & Ye, Y. Nature Commun. 4, 1568 (2013).

4

Tonks, N. K. Cell 121, 667–670 (2005).

5

Komander, D., Clague, M. J. & Urbe, S. Nature Rev. Mol. Cell Biol. 10, 550–563 (2009).

6

Enesa, K. et al. J. Biol. Chem. 283, 18582–18590 (2008).

7

Cotto-Rios, X. M., Bekes, M., Chapman, J., Ueberheide, B. & Huang, T. T. Cell Rep. 2, 1475–1484 (2012).
About this article
Cite this article
Clague, M. Oxidation controls the DUB step. Nature 497, 49–50 (2013). https://doi.org/10.1038/497049a