Nanoscale imaging reveals that bacterial and fungal enzymes use different mechanisms to deconstruct plant cell walls. The finding may provide clues about how to enhance the efficiency of liquid-biofuel production from biomass.
This is a preview of subscription content
Access options
Subscribe to Journal
Get full journal access for 1 year
$199.00
only $3.90 per issue
All prices are NET prices.
VAT will be added later in the checkout.
Tax calculation will be finalised during checkout.
Rent or Buy article
Get time limited or full article access on ReadCube.
from$8.99
All prices are NET prices.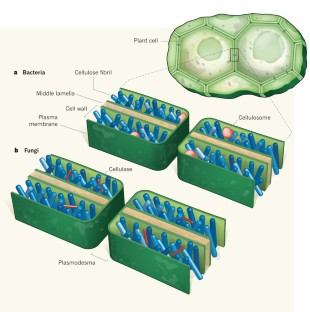 References
1

Himmel, M. E. et al. Science 315, 804–807 (2007).

2

Ding, S.-Y. et al. Science 338, 1055–1060 (2012).

3

Bomble, Y. J. et al. Biol. Chem. 286, 5614–5623 (2011).

4

National Academy of Sciences. www.nap.edu/openbook.php?record_id=13105&page=R1 (2011).

5

Studer, M. H. et al. Proc. Natl Acad. Sci. USA 108, 6300–6305 (2011).

6

Chapple, C., Ladisch, M. & Meilan, R. Nature Biotechnol. 25, 746–748 (2007).

7

Hoffmann, L. et al. Plant Cell 16, 1446–1465 (2004).

8

Yang, J. Bioenergy Res. 2, 257–266 (2009).
About this article
Cite this article
Dixon, R. Break down the walls. Nature 493, 36–37 (2013). https://doi.org/10.1038/493036a
Further reading
Navid Bazghaleh
Chantal Hamel
Takaaki Ishii

Plant and Soil (2016)

Krishan Mohan Rai
Vimal Kumar Balasubramanian
Venugopal Mendu

BMC Plant Biology (2015)

Tobias Keplinger
Johannes Konnerth
Ingo Burgert

Plant Methods (2014)