Researchers have developed a sensitive bioassay that can be read with the naked eye.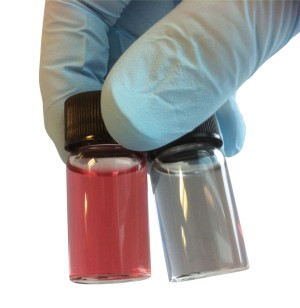 The assay is based on a laboratory technique known as an ELISA (enzyme-linked immunosorbent assay), in which an enzyme generates a coloured compound whenever antibodies recognize a target molecule. However, detecting low levels of this compound requires expensive instruments that few labs in the developing world can afford, so Molly Stevens and Roberto de la Rica of Imperial College London devised an alternative.
In their method, the ELISA enzyme controls the aggregation of nanoparticles, giving rise to a blue colour if a target protein is present and a red colour if it is not. Although the bioassay cannot quantify protein levels, it can detect an HIV protein at concentrations as low as 1 attogram per millilitre.
About this article
Cite this article
Naked-eye ELISA developed. Nature 491, 10–11 (2012) doi:10.1038/491010e
Comments
By submitting a comment you agree to abide by our Terms and Community Guidelines. If you find something abusive or that does not comply with our terms or guidelines please flag it as inappropriate.