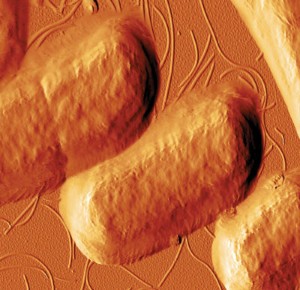 Researchers have captured real-time images of individual bacterial cells being killed by an antimicrobial molecule. Angela Belcher and her colleagues at the Massachusetts Institute of Technology in Cambridge used a vibrating cantilever 1,000 times lighter than the conventional sort used in atomic force microscopy. The cantilever's tip could rapidly 'feel' across the surfaces of Escherichia coli cells without damaging them.
The team took an image every 13 seconds over periods of minutes as an antimicrobial peptide punched tiny holes in the cells' membranes, making their surfaces appear corrugated (pictured above). Different cells succumbed at different times, with the peptide apparently incubating for seconds to minutes before inflicting damage.
About this article
Cite this article
Imaging: A view to a kill. Nature 464, 468 (2010). https://doi.org/10.1038/464468d
Comments
By submitting a comment you agree to abide by our Terms and Community Guidelines. If you find something abusive or that does not comply with our terms or guidelines please flag it as inappropriate.