Carbon-rich stars are known to be prolific producers of molecules. Against expectations, astronomers have identified an old, oxygen-rich star that can also synthesize a chemically varied molecular cocktail.
Access options
Subscribe to Journal
Get full journal access for 1 year
$199.00
only $3.90 per issue
All prices are NET prices.
VAT will be added later in the checkout.
Tax calculation will be finalised during checkout.
Buy article
Get time limited or full article access on ReadCube.
$32.00
All prices are NET prices.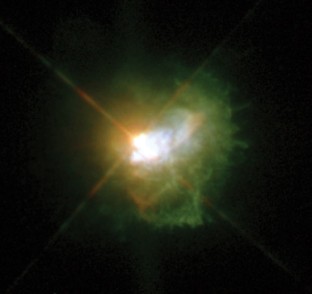 References
Ziurys, L. M., Milam, S. N., Apponi, A. J. & Woolf, N. J. Nature 447, 1094–1097 (2007).

Olofsson, H. in Molecules in Astrophysics: Probes and Processes IAU Symp. 178 (ed. Van Dishoeck, E.) 457–468 (Kluwer, Dordrecht, 1997).

Humphreys, R. M., Helton, L. A. & Jones, T. J. Astron. J. 133, 2716–2729 (2007).

Kwok, S. Nature 430, 985–991 (2004).
About this article
Cite this article
Kwok, S. A new molecular factory. Nature 447, 1063 (2007). https://doi.org/10.1038/4471063a
Published:

Issue Date:

DOI: https://doi.org/10.1038/4471063a