The technique of directed evolution creates thousands of mutant enzymes from a single original. A new approach helps to search for variants that have an increased range of substrates — and can thus be used for organic synthesis.
Access options
Subscribe to Journal
Get full journal access for 1 year
$199.00
only $3.90 per issue
All prices are NET prices.
VAT will be added later in the checkout.
Tax calculation will be finalised during checkout.
Buy article
Get time limited or full article access on ReadCube.
$32.00
All prices are NET prices.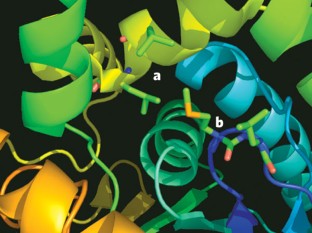 References
Reetz, M. T., Bocola, M., Carballeira, J. D., Zha, D. & Vogel, A. Angew. Chem. Int. Edn 44, 4192–4196 (2005).

Park, S. et al. Chem. Biol. 12, 45–54 (2005).

Hill, C. M., Li, W. -S., Thoden, J. B., Holden, H. M. & Raushel, F. M. J. Am. Chem. Soc. 125, 8990–8991 (2003).

Whittle, E. & Shanklin, J. J. Biol. Chem. 276, 21500–21505 (2001).

Koga, Y., Kato, K., Nakano, H. & Yamane, T. J. Mol. Biol. 331, 585–592 (2003).

Li, Q. -S. et al. Biochim. Biophys. Acta 1545, 114–121 (2001).

Wells, J. A., Vasser, M. & Powers, D. B. Gene 34, 315–323 (1985).

Horsman, G. P. et al. Chem. Eur. J. 9, 1933–1939 (2003).

Morley, K. L. & Kazlauskas, R. J. Trends Biotechnol. 23, 231–237 (2005).

Liebeton, K. et al. Chem. Biol. 7, 709–715 (2000).
About this article
Cite this article
Kazlauskas, R. Enzymes in focus. Nature 436, 1096–1097 (2005). https://doi.org/10.1038/4361096a
Published:

Issue Date:

DOI: https://doi.org/10.1038/4361096a