Abstract
It is thought that inositol-1,4,5-trisphosphate (Ins(1,4,5)P3)-Ca2+ signalling has a function in dorsoventral axis formation in Xenopus embryos1,2,3; however, the immediate target of free Ca2+ is unclear. The secreted Wnt protein family comprises two functional groups, the canonical Wnt and Wnt/Ca2+ pathways4. The Wnt/Ca2+ pathway interferes with the canonical Wnt pathway5, but the underlying molecular mechanism is poorly understood. Here, we cloned the complementary DNA coding for the Xenopus homologue of nuclear factor of activated T cells (XNF-AT). A gain-of-function, calcineurin-independent active XNF-AT mutation (CA XNF-AT) inhibited anterior development of the primary axis, as well as Xwnt-8-induced ectopic dorsal axis development in embryos. A loss-of-function, dominant negative XNF-AT mutation (DN XNF-AT) induced ectopic dorsal axis formation and expression of the canonical Wnt signalling target molecules siamois and Xnr3 (ref. 4). Xwnt-5A induced translocation of XNF-AT from the cytosol to the nucleus. These data indicate that XNF-AT functions as a downstream target of the Wnt/Ca2+ and Ins(1,4,5)P3-Ca2+ pathways, and has an essential role in mediating ventral signals in the Xenopus embryo through suppression of the canonical Wnt pathway.
Access options
Subscribe to Journal
Get full journal access for 1 year
$199.00
only $3.90 per issue
All prices are NET prices.
VAT will be added later in the checkout.
Rent or Buy article
Get time limited or full article access on ReadCube.
from$8.99
All prices are NET prices.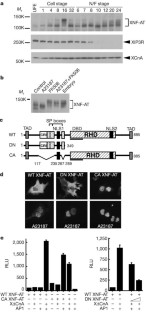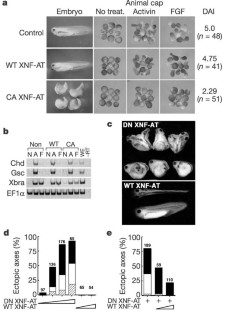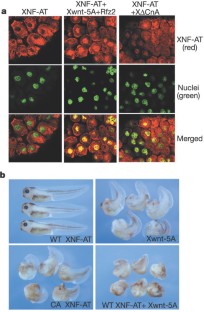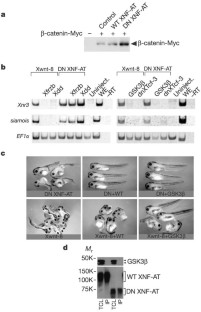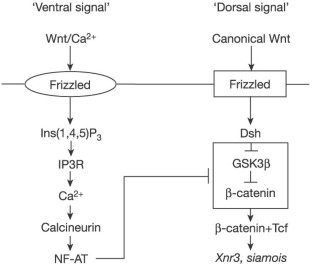 References
1

Kume, S. Role of the inositol 1,4,5-trisphosphate receptor in early embryonic development. Cell. Mol. Life Sci. 56, 296–304 (1999)

2

Kume, S. et al. Role of inositol 1,4,5-trisphosphate receptor in ventral signalling in Xenopus embryos. Science 278, 1940–1943 (1997)

3

Ault, K. T., Durmowicz, G., Galione, A., Harger, P. L. & Busa, W. B. Modulation of Xenopus embryo mesoderm-specific gene expression and dorsoanterior patterning by receptors that activate the phosphatidylinositol cycle signal transduction pathway. Development 122, 2033–2041 (1996)

4

Kühl, M., Sheldahl, L. C., Park, M., Miller, J. R. & Moon, R. T. The Wnt/Ca2+ pathway. Trends Genet. 16, 279–283 (2000)

5

Torres, M. A. et al. Activities of the Wnt-1 class of secreted signalling factors are antagonized by the Wnt-5A class and by a dominant negative Cadherin in early Xenopus development. J. Cell Biol. 133, 1123–1137 (1996)

6

Rao, A., Luo, C. & Hogan, P. G. Transcription factors of the NFAT family: regulation and function. Annu. Rev. Immunol. 15, 707–747 (1997)

7

Gimlich, R. L. & Gerhart, J. C. Early cellular interactions promote embryonic axis formation in Xenopus laevis. Dev. Biol. 104, 117–130 (1984)

8

Woodland, H. R. & Jones, E. A. The development of an assay to detect mRNAs that affect early development. Development 101, 925–930 (1987)

9

Chow, C. W., Rincon, M. & Davis, R. J. Requirement for transcription factor NFAT in interleukin-2 expression. Mol. Cell. Biol. 19, 2300–2307 (1999)

10

Northrop, J. P. et al. NF-AT components define a family of transcription factors targeted in T-cell activation. Nature 369, 497–502 (1994)

11

Tsuruta, L. et al. Cyclic AMP inhibits expression of the IL-2 gene through the nuclear factor of activated T cells (NF-AT) site, and transfection of NF-AT cDNAs abrogates the sensitivity of EL-4 cells to cyclic AMP. J. Immunol. 154, 5255–5264 (1995)

12

Saneyoshi, T., Kume, S., Natsume, T. & Mikoshiba, K. Molecular cloning and expression profile of Xenopus calcineurin A subunit. Biochim. Biophys. Acta 1499, 164–170 (2000)

13

Slusarski, D. C., Corces, V. G. & Moon, R. T. Interaction of wnt and a frizzled homologue triggers G-protein-linked phosphatidylinositol signalling. Nature 390, 410–413 (1997)

14

Moon, R. T. et al. Xwnt-5A: a maternal Wnt that affects morphogenetic movements after overexpression in embryos of Xenopus laevis. Development 119, 97–111 (1993)

15

Kühl, M., Sheldahl, L. C., Malbon, C. C. & Moon, R. T. Ca2+/calmodulin dependent protein kinase II is stimulated by Wnt and frizzled homologs and promotes ventral cell fates in Xenopus. J. Biol. Chem. 275, 12701–12711 (2000)

16

Olson, D. J. & Gibo, D. M. Antisense wnt-5a mimics wnt-1-mediated C57MG mammary epithelial cell transformation. Exp. Cell Res. 241, 134–141 (1998)

17

Kao, K. R. & Elinson, R. P. The entire mesodermal mantle behaves as Spemann's organizer in dorsoanterior enhanced Xenopus laevis embryos. Dev. Biol. 127, 64–77 (1988)

18

Yost, C. et al. The axis-inducing activity, stability, and subcellular distribution of β-catenin is regulated in Xenopus embryos by glycogen synthase kinase 3. Genes Dev. 10, 1443–1454 (1996)

19

Wang, S., Krinks, M., Lin, K., Luyten, F. P. & Moos, J. M. Frzb, a secreted protein expressed in the Spemann organizer, binds and inhibits Wnt-8. Cell 88, 757–766 (1997)

20

Sokol, S. Y. Analysis of Dishevelled signalling pathways during Xenopus development. Curr. Biol. 6, 1456–1467 (1996)

21

Brannon, M., Gomperts, M., Sumoy, L., Moon, R. T. & Kimelman, D. A β-catenin/XTcf-3 complex binds to the siamois promoter to regulate dorsal axis specification in Xenopus. Genes Dev. 11, 2359–2370 (1997)

22

McKendry, R., Hsu, S. C., Harland, R. M. & Grosschedl, R. LEF-1/TCF proteins mediate wnt-inducible transcription from the Xenopus nodal-related 3 promoter. Dev. Biol. 192, 420–431 (1997)

23

He, X., St-Jeannet, J., Woodgett, J., Varmus, H. & Dawid, I. Glycogen synthase kinase-3 and dorsoventral patterning in Xenopus embryos. Nature 374, 617–622 (1995)

24

Molenaar, M. et al. XTcf-3 transcription factor mediates β-catenin-induced axis formation in Xenopus embryos. Cell 86, 391–399 (1996)

25

Beals, C. R., Sheridan, C. M., Turck, C. W., Gadner, P. & Crabtree, G. R. Nuclear export of NF-ATc enhanced by glycogen synthase kinase-3. Science 275, 1930–1934 (1997)

26

Hedgepeth, C. M. et al. Activation of the Wnt signalling pathway: a molecular mechanism for lithium action. Dev. Biol. 185, 82–91 (1997)

27

Berridge, M. J., Lipp, P. & Bootman, M. D. The versatility and university of calcium signalling. Nature Rev. Mol. Cell Biol. 1, 11–21 (2000)

28

Musci, T. J., Amaya, E. & Kirschner, M. W. Regulation of the fibroblast growth factor receptor in early Xenopus embryos. Proc. Natl Acad. Sci. USA 87, 8365–8369 (1990)

29

Nieuwkoop, P. D. & Faber, J. Normal Table of Xenopus laevis (Daudin) (North-Holland, Amsterdam, 1967)
Acknowledgements
We thank E. Amaya, G. Crabtree, D. Kimelman, D. Melton, R. T. Moon, M. Kühl, A. Rao, D. Turner and N. Ueno for plasmids, and Y. Etoh for recombinant activin A. We also thank M. Ohara for critical comments on the manuscript, T. Natsume and K. Takei for discussion, and Y. Takeyama for technical assistance. T.S. was supported by grants from JSPS Research Fellowships for Young Scientists.
Ethics declarations
Competing interests
The authors declare that they have no competing financial interests.
Supplementary information
About this article
Cite this article
Saneyoshi, T., Kume, S., Amasaki, Y. et al. The Wnt/calcium pathway activates NF-AT and promotes ventral cell fate in Xenopus embryos. Nature 417, 295–299 (2002). https://doi.org/10.1038/417295a
Received:

Accepted:

Issue Date:
Comments
By submitting a comment you agree to abide by our Terms and Community Guidelines. If you find something abusive or that does not comply with our terms or guidelines please flag it as inappropriate.