Abstract
Historical biogeography is dominated by vicariance methods that search for a congruent pattern of fragmentation of ancestral distributions produced by shared Earth history1,2,3. A focus of vicariant studies has been austral area relationships and the break-up of the supercontinent Gondwana3,4,5. Chameleons are one of the few extant terrestrial vertebrates thought to have biogeographic patterns that are congruent with the Gondwanan break-up of Madagascar and Africa6,7. Here we show, using molecular and morphological evidence for 52 chameleon taxa, support for a phylogeny and area cladogram that does not fit a simple vicariant history. Oceanic dispersal—not Gondwanan break-up—facilitated species radiation, and the most parsimonious biogeographic hypothesis supports a Madagascan origin for chameleons, with multiple 'out-of-Madagascar' dispersal events to Africa, the Seychelles, the Comoros archipelago, and possibly Reunion Island. Although dispersal is evident in other Indian Ocean terrestrial animal groups8,9,10,11,12,13,14,15,16, our study finds substantial out-of-Madagascar species radiation, and further highlights the importance of oceanic dispersal as a potential precursor for speciation.
Relevant articles
Open Access articles citing this article.
Jack W. Oyston

,

Mark Wilkinson

…

Matthew A. Wills

Communications Biology Open Access 31 May 2022

Andrej Čerňanský

,

Anthony Herrel

…

Thomas Lehmann

Scientific Reports Open Access 10 January 2020

Jesse L. Grismer

,

James A. Schulte

…

Rafe M. Brown

BMC Evolutionary Biology Open Access 19 February 2016
Access options
Subscribe to Journal
Get full journal access for 1 year
$199.00
only $3.90 per issue
All prices are NET prices.
VAT will be added later in the checkout.
Tax calculation will be finalised during checkout.
Buy article
Get time limited or full article access on ReadCube.
$32.00
All prices are NET prices.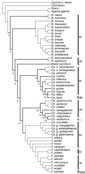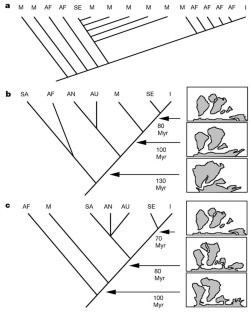 References
Nelson, G. & Platnick, N. I. Systematics and Biogeography: Cladistics and Vicariance (Columbia University, New York, 1981).

Morrone, J. J. & Crisci, J. V. Historical biogeography: introduction to methods. Annu. Rev. Ecol. Syst. 26, 373–401 (1995).

Humphries, C. J. & Parenti, L. R. Cladistic Biogeography 2nd edn (Oxford Univ. Press, Oxford, 1999).

Brown, J. H. & Lomolino, M. V. Biogeography 2nd edn (Sinauer, Sunderland, 1998).

Crisci, J. V., Cigliano, M. M., Morrone, J. J. & Roig-Junent, S. Historical biogeography of southern South America. Syst. Zool. 40, 152–171 (1991).

Klaver, C. J. J. & Böhme, W. Phylogeny and classification of the chamaeleonidae (Suria) with special reference to hemipenis morphology. Bonn. Zool. Mon. 22, 1–64 (1986).

Hofman, A., Maxson, L. R. & Arntzen, W. Biochemical evidence pertaining to the taxonomic relationships within the family Chamaeleonidae. Amphibia-Reptilia 12, 245–265 (1991).

Blanc, C. P. in Biogeography and Ecology in Madagascar (eds Battistini, R. & Richard-Vindard, G.) 501–614 (Junk, The Hague, 1972).

Arnold, E. N. Indian Ocean giant tortoises: their systematics and island adaptations. Phil. Trans. R. Soc. Lond. B. 286, 127–145 (1979).

Kluge, A. G. & Nussbaum, R. A. A review of African–Madagascan gekkonid lizard phylogeny and biogeography (Squamata). Misc. Publ. Mus. Zool. Univ. Michigan 183, 1–20 (1995).

Coccone, A., Amato, G., Gratry, O. C., Behler, J. & Powell, J. R. A molecular phylogeny of four endangered Madagascar tortoises based on MtDNA sequences. Mol. Phyl. Evol. 12, 1–9 (1999).

Fisher, B. L. in Biogeography of Madagascar (ed. Lourenco, W. R.) 457–466 (Orstom, Paris, 1996).

Yoder, A. D. in Biogeography of Madagascar (ed. Lourenco, W. R.) 245–258 (Orstom, Paris, 1996).

Mausfeld, P., Vences, M., Schmitz, A. & Veith, M. First data on the molecular phylogeography of scincid lizards of the genus Mabuya. Mol. Phyl. Evol. 17, 11–14 (2000).

Jansa, S. A., Goodman, S. M. & Tucker, P. K. Molecular phylogeny and biogeography of the native rodents of Madagascar (Muridae: Nesomyinae): a test of the single-origin hypothesis. Cladistics 15, 253–270 (1999).

Griswold, C. E. in Diversity and Endemism in Madagascar (eds Lourenco, W. R. & Goodman, S. M.) 345–354 (Société de Biogéographie, Paris, 2000).

Rabinowitz, P. D., Coffin, M. F. & Falvey, D. The separation of Madagascar and Africa. Science 220, 67–69 (1983).

Storey, M. et al. Timing of hot spot-related volcanism and the breakup of Madagascar and India. Science 267, 852–855 (1995).

Storey, B. C. The role of mantle plumes in continental breakup: case histories from Gondwanaland. Nature 377, 301–308 (1995).

Hay, W. W. et al. in Evolution of the Cretaceous Ocean-Climate System (Spec. Pap. 332) (eds Barrera, E. & Johnson, C.) 1–48 (Geological Society of America, Boulder, 1999).

Frost, D. R. & Etheridge, R. A phylogenetic analysis and taxonomy of the iguanian lizards (Reptilia: Squamata). Univ. Kansas Mus. Nat. His. Misc. Publ. 81, 1–65 (1989).

Rieppel, O. & Crumley, C. Paedomorphosis and skull structure in Malagasy chameleons (Reptilia: Chamaeleondiae). J. Zool. Lond. 243, 351–380 (1997).

Rieppel, O. The phylogenetic relationships within the Chamaeleonidae, with comments on some aspects of cladistic analysis. Zool. J. Linn. Soc. 89, 41–62 (1987).

Page, R. D. M. Maps between trees and cladistic analysis of historical associations among genes, organisms, and areas. Syst. Biol. 43, 58–77 (1994).

Emerick, C. M. & Duncan, R. A. Age progressive volcanism in the Comores Archipelago, western Indian Ocean and implications for Somali plate tectonics. Earth Planet. Sci. Lett. 60, 415–428 (1982).

Rieppel, O., Walker, A. & Odhiambo, I. A preliminary report on a fossil Chamaeleonine (Reptilia: Chamaeleoninae) skull from the Miocene of Kenya. J. Herpetol. 26, 77–80 (1992).

Hillenius, D. A new chameleon from the Miocene of Fort Ternan, Kenya (Chamaeleonidae, Reptilia). Beaufortia 28, 9–15 (1978).

Moody, S. & Rocek, Z. Chamaeleo caroliquarti (Chamaeleonidae, Suria): a new species from the Lower Miocene of Central Europe. Vestnik Ústredniho ústavu geologického 55, 85–92 (1980).

Rand, D. M. Thermal habit, metabolic rate, and the evolution of mitochondrial DNA. Trends Ecol. Evol. 9, 125–131 (1994).

Trueman, J. W. H. Reverse successive weighting. Syst. Biol. 47, 733–737 (1998).
Acknowledgements
We thank the authorities in Madagascar and the Seychelles for permission to conduct fieldwork. We thank J. Brown, T. Peterson, R. Prum, O. Rieppel, L. Trueb and E. Wiley for comments. C.J.R. and R.A.N. were supported by the National Geographic Society and the National Science Foundation, Washington.
Ethics declarations
Competing interests
The authors declare no competing financial interests.
Supplementary information
About this article
Cite this article
Raxworthy, C., Forstner, M. & Nussbaum, R. Chameleon radiation by oceanic dispersal. Nature 415, 784–787 (2002). https://doi.org/10.1038/415784a
Received:

Accepted:

Issue Date:

DOI: https://doi.org/10.1038/415784a
Comments
By submitting a comment you agree to abide by our Terms and Community Guidelines. If you find something abusive or that does not comply with our terms or guidelines please flag it as inappropriate.