Abstract
The purpose of this research was to determine the prevalence of erectile dysfunction (ED) in a non-selected population using the abridged 5-item version of the International Index of Erectile Function (IIEF-5) as a diagnostic tool. In a non-institutionalized population and during a free screening program for prostate cancer (Prostate Cancer Awareness Week of Santa Casa Hospital, Porto Alegre, Brazil), from 26 to 30 July 1998, all men who were attending were invited to complete a sexual activity questionnaire (the abridged 5-item version of the International Index of Erectile Function-IIEF-5) as a diagnostic tool for ED. The possible scores for the IIEF-5 range from 5 to 25, and ED was classified into five categories based on the scores: severe (5–7), moderate (8–11), mild to moderate (12–16), mild (17–21), and no ED (22–25). Of the 1071 men who participated in the program, 965 (90.1%) were included in this study. Of the responding men 850 were Caucasian (88%) and 115 were black (12%). The mean age of the men was 60.7 y, ranging from 40 to 90 y old. In this sample the prevalence of all degrees of ED was estimated as 53.9%. In this group of men, the degree of ED was mild in 21.5%, mild to moderate in 14.1%, moderate in 6.3%, and severe in 11.9%. According to age the rates of ED were: 40–49 (36.4%); 50–59 (42.5%); 60–69 (58.1%); 70–79 (79.4%), and over 80 y (100%) showed ED (P<0.05). The Pearson coefficients between the variables age and IIEF-5 showed a statistically significant inverse (negative) relation (r=−0.3449; P<0.05). ED is highly prevalent in men over 40 and this condition showed a clear relationship to aging, as demonstrated in other studies published. The simplified IIEF-5, as a diagnostic tool, showed to be an easy method, which can be used to evaluate this condition in studies with a great number of men.
Your institute does not have access to this article
Relevant articles
Open Access articles citing this article.
Xiaowei Yu

,

Songling Zhang

…

Qun Wang

Scientific Reports Open Access 28 July 2022

L. Wiemer

,

T. Bartelheimer

…

K. Miller

Die Urologie Open Access 20 June 2022

Min-Kyung Lee

,

Jae-Hyuk Lee

…

Sae Chul Kim

Diabetology & Metabolic Syndrome Open Access 21 April 2022
Access options
Subscribe to Journal
Get full journal access for 1 year
$119.00
only $14.88 per issue
All prices are NET prices.
VAT will be added later in the checkout.
Tax calculation will be finalised during checkout.
Buy article
Get time limited or full article access on ReadCube.
$32.00
All prices are NET prices.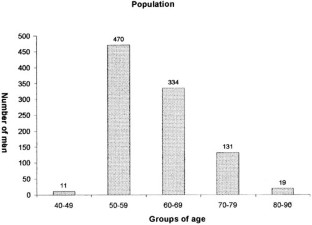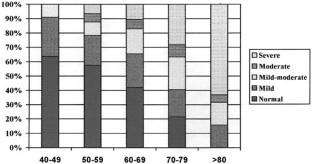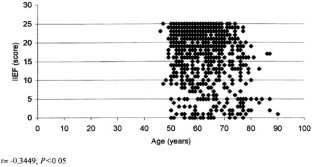 References
NIH Consensus Development Panel on Impotence. Impotence JAMA 1993 270: 83–90

Feldman HA et al. Impotence and its medical and psychosocial correlates: results of the Massachusetts Male Aging Study J Urol 1994 151: 54–61

Morley JE . Impotence Am J Med 1986 80: 897–905

Goldstein I et al. Oral sildenafil in the treatment of erectile dysfunction New Engl J Med 1998 338: 1397–1404

Jonler M et al. The effect of age, ethnicity and geographical location on impotence and quality of life Br J Urol 1995 75: 651–655

Laumann EO, Paik A, Rosen RC . Sexual dysfunction in the United States. Prevalence and predictors JAMA 1999 281: 537–544

Kirby RS . Impotence: diagnosis and management of male erectile dysfunction Br Med J 1994 308: 957–961

Wagner G, Saenz de Tejada I . Update on male erectile dysfunction Br Med J 1998 316: 678–682

Rosen RC et al. The International Index of Erectile Function (IIEF): a multidimensional scale for assessment of erectile dysfunction Urology 1997 49: 822–830

Rosen RC et al. Development and evaluation of an abridged, 5-item version of the International Index of Erectile Function (IIEF-5) as a diagnostic tool for erectile dysfunction Int J Impot Res 1999 11: 319–326

Lehmann K, Eichlisberger R, Gasser TC . Lack of diagnostic tools to prove erectile dysfunction: consequences for reimbursement? J Urol 2000 163: 91–94

Cappelleri JC, Rosen RC . Reply to 'The sexual health inventory for men (IIEF-5)' by Ja Vroege Int J Impot Res 1999 11: 353–354

Benet AE, Melman A . The epidemiology of erectile dysfunction Urol Clin North Am 1995 22: 699–709

Rubin A, Babbott D . Impotence in diabetes mellitus JAMA 1958 168: 498–500

Kolodny RC, Kahn CB, Goldstein HH, Burnett DM . Sexual dysfunction in diabetic men Diabetes 1973 23: 306–309

Hanash KA . Comparative results of goal oriented therapy for erectile dysfunction J Urol 1997 157: 2135–2140

Nickel JC et al. Endocrine dysfunction in impotence, significance and cost-effective screening J Urol 1984 132: 40–43

Krane RJ, Goldstein I, Saenz De Tejada I . Medical progress: impotence New Engl J Med 1989 321: 1648–1659

Andersson KE, Wagner G . Physiology of penile erection Physiol Rev 1995 75: 191–196

Lerner SE, Melman A, Christ GJ . A review of erectile dysfunction: new insights and more questions J Urol 1993 149: 1246–1256

Taub HC, Lerner SE, Melman A, Christ GJ . Relationship between contraction and relaxation in human and rabbit corpus cavernosum Urology 1993 42: 698–704

Kaiser FE et al. Impotence and aging: clinical and hormonal factors J Am Geriatr Soc 1988 36: 511–516

Diokno AC, Brown MR, Herzog AR . Sexual dysfunction in the eldery Arch Intern Med 1990 150: 197–200

Panser LA et al. Sexual function of men ages 40 to 79 y: the Olmsted county study of urinary symptoms and health status among men J Am Geriatr Soc 1995 43: 1107–1111

Rundles RW . Diabetic neuropathy Medicine 1945 24: 111–160

Lue T . Erectile dysfunction New Engl J Med 2000 342: 1802–1813
About this article
Cite this article
Rhoden, E., Telöken, C., Sogari, P. et al. The use of the simplified International Index of Erectile Function (IIEF-5) as a diagnostic tool to study the prevalence of erectile dysfunction. Int J Impot Res 14, 245–250 (2002). https://doi.org/10.1038/sj.ijir.3900859
Received:

Revised:

Accepted:

Published:

Issue Date:

DOI: https://doi.org/10.1038/sj.ijir.3900859
Keywords
erectile dysfunction

aging

erectile function

diagnostic tests

IIEF

epidemiology of erectile dysfunction