Abstract
It has been suggested that female birds put more resources into eggs fathered by attractive males by laying larger eggs1 or by adding more testosterone2, but this inference could be undermined if eggs of different sex are provisioned differently, as these studies did not control for sex differences. Here we compare hormone concentrations in the yolks of male and female eggs and find that these are significantly different. Our results indicate that it is premature to conclude that female birds invest more in eggs sired by a preferred male, and raise the possibility that yolk sex steroids may be part of the sex-determining process in birds.
Access options
Subscribe to Journal
Get full journal access for 1 year
$199.00
only $3.90 per issue
All prices are NET prices.
VAT will be added later in the checkout.
Tax calculation will be finalised during checkout.
Buy article
Get time limited or full article access on ReadCube.
$32.00
All prices are NET prices.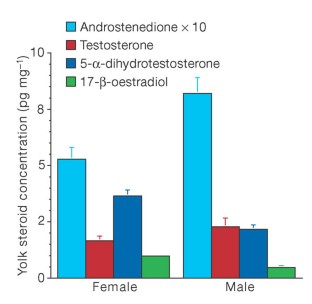 References
Cunningham, E. J. A. & Russell, A. F. Nature 404, 74–75 (2000).

Gil, D., Graves, J., Hazon, N. & Wells, A. Science 286, 126–128 (1999).

Sheldon, B. C., Andersson, S., Griffith, S. C., Ornborg, J. & Sendecka, J. Nature 402, 874–877 (1999).

Burley, N. Evolution 40, 1191–1206 (1986).

Hoyt, D. F. Auk 96, 73–77 (1979).

Schwabl, H. in Perspectives in Avian Endocrinology (eds Harvey, S. & Etches, R. J.) 3–13 (J. Endocrinol., Bristol, 1997).

Jennings, D. H., Weiss, S. L. & Moore, M. C. Am. Zool. (in the press).

Sturkie, P. D. Avian Physiology (Springer, New York, 1986).

Bogart, M. H. J. Theor. Biol. 128, 349–357 (1987).

Crews, D., Cantu, A. R., Rhen, T. & Vohra, R. Gen. Comp. Endocrinol. 102, 317–326 (1996).

Krackow, S. Johannesburg: Bird Life South Africa. Proc. 22nd Int. Ornithol. Congr. (Durban, 1999).

Bowden, R. M., Ewert, M. A. & Nelson, C. E. Proc. R. Soc. Lond. B 267, 1745–1749 (2000).

Schwabl, H. Proc. Natl Acad. Sci. USA 90, 11446–11450 (1993).
About this article
Cite this article
Petrie, M., Schwabl, H., Brande-Lavridsen, N. et al. Sex differences in avian yolk hormone levels. Nature 412, 498 (2001). https://doi.org/10.1038/35087652
Published:

Issue Date:

DOI: https://doi.org/10.1038/35087652
Comments
By submitting a comment you agree to abide by our Terms and Community Guidelines. If you find something abusive or that does not comply with our terms or guidelines please flag it as inappropriate.