Abstract
In eukaryotic cells the histone methylase SUV39H1 and the methyl-lysine binding protein HP1 functionally interact to repress transcription at heterochromatic sites1. Lysine 9 of histone H3 is methylated by SUV39H1 (ref. 2), creating a binding site for the chromo domain of HP1 (refs 3, 4). Here we show that SUV39H1 and HP1 are both involved in the repressive functions of the retinoblastoma (Rb) protein. Rb associates with SUV39H1 and HP1 in vivo by means of its pocket domain. SUV39H1 cooperates with Rb to repress the cyclin E promoter, and in fibroblasts that are disrupted for SUV39, the activity of the cyclin E and cyclin A2 genes are specifically elevated. Chromatin immunoprecipitations show that Rb is necessary to direct methylation of histone H3, and is necessary for binding of HP1 to the cyclin E promoter. These results indicate that the SUV39H1–HP1 complex is not only involved in heterochromatic silencing but also has a role in repression of euchromatic genes by Rb and perhaps other co-repressor proteins.
Relevant articles
Open Access articles citing this article.
Jorge Mata-Garrido

,

Yao Xiang

…

Laurence Arbibe

Nature Communications Open Access 18 November 2022

Sang Ah Yi

,

Dong Hoon Lee

…

So Hee Kwon

Cell Death & Differentiation Open Access 23 March 2020

Pranabananda Dutta

,

Lin Zhang

…

Willis X. Li

BMC Cancer Open Access 22 February 2020
Access options
Subscribe to this journal
Receive 51 print issues and online access
$199.00 per year
only $3.90 per issue
Rent or buy this article
Get just this article for as long as you need it
$39.95
Prices may be subject to local taxes which are calculated during checkout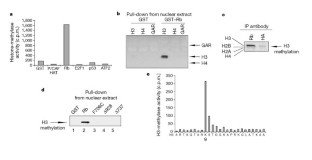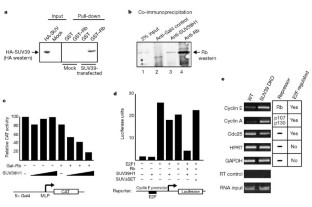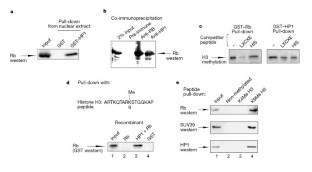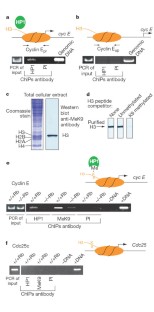 References
Jones, D. O., Cowell, I. G. & Singh, P. B. Mammalian chromodomain proteins: their role in genome organisation and expression. BioEssays 22, 124–137 (2000).

Rea, S. et al. Regulation of chromatin structure by site-specific histone H3 methyltransferases. Nature 406, 593–599 (2000).

Bannister, A. J. et al. Selective recognition of methylated lysine 9 on histone H3 by the HP1 chromo domain. Nature 410, 120–124 (2001).

Lachner, M., O'Carroll, D., Rea, S., Mechtler, K. & Jenuwein, T. Methylation of histone H3 lysine 9 creates a binding site for HP1 proteins. Nature 410, 120–124 (2001).

Brehm, A. et al. Retinoblastoma protein recruits histone deacetylase to repress transcription. Nature 391, 597–601 (1998).

Magnaghi-Jaulin, L. et al. Retinoblastoma protein represses transcription by recruiting a histone deacetylase. Nature 391, 601–605 (1998).

Luo, R. X., Postigo, A. A. & Dean, D. C. Rb interacts with histone deacetylase to repress transcription. Cell 92, 463–473 (1998).

Firestein, R., Cui, X., Huie, P. & Cleary, M. L. Set domain-dependent regulation of transcriptional silencing and growth control by SUV39H1, a mammalian ortholog of Drosophila Su(var)3-9. Mol. Cell. Biol. 20, 4900–4909 (2000).

Hurford, R. K. Jr, Cobrinik, D., Lee, M. & Dyson, N. pRB and p107/p130 are required for regulated expression of different sets of E2F responsive genes. Genes Dev. 11, 1447–1463 (1997).

Herrera, R. E. et al. Altered cell cycle kinetics, gene expression and G1 restriction point regulation in Rb deficient fibroblasts. Mol. Cell. Biol. 16, 2402–2407 (1996).

Aagaard, L. et al. Functional mammalian homologues of the Drosophila PEV-modifier Su(var)3-9 encode centromere-associated proteins which complex with the heterochromatin component M31. EMBO J. 18, 1923–1938 (1999).

Williams, L. & Grafi, G. The retinoblastoma protein—a bridge to heterochromatin. Trends Plant Sci. 5, 239–240 (2000).

Korner, K. & Muller, R. J. In vivo structure of the cell cycle-regulated human cdc25C promoter. Biol. Chem. 275, 18676–18681 (2000).

Hagemeier, C., Cook, A. & Kouzarides, T. The retinoblastoma protein binds E2F residues required for activation in vivo and TBP binding in vitro. Nucleic Acids Res. 21, 4998–5004 (1993).

Qin, X. Q., Chittenden, T., Livingston, D. M. & Kaelin, W. G. Jr Identification of a growth suppression domain within the retinoblastoma gene product. Genes Dev. 6, 953–964 (1992).

Bannister, A. J. & Kouzarides, T. The CBP co-activator is a histone acetyltransferase. Nature 384, 641–643 (1996).

Nielsen, A. L. et al. Interaction with members of the heterochromatin protein 1 (HP1) family and histone deacetylation are differentially involved in transcriptional silencing by members of the TIF1 family. EMBO J. 18, 6385–6395 (1999).

Orlando, V., Strutt, H. & Paro, R. Analysis of chromatin structure by in vivo formaldehyde cross-linking. Methods 11, 205–214 (1997).

Dedon, P. C., Soults, J. A., Allis, C. D. & Gorovsky, M. A. A simplified formaldehyde fixation and immunopreciptation technique for studying protein–DNA interactions. Anal. Biochem. 197, 83–90 (1991).
Acknowledgements
We thank M. Weldon for Edman degradation of labelled proteins; H. Herschman for providing GAR; R. Laskey for the anti-HP1 antibody; and A. Cook for technical assistance. S.J.N. and A.J.B. were funded by a grant from the Cancer Research Campaign, R.S. by an EC grant and an EMBO fellowship, and U.M.B. by an HFSP grant.
About this article
Cite this article
Nielsen, S., Schneider, R., Bauer, UM. et al. Rb targets histone H3 methylation and HP1 to promoters. Nature 412, 561–565 (2001). https://doi.org/10.1038/35087620
Received:

Accepted:

Published:

Issue Date:

DOI: https://doi.org/10.1038/35087620
Comments
By submitting a comment you agree to abide by our Terms and Community Guidelines. If you find something abusive or that does not comply with our terms or guidelines please flag it as inappropriate.