Abstract
We report here the discovery of the smallest possible carbon nanotube. This has a diameter of 4 Å, which is the narrowest attainable that can still remain energetically stable, as predicted by theory. These nanotubes are confined inside multiwalled carbon nanotubes and their diameter corresponds to that of a C20 dodecahedron with a single carbon atom at each of its twenty apices. Unlike larger carbon nanotubes, which, depending on their diameter and helicity, can be either metallic or semiconducting, these smallest nanotubes are always metallic.
Access options
Access options
Subscribe to Journal
Get full journal access for 1 year
$199.00
only $3.90 per issue
All prices are NET prices.
VAT will be added later in the checkout.
Rent or Buy article
Get time limited or full article access on ReadCube.
from$8.99
All prices are NET prices.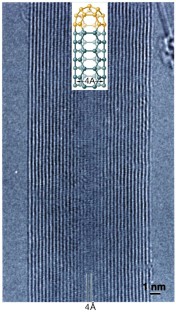 References
1

Iijima, S. Nature 354, 56–58 ( 1991).

2

Heath, J. R. Nature 393, 730–731 ( 1998).

3

Ajayan, P. M. & Iijima, S. Nature 358, 23 (1992).

4

Kataura, H., Achiba, Y., Zhao, X. & Ando, Y. Mat. Res. Soc. Symp. Proc. 593, 113–118 ( 2000).

5

Sun, L. F. et al. Nature 403, 384 ( 2000).

6

Zhao, X. et al. Carbon 35, 775–781 (1997).

7

Qin, L.-C et al. Chem. Phys. Lett. 268, 101– 106 (1997).

8

Iijima, S., Ajayan, P. M. & Ichihashi, T. Phys. Rev. Lett. 69, 3100– 3103 (1992).

9

Sawada, S. & Hamada, N. Solid State Commun. 83 , 917–919 (1992).

10

Blase, X., Benedict, L. X., Shirley, E. L. & Louie, S. G. Phys. Rev. Lett. 72, 1878–1881 (1994).

11

Prinzbach, H. et al. Nature 407, 60–63 (2000).
Comments
By submitting a comment you agree to abide by our Terms and Community Guidelines. If you find something abusive or that does not comply with our terms or guidelines please flag it as inappropriate.