Abstract
The serine proteinase α-thrombin causes blood clotting through proteolytic cleavage of fibrinogen and protease-activated receptors and amplifies its own generation by activating the essential clotting factors V and VIII1. Thrombomodulin2, a transmembrane thrombin receptor with six contiguous epidermal growth factor-like domains (TME1–6), profoundly alters the substrate specificity of thrombin from pro- to anticoagulant by activating protein C (see, for example, reference 2). Activated protein C then deactivates the coagulation cascade by degrading activated factors V and VIII2. The thrombin–thrombomodulin complex inhibits fibrinolysis by activating the procarboxypeptidase thrombin-activatable fibrinolysis inhibitor3. Here we present the 2.3 Å crystal structure of human α-thrombin bound to the smallest thrombomodulin fragment required for full protein-C co-factor activity, TME456. The Y-shaped thrombomodulin fragment binds to thrombin's anion-binding exosite-I, preventing binding of procoagulant substrates. Thrombomodulin binding does not seem to induce marked allosteric structural rearrangements at the thrombin active site. Rather, docking of a protein C model to thrombin–TME456 indicates that TME45 may bind substrates in such a manner that their zymogen-activation cleavage sites are presented optimally to the unaltered thrombin active site.
Relevant articles
Open Access articles citing this article.
Riley B. Peacock

,

Taylor McGrann

…

Elizabeth A. Komives

Scientific Reports Open Access 30 April 2021

Bosko M. Stojanovski

,

Leslie A. Pelc

&

Enrico Di Cera

Scientific Reports Open Access 06 July 2020

Inga Pfeffer

,

Lennart Brewitz

…

Christopher J. Schofield

Nature Communications Open Access 28 October 2019
Access options
Subscribe to this journal
Receive 51 print issues and online access
$199.00 per year
only $3.90 per issue
Rent or buy this article
Get just this article for as long as you need it
$39.95
Prices may be subject to local taxes which are calculated during checkout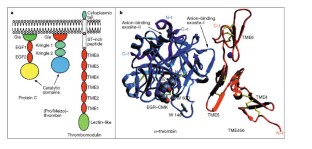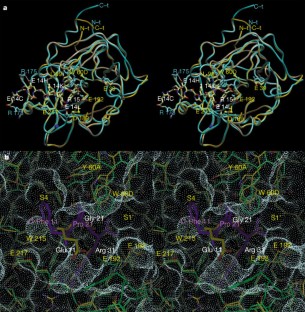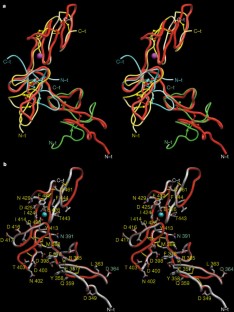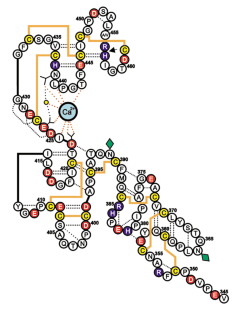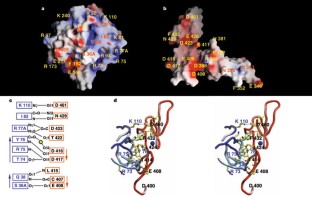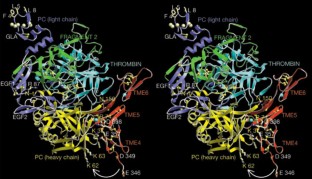 References
Davie, E. W., Fujikawa, K. & Kisiel, W. The coagulation cascade: Initiation, maintenance and regulation. Biochemistry 30, 10363– 10370 (1991).

Esmon, C. T. Thrombomodulin as a model of molecular mechanisms that modulate protease specificity and function at the vessel surface. FASEB J. 9, 946–955 (1995).

Bajzar, L., Morser, J. & Nesheim, M. TAFI, or plasma procarboxypeptidase B, couples the coagulation and fibrinolytic cascades through the thrombin–thrombomodulin complex. J. Biol. Chem. 271, 16603–16608 (1996).

Gibbs, C. S. et al. Conversion of thrombin into an anticoagulant by protein engineering. Nature 378, 413–416 (1995).

Ye, J., Esmon, N. L., Esmon, C. T. & Johnson, A. E. The active site of thrombin is altered upon binding to thrombomodulin. Two distinct structural changes are detected by fluorescence, but only one correlates with protein C activation. J. Biol. Chem. 266, 23016–23021 (1991).

Musci, G., Berliner, L. J. & Esmon, C. T. Evidence for multiple conformational changes in the active center of thrombin induced by complex formation with thrombomodulin: an analysis employing nitroxide spin-labels. Biochemistry 27, 769–773 (1988).

Vindigni, A., White, C. E., Komives, E. A. & Di Cera, E. Energetics of thrombin-thrombomodulin interaction. Biochemistry 36, 6674–6681 ( 1997).

Di Cera, E., Dang, Q. D. & Ayala, Y. M. Molecular mechanisms of thrombin function. Cell. Mol. Life Sci. 53, 701–730 (1997).

Bode, W., Turk, D. & Karshikov, A. The refined 1. 9 Å- X-ray crystal structure of D-Phe-Pro-Arg chloromethylketone-inhibited human alpha-thrombin: Structure analysis, overall structure, electrostatic properties, detailed active-site geometry, and structure-function relationships. Protein Sci. 1, 426–471 (1992).

Kurosawa, S., Stearns, D. J., Jackson, K. W. & Esmon, C. T. A 10-kDa cyanogen bromide fragment from the epidermal growth factor homology domain of rabbit thrombomodulin contains the primary thrombin binding site. J. Biol. Chem. 263, 5993– 5996 (1988).

Mathews, I. I., Padmanabhan, K. P., Tulinksy, A. & Sadler, J. E. Structure of a nonadecapeptide of the fifth EGF domain of thrombomodulin complexed with thrombin. Biochemistry 33, 13547– 13552 (1994).

Hall, S. W., Nagashima, M., Zhao, L., Morser, J. & Leung, L. L. Thrombin interacts with thrombomodulin, protein C, and thrombin-activatable fibrinolysis inhibitor via specific and distinct domains. J. Biol. Chem. 274, 25510– 25516 (1999).

Fuentes-Prior, P. et al. Structure of the thrombin complex with triabin, a lipocalin-like exosite-binding inhibitor derived from a triatomine bug. Proc. Natl Acad. Sci. USA 94, 11845–11850 (1997).

Zushi, M. et al. Aspartic acid 349 in the fourth epidermal growth factor-like structure of human thrombomodulin plays a role in its Ca2+-mediated binding to protein C. J. Biol. Chem. 266, 19886–19889 (1991).

Campbell, I. D. & Bork, P. Epidermal growth factor-like modules. Curr. Opin. Struct. Biol. 3, 385–392 (1993).

Downing, A. K. et al. Solution structure of a pair of calcium-binding epidermal growth factor-like domains: implications for the Marfan syndrome and other genetic disorders. Cell 85, 597– 605 (1996).

Knobe, K. E. et al. Probing the activation of protein C by the thrombin-thrombomodulin complex using structural analysis, site-directed mutagenesis, and computer modeling. Proteins 35, 218– 234 (1999).

Glaser, C. B. et al. Oxidation of a specific methionine in thrombomodulin by activated neutrophil products blocks cofactor activity. A potential rapid mechanism for modulation of coagulation. J. Clin. Invest. 90, 2565–2573 (1992).

Clarke, J. H. et al. The short loop between epidermal growth factor-like domains 4 and 5 is critical for human thrombomodulin function. J. Biol. Chem. 268, 6309–6315 ( 1993).

Nagashima, M., Lundh, E., Leonard, J. C., Morser, J. & Parkinson, J. F. Alanine-scanning mutagenesis of the epidermal growth factor-like domains of human thrombomodulin identifies critical residues for its cofactor activity. J. Biol. Chem. 268, 2888–2892 (1993).

Light, D. R. et al. The interaction of thrombomodulin with Ca2+. Eur. J. Biochem. 262, 522– 533 (1999).

Adler, M. et al. The structure of a 19-residue fragment from the C-loop of the fourth epidermal growth factor-like domain of thrombomodulin. J. Biol. Chem. 270, 23366–23372 (1995).

Sampoli Benitez, B. A., Hunter, M. J., Meininger, D. P. & Komives, E. A. Structure of the fifth EGF-like domain of thrombomodulin: An EGF-like domain with a novel disulfide-bonding pattern. J. Mol. Biol. 273, 913–926 (1997).

Mather, T. et al. The 2. 8 Å crystal structure of Gla-domainless activated protein C. EMBO J. 15, 6822– 6831 (1996).

Hogg, P. J., Ohlin, A. K. & Stenflo, J. Identification of structural domains in protein C involved in its interaction with thrombin-thrombomodulin on the surface of endothelial cells. J. Biol. Chem. 267, 703– 706 (1992).

Martin, P. D., Malkowski, M. G., Box, J., Esmon, C. T. & Edwards, B. F. New insights into the regulation of the blood clotting cascade derived from the X-ray crystal structure of bovine meizothrombin des F1 in complex with PPACK. Structure 5, 1681–1693 (1997).

Gerlitz, B. & Grinnell, B. W. Mutation of protease domain residues Lys37-39 in human protein C inhibits activation by the thrombomodulin-thrombin complex without affecting activation by free thrombin. J. Biol. Chem. 271, 22285–22288 ( 1996).

Vincenot, A., Gaussem, P., Pittet, J. L., Debost, S. & Aiach, M. Amino acids 225-235** of the protein C serine-protease domain are important for the interaction with the thrombin-thrombomodulin complex. FEBS Lett. 367, 153– 157 (1995).

Parry, M. A. et al. The ternary microplasmin-staphylokinase-microplasmin complex is a proteinase-cofactor-substrate complex in action. Nature Struct. Biol. 5, 917–923 ( 1998).

Leslie, A. in Crystal. Computing V (eds Moras, D., Podjarny, A. D. & Thierry, J. C.) 27–38 (Oxford Univ. Press, Oxford, 1991).

Collaborative Computational Project No. 4. The CCP4 suite: programs for protein crystallography. Acta Crystallogr. D 50, 760–763 ( 1994).

Navaza, J. An automated package for molecular replacement. Acta Crystallogr. A 50, 157–163 ( 1994).

Brünger, G. J. XPLOR (version 3. 1) A System for X-ray Crystallography and NMR (Yale Univ. Press, New Haven, Connecticut, 1993).

Meininger, D. P., Hunter, M. J. & Komives, E. A. Synthesis, activity, and preliminary structure of the fourth EGF-like domain of thrombomodulin. Protein Sci. 4, 1683–1695 (1995).

Weisel, J. W., Nagaswami, C., Young, T. A. & Light, D. R. The shape of thrombomodulin and interactions with thrombin as determined by electron microscopy. J. Biol. Chem. 271, 31485–31490 (1996).

Nicholls, A., Bharadwaj, R. & Honig, B. GRASP- graphical representation and analysis of surface properties. Biophys. J. 64, A166 (1993).

Grinnell, B. W., Gerlitz, B. & Berg, D. T. Identification of a region in protein C involved in thrombomodulin-stimulated activation by thrombin: potential repulsion at anion-binding site I in thrombin. Biochem. J. 303, 929 –933 (1994).
Acknowledgements
We thank J. McRobbie, Berlex Biosciences, for help and advice on the production of the medium containing TME456, G. Bourenkov for help during data collection at DESY, R. Mentele for sequencing the crystallized material, and T. Mather and M. Bauer for initial crystallization attempts. W.B. acknowledges the financial support of the EU research programs 'Biomed', 'Training and Mobility' and 'Biotechnology', HSFP, the Fonds der Chemischen Industrie and the Sonderforschungsbereich 469.
About this article
Cite this article
Fuentes-Prior, P., Iwanaga, Y., Huber, R. et al. Structural basis for the anticoagulant activity of the thrombin–thrombomodulin complex. Nature 404, 518–525 (2000). https://doi.org/10.1038/35006683
Received:

Accepted:

Issue Date:

DOI: https://doi.org/10.1038/35006683
Comments
By submitting a comment you agree to abide by our Terms and Community Guidelines. If you find something abusive or that does not comply with our terms or guidelines please flag it as inappropriate.