Abstract
HYPOGLYCAEMIC activity has not so far been reported in any 4-quinazolone derivatives. We have found that 2-piperazino-3H,4-quinazolone monoacetate (I; 68/157) is an effective blood sugar lowering agent (patent pending).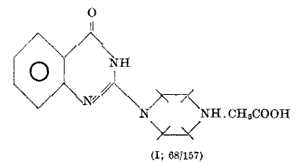 This compound was synthesized by heating 2-ethylthio-3H,4-quinazolone with N-benzylpiperazine followed by debenzylation with H2 over Pd/C in glacial acetic acid.
Access options
Subscribe to Journal
Get full journal access for 1 year
$199.00
only $3.83 per issue
All prices are NET prices.
VAT will be added later in the checkout.
Rent or Buy article
Get time limited or full article access on ReadCube.
from$8.99
All prices are NET prices.
About this article
Cite this article
GUPTA, C., HUSAIN, S., BHADURI, A. et al. New Potent Blood Sugar Lowering Compound. Nature 223, 524 (1969). https://doi.org/10.1038/223524a0
Comments
By submitting a comment you agree to abide by our Terms and Community Guidelines. If you find something abusive or that does not comply with our terms or guidelines please flag it as inappropriate.