Abstract
MURRAY1 has recently isolated the two main acids of the secretion of the preen gland of the goose and has shown that they are 2,4,6,8-tetramethyldecanoic (I) and 2,4,6,8-tetramethylundecanoic acids (II).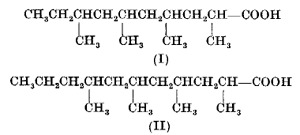 Access options
Access options
Subscribe to Journal
Get full journal access for 1 year
$199.00
only $3.90 per issue
All prices are NET prices.
VAT will be added later in the checkout.
Rent or Buy article
Get time limited or full article access on ReadCube.
from$8.99
All prices are NET prices.
References
1

Murray, K. E., Austral J. Chem., 15, 510 (1962).

2

Grisebach, H., Achenbach, H., and Grisebach, M. C., Naturwiss., 47, 206 (1960).

3

Corcoran, J. W., Kaneda, T., and Butte, J. C., Fed. Proc., 19, 227 (1960).

4

Birch, A. J., Pride, E., Rickards, R. W., Thompson, P. J., Dutcher, J. D., Perlman, D., and Djerassi, C., Chem. and Indust., 1245 (1960).

5

Lederer, E., Pure and App. Chem., 2, 587 (1961).

6

Gastambide-Odier, M., and Lederer, E., Chem. and Indust. (in the press).

7

Lennarz, W. J., Scheuerbrandt, G., and Bloch, K., J. Biol. Chem., 237, 664 (1962).

8

Noble, R. E., Koch-Weser, D., and Noble, E. P., Amer. Rev. Resp. Dis., 86, 391 (1962).

9

Ginger, L. G., J. Biol. Chem., 156, 453 (1944).

10

Swick, R. W., and Wood, H. G., Proc. U.S. Nat. Acad. Sci., 46, 28 (1960).

11

Phares, E. F., Arch. Biochem. Biophys., 33, 173 (1951).

12

Saz, J. J., and Weil, A., J. Biol. Chem., 235, 914 (1960); 237, 2053 (1962).
Rights and permissions
To obtain permission to re-use content from this article visit RightsLink.
Comments
By submitting a comment you agree to abide by our Terms and Community Guidelines. If you find something abusive or that does not comply with our terms or guidelines please flag it as inappropriate.