Abstract
THE rhizomes of Piper methysticum Forst. are the raw material from which the Polynesians and other Pacific island peoples prepare their ceremonial (and soporific) beverage 'awa (also known as kawa of kava-kava). The chemical constituents of 'awa root were first studied over a hundred years ago, but the most extensive investigation was carried out by Borsche and co-workers1 some thirty years ago. While Borsche established the structure of several constituents, none of these compounds, curiously enough, was found to possess physiological activity. This negative result led to the surmise that activity is perhaps introduced during the preparation of the drink which involved chewing of the root2. Van Veen3 in 1938 showed that a substance, marindinin, was responsible for the drug action of 'awa. Marindinin, however, was later shown to be identical with Borsche's dihydrokawain4 (I), a substance previously found to have no physiological activity5.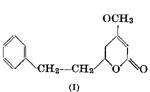 Access options
Subscribe to Journal
Get full journal access for 1 year
$199.00
only $3.90 per issue
All prices are NET prices.
VAT will be added later in the checkout.
Rent or Buy article
Get time limited or full article access on ReadCube.
from$8.99
All prices are NET prices.
References
1

Borsche, W., and Lewinsohn, M., Chem. Ber., 66, 1792 (1933).

2

Titcomb, M., J. Polynesian Soc., 57, 105 (1948).

3

Van Veen, A. G., Geneeskundig Tijdschr. Nederland. Indie 78, 1941 (1938).

4

Van Veen, A. G., Rec. trav. chim., 58, 521 (1939).

5

Borsche, W., and Blount, B. K., Chem. Ber., 66, 803 (1933).

6

Chmielewska, I., Ciéslak, J., Gorczyńska, K., Kontnik, B., and Pitakowska, K., Tetrahedron, 4, 36 (1958).

7

Hänsel, R., and Beiersdorff, H. U., Naturwiss., 45, 573 (1958).

8

Klohs, M. W., Keller, F., Williams, R. E., Toekes, M. I., and Cronheim, G. E., J. Med. Pharm. Chem., 1, 95 (1959).

9

Briggs, L. H., Colebrook, L. D., Fales, H. M., and Wildman, W. C., Anal. Chem., 29, 904 (1957).

10

Vogel, I., "A Textbook of Practical Organic Chemistry", 3rd ed., p. 977 (London, 1956).

11

Swanholm, C. E., St. John, H., and Scheuer, P. J., Pacific Sci. (in the press).

12

Winzheimer, E., Arch. Pharm., 246, 338 (1908); Chem. Abst., 3, 429 (1909).
About this article
Cite this article
SCHEUER, P., HORIGAN, T. A New Carbonyl Compound from Piper methysticum Forst.. Nature 184, 979 (1959) doi:10.1038/184979a0
Comments
By submitting a comment you agree to abide by our Terms and Community Guidelines. If you find something abusive or that does not comply with our terms or guidelines please flag it as inappropriate.