Abstract
TRIFLUORONITROSOMETHANE, a deep blue monomeric gas1,2, combines quantitatively with tetrafluoroethylene in the dark at − 45° to give perfluoro-2-methyl-1 : 2-oxazetidine,

(30 per cent), and an involatile colourless viscous oil (65 per cent). The oil is insoluble in the common organic solvents, and is unaffected by hot concentrated sulphuric acid or hot concentrated aqueous potassium hydroxide; its infra-red spectrum fails to show the presence of groups such as N : O, NO2,

, ONO, ONO2, C : C, N : N or C : N. The oil has the same empirical formula as perfluoro-2-methyl-1 : 2-oxazetidine, C3NOF7, showing a 1 : 1 ratio of trifluoronitrosomethane to tetrafluoroethylene. The oil is in fact a 1 : 1 copolymer of the reactants, formed by an ionic mechanism favoured by low temperatures: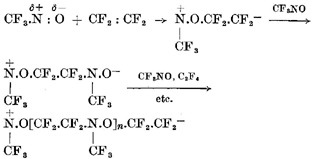 The formation of perfluoro-2-methyl-l : 2-oxazetidine from the intermediate

is also readily visualized by this mechanism. Chain termination in the polymer might involve disproportionation to give NF(CF3) and CF : CF2 end-groups.
Access options
Access options
Subscribe to Journal
Get full journal access for 1 year
$199.00
only $3.90 per issue
All prices are NET prices.
VAT will be added later in the checkout.
Rent or Buy article
Get time limited or full article access on ReadCube.
from$8.99
All prices are NET prices.
References
1

Haszeldine, R. N., Nature, 168, 1028 (1951); J. Chem. Soc., 2075 (1953).

2

Haszeldine, R. N., and Jander, J., J. Chem. Soc., 4172 (1953); 696, 912, 919 (1954); Naturwiss., 22, 579 (1953).
Rights and permissions
To obtain permission to re-use content from this article visit RightsLink.
Comments
By submitting a comment you agree to abide by our Terms and Community Guidelines. If you find something abusive or that does not comply with our terms or guidelines please flag it as inappropriate.