Fahad Ahmed

Jake W. O'Brien

Daniel A. Burgard

Catherine E. Richards

Asaf Tzachor

Richard Fenner

Erik Svensson Grape

Antonio J. Chacón-García

A. Ken Inge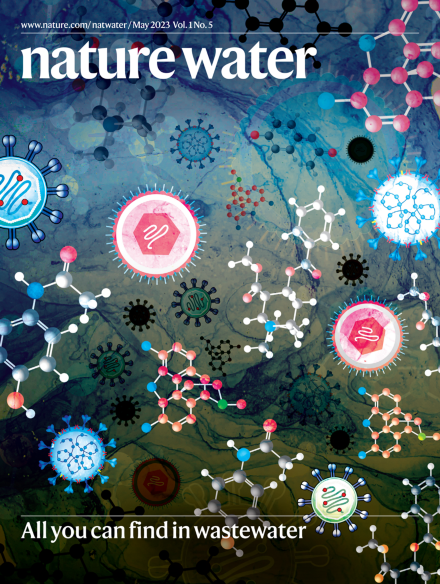 Announcements
The addition of chlorine to water increases the generation of disinfection by-products (DPBs). In this webinar we discuss with William Mitch (Stanford), Susan Richardson (South Carolina Univ) and Maria José Farré (ICRA, Barcellona) about high molecular weight DBPs, exploring the formation, potential environmental hazard and risk assessment.

The UN 2023 Water Conference will be held in New York on March 22-24, 2023, To highlight the importance of research and scientific evidence in addressing the water-related challenges, we present a new compilation of research articles from across the Nature Portfolio that corresponds to the dialogue themes of the conference.

Ahead of the first global conference on water in almost 50 years, held on March 22-24, Karin Sjöstrand from Nat Water spoke to Quentin Grafton (Australian National University), Joyeeta Gupta (University of Amsterdam), John Matthews (AGWA), and Rachael McDonnell (IWMI) about expectations of this global event and about challenges and opportunities on the road ahead
Water is the driving force of all nature; a more sustainable future can only be achieved by concerted actions on water starting now.

A model that predicts the masses of microplastics in river networks is a step forward in our goal of tackling global plastic pollution.

Although we know that microplastic is a huge contaminant of water resources, a connection between its source and its fate is largely missing. Combining a high-resolution microplastic release model with a fate model in rivers and lakes allows the prediction of masses of microplastics in each river section on a country level.

David Mennekes

Bernd Nowack

The rapid urbanization in China calls for an expansion of urban wastewater treatment systems, which in turn may exacerbate climate impacts. With an extensive and integrated application of existing low-carbon technologies for wastewater treatment, sludge disposal and water reuse, it is possible to substantially decouple urban water stress mitigation from greenhouse gas emissions.

Shaoqing Chen

Linmei Zhang

Bin Chen

Efficiency is only one of the parameters involved in solar evaporation that should be improved to make it practical. Depending on the application, various factors of merit should be taken into consideration, as discussed in this Perspective.

Wastewater-based epidemiology was widely used to monitor the spreading of COVID-19. We should now build on the knowledge acquired over the past three years to extend the use of the technique to a wide range of human health and lifestyle aspects.

Treatment of brackish groundwater can help to alleviate potential competition for freshwater resources between the power sector and other sectors in water-stressed regions.