Supplements
Insight: Stem Cells
Vol. 441, No. 7097 pp1059-1102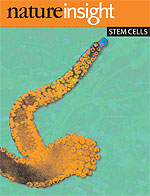 In recent years, stem cells have been the subject of considerable excitement. Great progress has been made in understanding their mechanisms and unravelling their potential for therapeutic application. Widespread use of stem-cell-based therapies is still a long way off, but could one day benefit vast numbers of patients, including those with cancer, neurodegenerative disorders and heart disease.
This Nature Insight is accompanied by a special stem cells podcast, which features interviews with leading stem-cell researchers and a live discussion on the various scientific and ethical problems in this exciting field.
Readers are invited to join a web forum to exchange views and opinions raised by the Insight articles. There is also a podcast forum for issues discussed in the stem cells podcast.
Top

of page
Editorial
Stem-cell Biology
Natalie DeWitt
doi:10.1038/4411059a
---
Top

of page
Glossary
A glossary for stem-cell biology
Austin Smith
doi:10.1038/nature04954
Abstract |Full Text | PDF (68KB)
---
Top

of page
Reviews
Nuclear reprogramming and pluripotency
Konrad Hochedlinger and Rudolf Jaenisch
doi:10.1038/nature04955
Abstract | Full Text | PDF (644KB)
---
Asymmetric and symmetric stem-cell divisions in development and cancer
Sean J. Morrison and Judith Kimble
doi:10.1038/nature04956
Abstract | Full Text | PDF (473KB) | Audio
---
The stem-cell niche as an entity of action
David T. Scadden
doi:10.1038/nature04957
Abstract | Full Text | PDF (323 KB) | Audio
---
Stem cells, ageing and the quest for immortality
Thomas A. Rando
doi:10.1038/nature04958
Abstract | Full Text | PDF (641 KB) | Audio
---
Generation of neuronal variability and complexity
Alysson R. Muotri and Fred H. Gage
doi:10.1038/nature04959
Abstract | Full Text | PDF (756 KB) | Audio
---
Top

of page
Progress
Stem cells for the treatment of neurological disorders
Olle Lindvall and Zaal Kokaia
doi:10.1038/nature04960
Abstract | Full Text | PDF (402KB)
---
Potential of stem-cell-based therapies for heart disease
Deepak Srivastava and Kathryn N. Ivey
doi:10.1038/nature04961
Abstract | Full Text | PDF (345 KB)
---
Stem-cell therapies for blood diseases
Claudio Bordignon
doi:10.1038/nature04962
Abstract | Full Text | PDF (323 KB)
---