Collection |
Nutrition, immunity and a global pandemic
It is well recognised that nutrition is intricately linked to immunity and to the risk and severity of infections. During the COVID-19 pandemic, the need for a balanced healthy diet to support the immune system and fight infection has become more apparent than ever.
The immune system is always active however activity is enhanced if an individual becomes infected. This heightened activity is accompanied by an increased rate of metabolism, requiring energy sources which are ultimately derived from the diet. An adequate supply of a wide range of nutrients is essential to support the immune system to function optimally.
Worldwide many individuals are already consuming diets that lack optimal quantities of essential vitamins and minerals - often because of availability or cost. As the pandemic continues many more are at risk of food insecurity.
This new collection provides an overview of the link between nutrition and immunity, discussing how factors including diet, lifestyle and underlying health conditions influence the body's ability to fight infection.
This collection is an editorially independent Springer Nature collection produced by the European Journal of Clinical Nutrition and Nutrition & Diabetes with financial support from Lonza.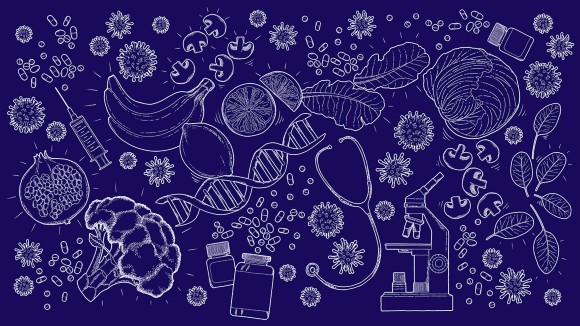 Features
Our resident bacteria help regulate the immune system and response to infections
Chronic inflammation and immune breakdown appear to be key reasons
Some studies suggest an impact, particularly for those who are vitamin-deficient. But for now, the jury is out
Reviews
Ranjit Unnikrishnan &

Anoop Misra
Further reading
Karin Amrein,

Mario Scherkl ⋯

Oliver Malle
Candida J. Rebello,

John P. Kirwan &

Frank L. Greenway
Xanthi Maragkoudaki,

Matthew Naylor ⋯

Paul D. Taylor
Yazan Alwarawrah,

Amanda G. Nichols ⋯

Nancie J. MacIver
Yong-feng Bai,

Si-wei Wang ⋯

Feng Zhang
Jiezhi Dai,

Chaoyin Jiang ⋯

Yimin Chai
Farah Naja &

Rena Hamadeh
Giovanna Muscogiuri,

Luigi Barrea ⋯

Annamaria Colao
Ritesh Gupta,

Akhtar Hussain &

Anoop Misra
Emma J. Kooistra,

Aline H. de Nooijer ⋯

on behalf of the RCI-COVID-19 study group
Rachael Batabyal,

Nathaniel Freishtat ⋯

Ioannis Koutroulis