Special |
Special Issue: Autophagy in Physiology and Disease
This Cell Death & Differentiation special issue on Autophagy brings together a series of commissioned reviews dedicated to the rapidly expanding autophagy field. Outstanding experts discuss how autophagy emerged as a key process in most organismal developmental stages, from fertilization throughout adult life and regeneration; how the removal of cellular organelles and infectious agents needs to be carefully controlled, impacting on the immune response and on an expanding list of diseases; what are the best strategies to modulate autophagy for the treatment of cancer and other pathologies? The readers will be challenged by this and other thought-provoking questions which we hope will help them charting innovative paths toward our thorough understanding of this fundamental process and its therapeutic applications.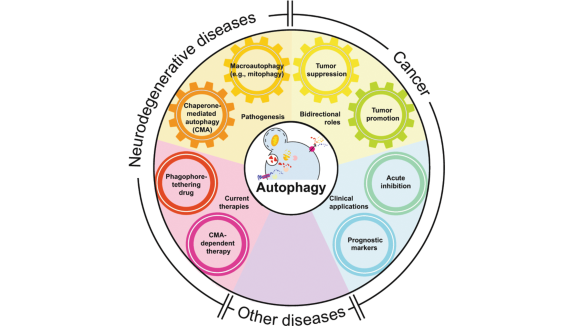 Reviews
Different ER subdomains such as ER sheets and tubules can be degraded by ER-phagy via specific ER-phagy receptors.
Christian A. Hübner &

Ivan Dikic
Jean M. Mulcahy Levy &

Andrew Thorburn
Ying Yang &

Daniel J. Klionsky
Matthew D. Keller,

Victor J. Torres &

Ken Cadwell
Martina Di Rienzo,

Alessandra Romagnoli ⋯

Gian Maria Fimia
Elizabeth A. Allen &

Eric H. Baehrecke
Donna Denton &

Sharad Kumar
Sandra M. Hill,

Lidia Wrobel &

David C. Rubinsztein
Margarita-Elena Papandreou &

Nektarios Tavernarakis
A decline in autophagy contributes to cardiac aging.
Vascular homeostasis relies on the proper behavior of endothelial cells (ECs). Emerging evidence indicate a critical role of autophagy, a vesicular process for lysosomal degradation of cytoplasmic content, in EC biology. While EC-intrinsic autophagy promotes EC function and quiescent state through redox homeostasis and possibly metabolic control, a role for EC-associated autophagy in cancer seems more complex.
Marco B. Schaaf,

Diede Houbaert ⋯

Patrizia Agostinis
The induction and inhibition of autophagy may provide new strategies for intervening on major and specific diseases, respectively. The scheme provides an overview on pathologies that might be targeted by the manipulation of autophagy.
Maria Chiara Maiuri &

Guido Kroemer
Autophagy and mitophagy are deregulated in many types of cancer stem cells (CSCs). Although there is yet to be discovered, both autophagy and mitophagy are able to regulate different steps of CSCs physiology such as metabolism, stemness, migration and chemo-resistance.
Francesca Nazio,

Matteo Bordi ⋯

Francesco Cecconi
Involvement of autophagy in cellular functions of neutrophils, eosinophils, basophils, NK cells, and mast cells.
Nina Germic,

Ziva Frangez ⋯

Hans-Uwe Simon
Involvement of autophagy in cellular functions of monocytes, macrophages and dendritic cells.
Nina Germic,

Ziva Frangez ⋯

Hans-Uwe Simon