Award |
The Spinoff Prize
The Spinoff Prize has been established by Nature Research in partnership with Merck to showcase and celebrate global excellence in the commercialisation of research through the creation of spinoff companies.
Guidelines for applicants
Apply now
Contact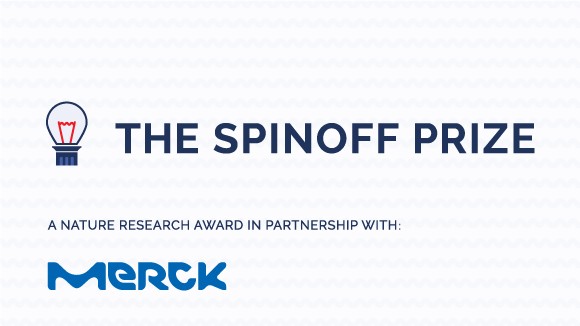 Apply now
Guidelines for applicants
Please read the guidelines for applicants before starting your application.
How to apply
Applications must be submitted through the online application form. The questions that you will need to answer are listed below for reference. Entries must be complete (that is, all fields are required unless indicated otherwise) and submitted by 28th February 2020 23:59 GMT to be eligible.
The application
Applicant details
Full name

Job title

Spinoff name

Date of formation/registration * This must be on or after 30th November 2016

Please provide a company logo in high-resolution 150 x 150 pixel JPEG format

[Optional] Please provide up to ten images/illustrations that would help explain what the company is seeking to develop in high-resolution JPEG format

[Optional] Please provide a black-and-white headshot photograph in high-resolution 150 x 150 pixel JPEG format

Company registration number (if available)

Spinoff web address

Postal address

Country

Email address

Phone number (including country code)
University or research institute's contact details (to be completed by applicant)
Full name

Job title

Department

Institution

Institution web address

Email address

Phone number (including country code)

[Tick box] I hereby confirm that Nature Research can contact the person specified above to confirm that they have approved this application.
Application questions
The application questions are split into five key topics. We want you to demonstrate the calibre of the science, knowledge and validation of the opportunity, quality of your plan, excellence of the team and significance of the potential impact you are seeking to achieve.
Nature Research appreciates that applicants will withhold any confidential information to protect any commercially sensitive information. Nature Research will not put in place any confidentiality agreements with applicants.
In answering the questions please avoid qualitative statements such as 'our solution is better/faster, cheaper or quicker' and instead provide quantitative information where available and appropriate.
You will not be able to exceed the word limits specified. If you can clearly answer the question in fewer words you are free to do so.
The sector
Please select the sector category you are entering.
Pharmaceuticals, biotechnology and medical technology

Agriculture and food technology

Chemicals and advanced materials

Digital technologies
The science
Describe the scientific research activity and the key findings that underpin the formation of the spinoff. Highlight why you consider the research to be highly original and innovative. (400 words) (All of the judges have a strong scientific background but are not necessarily experts in your field, so please write your answer to make it accessible to a broad scientific audience.)

You may include an image that illustrates aspects of the research or findings and refer to it in your description above. (High resolution JPEG format)

Please list up to 2 scientific papers that have been published based on the research and refer to them in your description above. (50 words)

Outline any independent replication of the scientific research. (100 words)
The opportunity
What is the specific problem or unmet need that you are seeking to address? (Details of the significance and value of the problem are to be put in 'The impact' section). (200 words)

What is your intended solution in order to address the problem/need outlined above? Who are your potential customers, end users and ultimate beneficiaries of the solution? (200 words)

How was the specific commercial application of the research identified and how did you confirm that there is a demand for your potential solution? (150 words)

What intellectual property position do you have and how does it relate to the commercial application? Include filing numbers and titles of up to 3 patents. (150 words)

What are the main competing solutions, what is their developmental status and who is developing them? For your key competitors, describe why your solution will be superior in terms of specific features or benefits and how it compares in terms of cost. (250 words)
The plan
Outline the key elements of your business model. Where in the value chain do you seek to capture value? For example, do you plan to develop the solution to a specific stage and seek to sell the asset/spinoff, or sell products to an end customer/intermediary and build a sustainable business? (200 words)

Where are you now and where are you heading? State and evidence what industry relevant development stage you have reached. If you have yet to sell products, how long will it take to achieve this? Identify where you aim to be in five years and the most important hurdles to overcome to achieve this beyond accessing funding e.g. technical, commercial or regulatory hurdles. (200 words)
The team
Please describe why the current team has the skills and experience to deliver on the plan and what expertise you are still seeking. (200 words)

What has the team achieved in the process of establishing and running the spinoff? What were the main challenges that the team has encountered so far and how have you, or how do you, plan to overcome them? Select examples of key successes. These could be technical developments, fundraising, team building or customer/market engagement. (200 words)
The impact
Quantify the problem/unmet need and the value of the market opportunity i.e. your total addressable market. For example, if you are developing a drug to treat an infectious disease, how many people are infected per annum, what is the associated morbidity and mortality and what is the value of the market for a new drug? (250 words)

Are there any other applications of the science/technology beyond your current focus? If applicable, describe and quantify the broader problem/unmet need and the value of the market opportunity. (250 words)

Additional comments. Please add any additional comments you wish to make. (200 words)
Terms and conditions for applicants
By applying, applicants agree to the terms and conditions of the award programme.
Key dates
Applications: applications are invited between 30th November 2019 and 23:59 BST on 28th February 2020.
Longlist: the longlisted companies will be informed under embargo in April 2020 and announced by early July 2020.
Shortlist: the shortlist companies will be informed under embargo in April 2020 and announced by early July 2020.
Winners: the winners of each category and overall winner will be announced at an awards ceremony during the Curious2020 – Future Insight Conference in Darmstadt, Germany, which will take place during 13th-15th July 2020.
Contact
Please contact us at the awards@nature.com if you require any further information.