A limitation of data obtained from RNA-seq experiments is the presence of different types of cell expression, making it difficult to identify the contribution of cell-type composition or cell-type-specific expression. A new study addresses this problem by proposing a method for cell-type-aware analysis of RNA-seq data.
Access options
Subscribe to Journal
Get full journal access for 1 year
$99.00
only $8.25 per issue
All prices are NET prices.
VAT will be added later in the checkout.
Tax calculation will be finalised during checkout.
Rent or Buy article
Get time limited or full article access on ReadCube.
from$8.99
All prices are NET prices.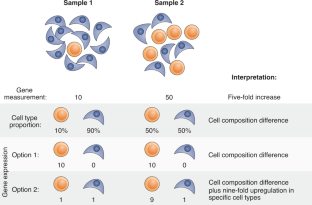 References
1.

Aran, D., Sirota, M. & Butte, A. J. A. J. Nat. Commun. 6, 8971 (2015).

2.

Jin, C., Chen, M., Lin, D. & Sun, W. Nat. Comput. Sci. https://doi.org/10.1038/s43588-021-00055-6 (2021).

3.

Newman, A. M. et al. Nat. Methods 12, 453–457 (2015).

4.

Aran, D., Hu, Z. & Butte, A. J. xCell: digitally portraying the tissue cellular heterogeneity landscape. Genome Biol 18, 220 (2017).

5.

Love, M. I., Huber, W. & Anders, S. Genome Biol 15, 550 (2014).

6.

La Manno, G. et al. Nature 560, 494–498 (2018).
Ethics declarations
Competing interests
The author declares no competing interests.
About this article
Cite this article
Aran, D. Extracting insights from heterogeneous tissues. Nat Comput Sci 1, 247–248 (2021). https://doi.org/10.1038/s43588-021-00061-8