Abstract
Secreted extracellular vesicles (EVs) influence the tumor microenvironment and promote distal metastasis. Here we analyzed the involvement of melanoma-secreted EVs in lymph node pre-metastatic niche formation in murine models. We found that small EVs (sEVs) derived from metastatic melanoma cell lines were enriched in nerve growth factor (NGF) receptor (NGFR, p75NTR), spread through the lymphatic system and were taken up by lymphatic endothelial cells, reinforcing lymph node metastasis. Remarkably, sEVs enhanced lymphangiogenesis and tumor cell adhesion by inducing ERK kinase, nuclear factor (NF)-κB activation and intracellular adhesion molecule (ICAM)-1 expression in lymphatic endothelial cells. Importantly, ablation or inhibition of NGFR in sEVs reversed the lymphangiogenic phenotype, decreased lymph node metastasis and extended survival in pre-clinical models. Furthermore, NGFR expression was augmented in human lymph node metastases relative to that in matched primary tumors, and the frequency of NGFR+ metastatic melanoma cells in lymph nodes correlated with patient survival. In summary, we found that NGFR is secreted in melanoma-derived sEVs, reinforcing lymph node pre-metastatic niche formation and metastasis.
Relevant articles
Open Access articles citing this article.
Yung-Chi Huang

,

Ming-Feng Hou

…

Ya-Ling Hsu

Cellular Oncology Open Access 06 January 2023

Fabio Quaglia

,

Shiv Ram Krishn

…

Lucia R. Languino

Scientific Reports Open Access 07 November 2022

Ryosuke Mano

,

Tomoko Tanaka

…

Shohta Kodama

Scientific Reports Open Access 01 August 2022
Access options
Subscribe to Nature+
Get immediate online access to Nature and 55 other Nature journal
Subscribe to Journal
Get full journal access for 1 year
$119.00
only $9.92 per issue
All prices are NET prices.
VAT will be added later in the checkout.
Tax calculation will be finalised during checkout.
Buy article
Get time limited or full article access on ReadCube.
$32.00
All prices are NET prices.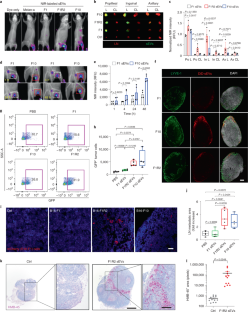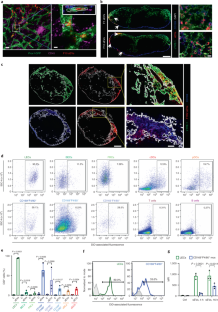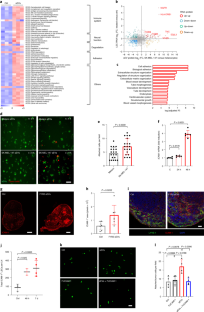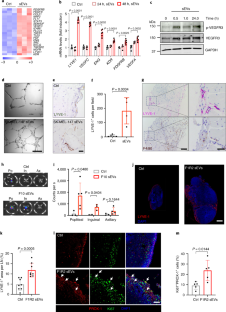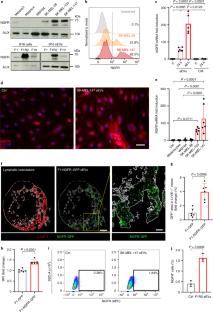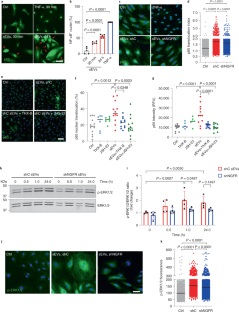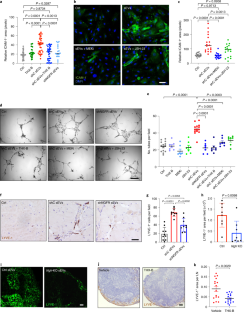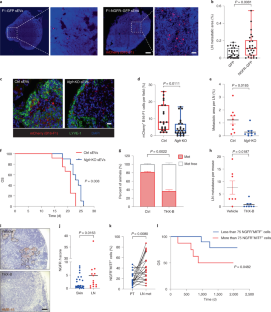 Data availability
RNA-seq data generated have been deposited in the Gene Expression Omnibus under the accession number GSE135187. The public proteomic dataset on human melanoma cell line-derived sEVs was obtained from the ProteomeXchange Consortium via the PRIDE partner repository with the dataset identifier PXD0009505. Proteomic data for the comparison between mouse B16 cell lines were uploaded to the ProteomeXchange Consortium via the PRIDE partner repository with the dataset identifier PXD024108. Proteomic data for the comparison between human shC and shNGFR SK-MEL-147-derived sEVs were uploaded to the ProteomeXchange Consortium via the PRIDE partner repository with the dataset identifier PXD024852. Information on procedures and analysis of the described sEVs have been included in the EV-TRACK database (EV-TRACK ID EV210127). Source data are provided with this paper. All other data supporting the findings of this study are available from the corresponding author on reasonable request.
References
Shain, A. H. & Bastian, B. C. From melanocytes to melanomas. Nat. Rev. Cancer 16, 345–358 (2016).

van Akkooi, A. C., Verhoef, C. & Eggermont, A. M. Importance of tumor load in the sentinel node in melanoma: clinical dilemmas. Nat. Rev. Clin. Oncol. 7, 446–454 (2010).

Harrell, M. I., Iritani, B. M. & Ruddell, A. Tumor-induced sentinel lymph node lymphangiogenesis and increased lymph flow precede melanoma metastasis. Am. J. Pathol. 170, 774–786 (2007).

Sleeman, J. P. The lymph node pre-metastatic niche. J. Mol. Med. 93, 1173–1184 (2015).

Pastushenko, I. et al. Blood microvessel density, lymphatic microvessel density and lymphatic invasion in predicting melanoma metastases: systematic review and meta-analysis. Br. J. Dermatol. 170, 66–77 (2014).

Hirakawa, S. et al. VEGF-C-induced lymphangiogenesis in sentinel lymph nodes promotes tumor metastasis to distant sites. Blood 109, 1010–1017 (2007).

Hirakawa, S. et al. VEGF-A induces tumor and sentinel lymph node lymphangiogenesis and promotes lymphatic metastasis. J. Exp. Med. 201, 1089–1099 (2005).

Alitalo, A. & Detmar, M. Interaction of tumor cells and lymphatic vessels in cancer progression. Oncogene 31, 4499–4508 (2012).

Srinivasan, S., Vannberg, F. O. & Dixon, J. B. Lymphatic transport of exosomes as a rapid route of information dissemination to the lymph node. Sci. Rep. 6, 24436 (2016).

Hood, J. L., San, R. S. & Wickline, S. A. Exosomes released by melanoma cells prepare sentinel lymph nodes for tumor metastasis. Cancer Res. 71, 3792–3801 (2011).

Becker, A. et al. Extracellular vesicles in cancer: cell-to-cell mediators of metastasis. Cancer Cell 30, 836–848 (2016).

Witwer, K. W. & Thery, C. Extracellular vesicles or exosomes? On primacy, precision, and popularity influencing a choice of nomenclature. J. Extracell. Vesicles 8, 1648167 (2019).

Hoshino, A. et al. Tumour exosome integrins determine organotropic metastasis. Nature 527, 329–335 (2015).

Costa-Silva, B. et al. Pancreatic cancer exosomes initiate pre-metastatic niche formation in the liver. Nat. Cell Biol. 17, 816–826 (2015).

Peinado, H. et al. Melanoma exosomes educate bone marrow progenitor cells toward a pro-metastatic phenotype through MET. Nat. Med. 18, 883–891 (2012).

Pucci, F. et al. SCS macrophages suppress melanoma by restricting tumor-derived vesicle–B cell interactions. Science 352, 242–246 (2016).

Garcia-Silva, S. et al. Use of extracellular vesicles from lymphatic drainage as surrogate markers of melanoma progression and BRAFV600E mutation. J. Exp. Med. 216, 1061–1070 (2019).

Broggi, M. A. S. et al. Tumor-associated factors are enriched in lymphatic exudate compared to plasma in metastatic melanoma patients. J. Exp. Med. 216, 1091–1107 (2019).

Hempstead, B. L. The many faces of p75NTR. Curr. Opin. Neurobiol. 12, 260–267 (2002).

Chesa, P. G., Rettig, W. J., Thomson, T. M., Old, L. J. & Melamed, M. R. Immunohistochemical analysis of nerve growth factor receptor expression in normal and malignant human tissues. J. Histochem. Cytochem. 36, 383–389 (1988).

Boiko, A. D. et al. Human melanoma-initiating cells express neural crest nerve growth factor receptor CD271. Nature 466, 133–137 (2010).

Restivo, G. et al. The low neurotrophin receptor CD271 regulates phenotype switching in melanoma. Nat. Commun. 8, 1988 (2017).

Nielsen, P. S., Riber-Hansen, R. & Steiniche, T. Immunohistochemical CD271 expression correlates with melanoma progress in a case–control study. Pathology 50, 402–410 (2018).

Guo, R. et al. Increased expression of melanoma stem cell marker CD271 in metastatic melanoma to the brain. Int. J. Clin. Exp. Pathol. 7, 8947–8951 (2014).

Civenni, G. et al. Human CD271-positive melanoma stem cells associated with metastasis establish tumor heterogeneity and long-term growth. Cancer Res. 71, 3098–3109 (2011).

Li, S. et al. Epigenetic regulation of CD271, a potential cancer stem cell marker associated with chemoresistance and metastatic capacity. Oncol. Rep. 33, 425–432 (2015).

Boshuizen, J. et al. Reversal of pre-existing NGFR-driven tumor and immune therapy resistance. Nat. Commun. 11, 3946 (2020).

Liersch, R. et al. Analysis of a novel highly metastatic melanoma cell line identifies osteopontin as a new lymphangiogenic factor. Int. J. Oncol. 41, 1455–1463 (2012).

Proulx, S. T., Ma, Q., Andina, D., Leroux, J. C. & Detmar, M. Quantitative measurement of lymphatic function in mice by noninvasive near-infrared imaging of a peripheral vein. JCI Insight 2, e90861 (2017).

Choi, I. et al. Visualization of lymphatic vessels by Prox1-promoter directed GFP reporter in a bacterial artificial chromosome-based transgenic mouse. Blood 117, 362–365 (2011).

Wu, M. H., Ustinova, E. & Granger, H. J. Integrin binding to fibronectin and vitronectin maintains the barrier function of isolated porcine coronary venules. J. Physiol. 532, 785–791 (2001).

Ghislin, S. et al. LFA-1 and ICAM-1 expression induced during melanoma–endothelial cell co-culture favors the transendothelial migration of melanoma cell lines in vitro. BMC Cancer 12, 455 (2012).

Johnson, L. A. & Jackson, D. G. Cell traffic and the lymphatic endothelium. Ann. NY Acad. Sci. 1131, 119–133 (2008).

Sigal, A. et al. The LFA-1 integrin supports rolling adhesions on ICAM-1 under physiological shear flow in a permissive cellular environment. J. Immunol. 165, 442–452 (2000).

Vaahtomeri, K., Karaman, S., Makinen, T. & Alitalo, K. Lymphangiogenesis guidance by paracrine and pericellular factors. Genes Dev. 31, 1615–1634 (2017).

Truman, L. A. et al. ProxTom lymphatic vessel reporter mice reveal Prox1 expression in the adrenal medulla, megakaryocytes, and platelets. Am. J. Pathol. 180, 1715–1725 (2012).

Martínez-Corral, I. et al. In vivo imaging of lymphatic vessels in development, wound healing, inflammation, and tumor metastasis. Proc. Natl Acad. Sci. USA 109, 6223–6228 (2012).

Alitalo, K. The lymphatic vasculature in disease. Nat. Med. 17, 1371–1380 (2011).

Sun, B. et al. Colorectal cancer exosomes induce lymphatic network remodeling in lymph nodes. Int. J. Cancer 145, 1648–1659 (2019).

Ballesteros, I. et al. Co-option of neutrophil fates by tissue environments. Cell 183, 1282–1297 (2020).

Redmer, T. et al. The nerve growth factor receptor CD271 is crucial to maintain tumorigenicity and stem-like properties of melanoma cells. PLoS ONE 9, e92596 (2014).

Fink, D. M. et al. Nerve growth factor regulates neurolymphatic remodeling during corneal inflammation and resolution. PLoS ONE 9, e112737 (2014).

Lehraiki, A. et al. Increased CD271 expression by the NF-κB pathway promotes melanoma cell survival and drives acquired resistance to BRAF inhibitor vemurafenib. Cell Discov. 1, 15030 (2015).

Richard, G. et al. ZEB1-mediated melanoma cell plasticity enhances resistance to MAPK inhibitors. EMBO Mol. Med. 8, 1143–1161 (2016).

Bai, Y. et al. Chronic and acute models of retinal neurodegeneration TrkA activity are neuroprotective whereas p75NTR activity is neurotoxic through a paracrine mechanism. J. Biol. Chem. 285, 39392–39400 (2010).

Olmeda, D. et al. Whole-body imaging of lymphovascular niches identifies pre-metastatic roles of midkine. Nature 546, 676–680 (2017).

Commerford, C. D. et al. Mechanisms of tumor-induced lymphovascular niche formation in draining lymph nodes. Cell Rep. 25, 3554–3563 (2018).

Reymond, N., d'Água, B. B. & Ridley, A. J. Crossing the endothelial barrier during metastasis. Nat. Rev. Cancer 13, 858–870 (2013).

Madri, J., Graesser, D. & Haas, T. The roles of adhesion molecules and proteinases in lymphocyte transendothelial migration. Biochem. Cell Biol. 74, 749–757 (1996).

Johnson, L. A. et al. An inflammation-induced mechanism for leukocyte transmigration across lymphatic vessel endothelium. J. Exp. Med. 203, 2763–2777 (2006).

Teijeira, A. et al. Lymphatic endothelium forms integrin-engaging 3D structures during DC transit across inflamed lymphatic vessels. J Invest. Dermatol. 133, 2276–2285 (2013).

Li, M. et al. Horizontal transfer of exosomal CXCR4 promotes murine hepatocarcinoma cell migration, invasion and lymphangiogenesis. Gene 676, 101–109 (2018).

Zhou, C.-F. et al. Cervical squamous cell carcinoma-secreted exosomal miR-221-3p promotes lymphangiogenesis and lymphatic metastasis by targeting VASH1. Oncogene 38, 1256–1268 (2019).

Kasemeier-Kulesa, J. C. & Kulesa, P. M. The convergent roles of CD271/p75 in neural crest-derived melanoma plasticity. Dev. Biol. 444, S352–S355 (2018).

Mohamed, A., Gonzalez, R. S., Lawson, D., Wang, J. & Cohen, C. Tumor stem cells (CD271, c-kit, SOX10) in melanomas: prognostic and outcome implications. Appl. Immunohistochem. Mol. Morphol. 22, 142–145 (2014).

Escudero, C. A. et al. The p75 neurotrophin receptor evades the endolysosomal route in neuronal cells, favouring multivesicular bodies specialised for exosomal release. J. Cell Sci. 127, 1966–1979 (2014).

Flister, M. J. et al. Inflammation induces lymphangiogenesis through up-regulation of VEGFR-3 mediated by NF-κB and Prox1. Blood 115, 418–429 (2010).

Foehr, E. D. et al. NF-κB signaling promotes both cell survival and neurite process formation in nerve growth factor-stimulated PC12 cells. J. Neurosci. 20, 7556–7563 (2000).

Carter, B. D. et al. Selective activation of NF-κB by nerve growth factor through the neurotrophin receptor p75. Science 272, 542–545 (1996).

Vilar, M. et al. Ligand-independent signaling by disulfide-crosslinked dimers of the p75 neurotrophin receptor. J. Cell Sci. 122, 3351–3357 (2009).

Bennett, D. C., Cooper, P. J. & Hart, I. R. A line of non-tumorigenic mouse melanocytes, syngeneic with the B16 melanoma and requiring a tumour promoter for growth. Int. J. Cancer 39, 414–418 (1987).

Miyake, Y. et al. Critical role of macrophages in the marginal zone in the suppression of immune responses to apoptotic cell-associated antigens. J. Clin. Invest. 117, 2268–2278 (2007).

Hoshino, A. et al. Extracellular vesicle and particle biomarkers define multiple human cancers. Cell 182, 1044–1061 (2020).

Fletcher, A. L. et al. Reproducible isolation of lymph node stromal cells reveals site-dependent differences in fibroblastic reticular cells. Front. Immunol. 2, 35 (2011).

Torres-Ruiz, R. et al. Efficient recreation of t(11;22) EWSR1-FLI1+ in human stem cells using CRISPR/Cas9. Stem Cell Rep. 8, 1408–1420 (2017).

Graña, O., Rubio-Camarillo, M., Fdez-Riverola, F., Pisano, D. G. & Glez-Peña, D. Nextpresso: Next Generation Sequencing Expression Analysis Pipeline. Curr. Bioinform. 13, 583–591 (2018).
Acknowledgements
We apologize to those authors whose work could not be cited due to size restrictions. We thank M. S. Soengas and the members of her laboratory for melanoma cells, primary melanocyte preparations and helpful discussions. We thank M. Detmar and S. Proulx for the mouse B16-F1R2 cell line. We are grateful to M. Yañez-Mo and M. Valés for antibodies against sEV markers. We thank D. Grela and A. Escobar from IESMAT for their support with the Zetasizer analysis. We thank G. Roncador, L. Maestre and J. L. Martinez Torrecuadrada for their help with the development and characterization of anti-NGFR antibodies and C. Villarroya Beltri for her help in flow cytometry analysis. This work was funded by the Starr Cancer Consortium (B.J.M., D.L. and H.P.), the US NIH (R01-CA169416), the Nancy C. and Daniel P. Paduano Foundation, the Children's Cancer and Blood Foundation (H.P. and D.L.), the Melanoma Research Alliance, the Feldstein Foundation, RETOS SAF2017-82924-R (AEI/10.13039/501100011033/FEDER-UE), the Fundación Ramón Areces, the Fundación Bancaria 'la Caixa' (HR18-00256), ATRES-MEDIA AXA Foundation (CONSTANTES Y VITALES, una iniciativa de laSexta y Fundación AXA) and the Fundación Científica AECC (LABAE19027PEIN, GCB15152978SOEN-HP) (H.P.), the Malcolm Hewitt Wiener Foundation, the AHEPA Fifth District Cancer Research Foundation, the Hartwell Foundation and the Manning Foundation (D.L.). We are also grateful for the support of the Translational Network for the Clinical Application of Extracellular Vesicles (TeNTaCLES), RED2018-102411-T (AEI/10.13039/501100011033), the Ramón y Cajal Programme, the FERO Foundation, Comunidad of Madrid 2017-T2/BMD6026 (L.N.) and La Caixa Foundation (ID100010434, fellowship LCF/BQ/ES17/11600007) (A.H.-B.). The CNIO, certified as a Severo Ochoa Excellence Centre, is supported by the Spanish government through the ISCIII.
Ethics declarations
Competing interests
The authors declare no competing interests.
Additional information
Peer review information Nature Cancer thanks Wei Guo and the other, anonymous, reviewer(s) for their contribution to the peer review of this work.
Publisher's note Springer Nature remains neutral with regard to jurisdictional claims in published maps and institutional affiliations.
Supplementary information
Supplementary Tables 1–10.
About this article
Cite this article
García-Silva, S., Benito-Martín, A., Nogués, L. et al. Melanoma-derived small extracellular vesicles induce lymphangiogenesis and metastasis through an NGFR-dependent mechanism. Nat Cancer 2, 1387–1405 (2021). https://doi.org/10.1038/s43018-021-00272-y
Received:

Accepted:

Published:

Issue Date:

DOI: https://doi.org/10.1038/s43018-021-00272-y