Abstract
Therapies that synergistically stimulate immunogenic cancer cell death (ICD), inflammation and immune priming are of great interest for cancer immunotherapy. However, even multi-agent therapies often fail to trigger all of the steps necessary for self-sustaining antitumor immunity. Here we describe self-replicating RNAs encapsulated in lipid nanoparticles (LNP), which combine three key elements: (1) an LNP composition that potently promotes ICD, (2) RNA that stimulates danger sensors in transfected cells and (3) RNA-encoded interleukin (IL)-12 for modulation of immune cells. Intratumoral administration of LNP-replicons led to high-level expression of IL-12, stimulation of a type I interferon response and cancer cell ICD, resulting in a highly inflamed tumor microenvironment and priming of systemic antitumor immunity. In several mouse models of cancer, a single intratumoral injection of LNP-replicons eradicated large established tumors, induced protective immune memory and enabled regression of distal uninjected tumors. LNP-replicons are thus a promising multifunctional single-agent immunotherapeutic.
Relevant articles
Open Access articles citing this article.
Verena Turco

,

Kira Pfleiderer

…

Michael Platten

Nature Communications Open Access 11 February 2023

Parinaz Aliahmad

,

Shigeki J. Miyake-Stoner

…

Nathaniel S. Wang

Cancer Gene Therapy Open Access 22 February 2022

Noor Momin

,

Joseph R. Palmeri

…

K. Dane Wittrup

Nature Communications Open Access 10 January 2022
Access options
Access Nature and 54 other Nature Portfolio journals
Get Nature+, our best-value online-access subscription
$29.99 / 30 days
cancel any time
Subscribe to this journal
Receive 12 digital issues and online access to articles
$119.00 per year
only $9.92 per issue
Rent or buy this article
Get just this article for as long as you need it
$39.95
Prices may be subject to local taxes which are calculated during checkout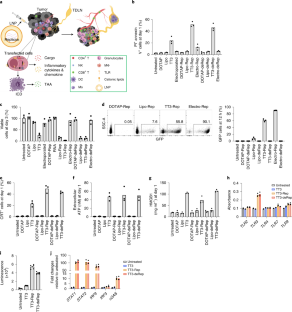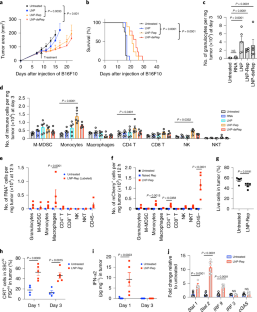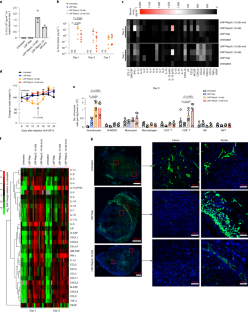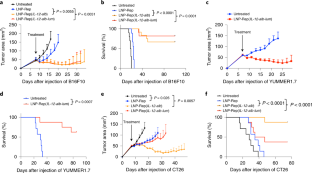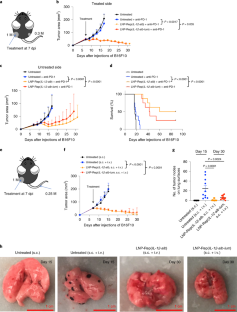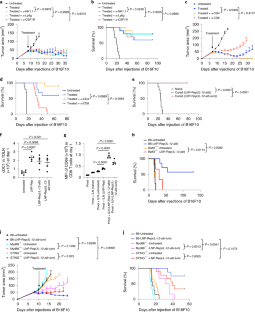 References
Sharma, P. & Allison, J. P. The future of immune checkpoint therapy. Science 348, 56–61 (2015).

Zou, W., Wolchok, J. D. & Chen, L. PD-L1 (B7-H1) and PD-1 pathway blockade for cancer therapy: mechanisms, response biomarkers, and combinations. Sci. Transl. Med. 8, 328rv324 (2016).

Wolchok, J. D. et al. Overall survival with combined nivolumab and ipilimumab in advanced melanoma. N. Engl. J. Med. 377, 1345–1356 (2017).

Chen, D. S. & Mellman, I. Elements of cancer immunity and the cancer-immune set point. Nature 541, 321–330 (2017).

Hammerich, L. et al. Systemic clinical tumor regressions and potentiation of PD1 blockade with in situ vaccination. Nat. Med. 25, 814–824 (2019).

Hammerich, L., Binder, A. & Brody, J. D. In situ vaccination: cancer immunotherapy both personalized and off-the-shelf. Mol. Oncol. 9, 1966–1981 (2015).

Aznar, M. A. et al. Intratumoral Delivery of immunotherapy-act locally, think globally. J. Immunol. 198, 31–39 (2017).

Marabelle, A., Kohrt, H., Caux, C. & Levy, R. Intratumoral immunization: a new paradigm for cancer therapy. Clin. Cancer Res. 20, 1747–1756 (2014).

Galluzzi, L., Buque, A., Kepp, O., Zitvogel, L. & Kroemer, G. Immunogenic cell death in cancer and infectious disease. Nat. Rev. Immunol. 17, 97–111 (2017).

Twumasi-Boateng, K., Pettigrew, J. L., Kwok, Y. Y. E., Bell, J. C. & Nelson, B. H. Oncolytic viruses as engineering platforms for combination immunotherapy. Nat. Rev. Cancer 18, 419–432 (2018).

Quetglas, J. I. et al. Virotherapy with a Semliki Forest virus-based vector encoding IL12 synergizes with PD-1/PD-L1 blockade. Cancer Immunol. Res. 3, 449–454 (2015).

Rodriguez-Madoz, J. R. et al. Semliki Forest virus expressing interleukin-12 induces antiviral and antitumoral responses in woodchucks with chronic viral hepatitis and hepatocellular carcinoma. J. Virol. 83, 12266–12278 (2009).

Hewitt, S. L. et al. Durable anticancer immunity from intratumoral administration of IL-23, IL-36γ, and OX40L mRNAs. Sci. Transl. Med. 11, eaat9143 (2019).

Moss, K. H., Popova, P., Hadrup, S. R., Astakhova, K. & Taskova, M. Lipid nanoparticles for delivery of therapeutic RNA oligonucleotides. Mol. Pharm. 16, 2265–2277 (2019).

Xue, H. Y., Liu, S. & Wong, H. L. Nanotoxicity: a key obstacle to clinical translation of siRNA-based nanomedicine. Nanomedicine (Lond.) 9, 295–312 (2014).

Li, Y. et al. In vitro evolution of enhanced RNA replicons for immunotherapy. Sci. Rep. 9, 6932 (2019).

Li, B. et al. An orthogonal array optimization of lipid-like nanoparticles for mRNA delivery in vivo. Nano Lett. 15, 8099–8107 (2015).

Obeid, M. et al. Calreticulin exposure dictates the immunogenicity of cancer cell death. Nat. Med. 13, 54–61 (2007).

Ghiringhelli, F. et al. Activation of the NLRP3 inflammasome in dendritic cells induces IL-1β-dependent adaptive immunity against tumors. Nat. Med. 15, 1170–1178 (2009).

Iyer, S. S. et al. Necrotic cells trigger a sterile inflammatory response through the Nlrp3 inflammasome. Proc. Natl Acad. Sci. USA 106, 20388–20393 (2009).

Selzner, N. et al. Water induces autocrine stimulation of tumor cell killing through ATP release and P2 receptor binding. Cell Death Differ. 11(Suppl. 2), S172–S180 (2004).

Apetoh, L. et al. Toll-like receptor 4-dependent contribution of the immune system to anticancer chemotherapy and radiotherapy. Nat. Med. 13, 1050–1059 (2007).

Scaffidi, P., Misteli, T. & Bianchi, M. E. Release of chromatin protein HMGB1 by necrotic cells triggers inflammation. Nature 418, 191–195 (2002).

Kawai, T. & Akira, S. TLR signaling. Cell Death Differ. 13, 816–825 (2006).

McComb, S. et al. Type-I interferon signaling through ISGF3 complex is required for sustained Rip3 activation and necroptosis in macrophages. Proc. Natl Acad. Sci. USA 111, E3206–E3213 (2014).

Momin, N. et al. Anchoring of intratumorally administered cytokines to collagen safely potentiates systemic cancer immunotherapy. Sci. Transl. Med. 11, eaaw2614 (2019).

Lasek, W., Zagozdzon, R. & Jakobisiak, M. Interleukin 12: still a promising candidate for tumor immunotherapy? Cancer Immunol. Immunother. 63, 419–435 (2014).

Ahn, J., Xia, T., Rabasa Capote, A., Betancourt, D. & Barber, G. N. Extrinsic phagocyte-dependent STING signaling dictates the immunogenicity of dying cells. Cancer Cell 33, e865 (2018).

Sistigu, A. et al. Cancer cell-autonomous contribution of type I interferon signaling to the efficacy of chemotherapy. Nat. Med. 20, 1301–1309 (2014).

Wang, P. et al. Re-designing Interleukin-12 to enhance its safety and potential as an anti-tumor immunotherapeutic agent. Nat. Commun. 8, 1395 (2017).

Barrett, J. A. et al. Regulated intratumoral expression of IL-12 using a RheoSwitch Therapeutic System((R)) (RTS((R))) gene switch as gene therapy for the treatment of glioma. Cancer Gene Ther. 25, 106–116 (2018).

Daud, A. I. et al. Phase I trial of interleukin-12 plasmid electroporation in patients with metastatic melanoma. J. Clin. Oncol. 26, 5896–5903 (2008).

Lucas, M. L., Heller, L., Coppola, D. & Heller, R. IL-12 plasmid delivery by in vivo electroporation for the successful treatment of established subcutaneous B16.F10 melanoma. Mol. Ther. 5, 668–675 (2002).

Mukhopadhyay, A. et al. Characterization of abscopal effects of intratumoral electroporation-mediated IL-12 gene therapy. Gene Ther. 26, 1–15 (2019).

Chiocca, E. A. et al. Regulatable interleukin-12 gene therapy in patients with recurrent high-grade glioma: results of a phase 1 trial. Sci. Transl. Med. 11, eaaw5680 (2019).

Bhatia, S. et al. Intratumoral delivery of plasmid IL12 via electroporation leads to regression of injected and noninjected tumors in Merkel cell carcinoma. Clin. Cancer Res. 26, 598–607 (2020).

Van Herpen, C. M. et al. Pharmacokinetics and immunological aspects of a phase Ib study with intratumoral administration of recombinant human interleukin-12 in patients with head and neck squamous cell carcinoma. Clin. Cancer Res. 9, 2950–2956 (2003).

Andtbacka, R. H. et al. Talimogene laherparepvec improves durable response rate in patients with advanced melanoma. J. Clin. Oncol. 33, 2780–2788 (2015).

Ribas, A. et al. Oncolytic virotherapy promotes intratumoral T cell infiltration and improves anti-PD-1 immunotherapy. Cell 170, e1110 (2017).

Kim, M. K. et al. Oncolytic and immunotherapeutic vaccinia induces antibody-mediated complement-dependent cancer cell lysis in humans. Sci. Transl. Med. 5, 185ra163 (2013).

Kaufman, H. L., Kohlhapp, F. J. & Zloza, A. Oncolytic viruses: a new class of immunotherapy drugs. Nat. Rev. Drug Discov. 14, 642–662 (2015).

Wang, J. et al. UV-induced somatic mutations elicit a functional T cell response in the YUMMER1.7 mouse melanoma model. Pigment. Cell Melanoma Res. 30, 428–435 (2017).

Li, Y. et al. Persistent antigen and prolonged AKT-mTORC1 activation underlie memory cd8 T cell impairment in the absence of CD4 T cells. J. Immunol. 195, 1591–1598 (2015).

Eisen, M. B., Spellman, P. T., Brown, P. O. & Botstein, D. Cluster analysis and display of genome-wide expression patterns. Proc. Natl Acad. Sci. USA 95, 14863–14868 (1998).

Moynihan, K. D. et al. Eradication of large established tumors in mice by combination immunotherapy that engages innate and adaptive immune responses. Nat. Med. 22, 1402–1410 (2016).
Acknowledgements
We thank the Koch Institute Swanson Biotechnology Center for technical support, especially the Flow Cytometry Facility, Animal Facility, Microscopy Facility, Histology Facility and Nanotechnology Materials Core Facility. We also thank G.A. Paradis, J. Kuhn, D.S. Yun and members of Irvine laboratory and members of Weiss laboratory for their discussions and suggestions. This work was supported in part by the grant P30-CA14051 from National Cancer Institute in support of Koch Institute core facilities, the National Institutes of Health (award CA20618 to R.W. and D.J.I.), the Marble Center for Nanomedicine and the Ragon Institute of MGH, MIT and Harvard. D.J.I. is an investigator of the Howard Hughes Medical Institute. Y.D. acknowledges support from the Maximizing Investigators' Research Award R35GM119679 from the National Institute of General Medical Sciences. W.Z. acknowledges the support from the Professor Sylvan G. Frank Graduate Fellowship.
Ethics declarations
Competing interests
D.J.I., K.D.W., R.W., Y.L., N.M. and Y.D. are named as inventors on patent applications filed by MIT related to the data presented in this work (PCT/US2020/013069).
Additional information
Publisher's note Springer Nature remains neutral with regard to jurisdictional claims in published maps and institutional affiliations.
Supplementary information
Sequences of constructs for dead replicon RNA encoding EGFP (deRep-GFP)
About this article
Cite this article
Li, Y., Su, Z., Zhao, W. et al. Multifunctional oncolytic nanoparticles deliver self-replicating IL-12 RNA to eliminate established tumors and prime systemic immunity. Nat Cancer 1, 882–893 (2020). https://doi.org/10.1038/s43018-020-0095-6
Received:

Accepted:

Published:

Issue Date:

DOI: https://doi.org/10.1038/s43018-020-0095-6