Abstract
Anticancer uses of non-oncology drugs have occasionally been found, but such discoveries have been serendipitous. We sought to create a public resource containing the growth-inhibitory activity of 4,518 drugs tested across 578 human cancer cell lines. We used PRISM (profiling relative inhibition simultaneously in mixtures), a molecular barcoding method, to screen drugs against cell lines in pools. An unexpectedly large number of non-oncology drugs selectively inhibited subsets of cancer cell lines in a manner predictable from the molecular features of the cell lines. Our findings include compounds that killed by inducing phosphodiesterase 3A-Schlafen 12 complex formation, vanadium-containing compounds whose killing depended on the sulfate transporter SLC26A2, the alcohol dependence drug disulfiram, which killed cells with low expression of metallothioneins, and the anti-inflammatory drug tepoxalin, which killed via the multidrug resistance protein ATP-binding cassette subfamily B member 1 (ABCB1). The PRISM drug repurposing resource (https://depmap.org/repurposing) is a starting point to develop new oncology therapeutics, and more rarely, for potential direct clinical translation.
Relevant articles
Open Access articles citing this article.
J. Michael Krill-Burger

,

Joshua M. Dempster

…

Aviad Tsherniak

Genome Biology Open Access 23 August 2023

Tamara Bintener

,

Maria Pires Pacheco

…

Thomas Sauter

Cell Death & Disease Open Access 26 July 2023

Fan Pan

,

Sara Chocarro

…

Rocio Sotillo

Cell Death & Disease Open Access 14 July 2023
Access options
Access Nature and 54 other Nature Portfolio journals
Get Nature+, our best-value online-access subscription
$29.99 / 30 days
cancel any time
Subscribe to this journal
Receive 12 digital issues and online access to articles
$119.00 per year
only $9.92 per issue
Rent or buy this article
Prices vary by article type
from$1.95
to$39.95
Prices may be subject to local taxes which are calculated during checkout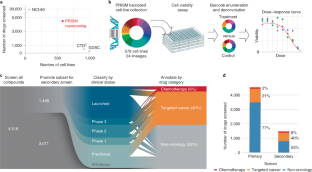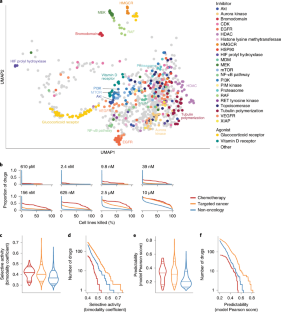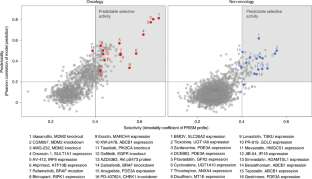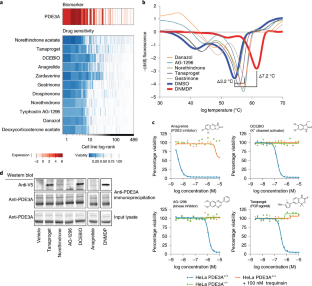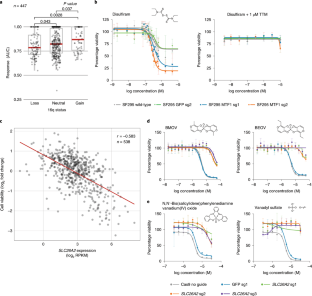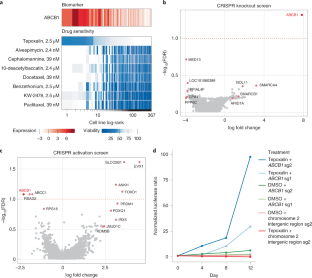 Data availability
The PRISM Repurposing dataset, including screening data and all metadata, is available at the Cancer Dependency Map portal (https://depmap.org/repurposing). Raw and processed PRISM viability data are available from the Cancer Dependency Map portal (https://depmap.org/repurposing) and have been archived via figshare (https://doi.org/10.6084/m9.figshare.9393293). Interactive versions of Figs. 2a and 4 (with accompanying raw data) are also available on the Cancer Dependency Map portal; scatter plot source data are also deposited in figshare. The cell line features used for biomarker analysis are listed in Supplementary Table 10 and archived via figshare (https://doi.org/10.6084/m9.figshare.10277810). RNA-seq data have been deposited with the Gene Expression Omnibus (accession number GSE133299). All other data supporting the findings of this study are available from the corresponding author upon reasonable request.
Code availability
Data analysis was performed in R v.3.5.1 using custom-made or publicly available R packages. Individual packages are explicitly cited in the manuscript. The custom code is available upon request and from GitHub (https://github.com/broadinstitute/repurposing).
References
Alley, M. C. et al. Feasibility of drug screening with panels of human tumor cell lines using a microculture tetrazolium assay. Cancer Res. 48, 589–601 (1988).

Garnett, M. J. et al. Systematic identification of genomic markers of drug sensitivity in cancer cells. Nature 483, 570–575 (2012).

Basu, A. et al. An interactive resource to identify cancer genetic and lineage dependencies targeted by small molecules. Cell 154, 1151–1161 (2013).

Yu, C. et al. High-throughput identification of genotype-specific cancer vulnerabilities in mixtures of barcoded tumor cell lines. Nat. Biotechnol. 34, 419–423 (2016).

Corsello, S. M. et al. The Drug Repurposing Hub: a next-generation drug library and information resource. Nat. Med. 23, 405–408 (2017).

Ben-David, U. et al. Genetic and transcriptional evolution alters cancer cell line drug response. Nature 560, 325–330 (2018).

McInnes, L., Healy, J., Saul, N. & Großberger, L. UMAP: Uniform manifold approximation and projection. J. Open Source Softw. 3, 861 (2018).

Ellison, A. M. Effect of seed dimorphism on the density-dependent dynamics of experimental populations of Atriplex triangularis (Chenopodiaceae). Am. J. Bot. 74, 1280–1288 (1987).

Tsherniak, A. et al. Defining a cancer dependency map. Cell 170, 564–576.e16 (2017).

Barretina, J. et al. The cancer cell line encyclopedia enables predictive modelling of anticancer drug sensitivity. Nature 483, 603–607 (2012).

Ghandi, M. et al. Next-generation characterization of the Cancer Cell Line Encyclopedia. Nature 569, 503–508 (2019).

Li, H. et al. The landscape of cancer cell line metabolism. Nat. Med. 25, 850–860 (2019).

Meyers, R. M. et al. Computational correction of copy number effect improves specificity of CRISPR–Cas9 essentiality screens in cancer cells. Nat. Genet. 49, 1779–1784 (2017).

McFarland, J. M. et al. Improved estimation of cancer dependencies from large-scale RNAi screens using model-based normalization and data integration. Nat. Commun. 9, 4610 (2018).

Aben, N., Vis, D. J., Michaut, M. & Wessels, L. F. A. TANDEM: a two-stage approach to maximize interpretability of drug response models based on multiple molecular data types. Bioinformatics 32, i413–i420 (2016).

Rydenfelt, M., Wongchenko, M., Klinger, B., Yan, Y. & Blüthgen, N. The cancer cell proteome and transcriptome predicts sensitivity to targeted and cytotoxic drugs. Life Sci. Alliance 2, e201900445 (2019).

Iorio, F. et al. A landscape of pharmacogenomic interactions in cancer. Cell 166, 740–754 (2016).

de Waal, L. et al. Identification of cancer-cytotoxic modulators of PDE3A by predictive chemogenomics. Nat. Chem. Biol. 12, 102–108 (2016).

Karin, M. et al. Human metallothionein genes are clustered on chromosome 16. Proc. Natl Acad. Sci. USA 81, 5494–5498 (1984).

Skrott, Z. et al. Alcohol-abuse drug disulfiram targets cancer via p97 segregase adaptor NPL4. Nature 552, 194–199 (2017).

Nechushtan, H. et al. A phase IIb trial assessing the addition of disulfiram to chemotherapy for the treatment of metastatic non-small cell lung cancer. Oncologist 20, 366–367 (2015).

Eckschlager, T., Adam, V., Hrabeta, J., Figova, K. & Kizek, R. Metallothioneins and cancer. Curr. Protein Pept. Sci. 10, 360–375 (2009).

Irth, H., de Jong, G. J., Brinkman, U. A. & Frei, R. W. Metallic copper-containing post-column reactor for the detection of thiram and disulfiram in liquid chromatography. J. Chromatogr. 370, 439–447 (1986).

Tsvetkov, P. et al. Mitochondrial metabolism promotes adaptation to proteotoxic stress. Nat. Chem. Biol. 15, 681–689 (2019).

Iljin, K. et al. High-throughput cell-based screening of 4910 known drugs and drug-like small molecules identifies disulfiram as an inhibitor of prostate cancer cell growth. Clin. Cancer Res. 15, 6070–6078 (2009).

Taylor, A. M. et al. Genomic and functional approaches to understanding cancer aneuploidy. Cancer Cell 33, 676–689.e3 (2018).

Koboldt, D. C. et al. Comprehensive molecular portraits of human breast tumours. Nature 490, 61–70 (2012).

Bell, D. Integrated genomic analyses of ovarian carcinoma. Nature 474, 609–615 (2011).

Wang, J., Yuen, V. G. & McNeill, J. H. Effect of vanadium on insulin sensitivity and appetite. Metabolism 50, 667–673 (2001).

Thompson, K. H. et al. Vanadium treatment of type 2 diabetes: a view to the future. J. Inorg. Biochem. 103, 554–558 (2009).

Hästbacka, J. et al. The diastrophic dysplasia gene encodes a novel sulfate transporter: positional cloning by fine-structure linkage disequilibrium mapping. Cell 78, 1073–1087 (1994).

Hästbacka, J. et al. Identification of the Finnish founder mutation for diastrophic dysplasia (DTD). Eur. J. Hum. Genet. 7, 664–670 (1999).

Analysis-Ready Standardized TCGA Data from Broad GDAC Firehose 2016_01_28 Run (Broad Institute TCGA Genome Data Analysis Center, 2016); https://doi.org/10.7908/C11G0KM9

Argentieri, D. C. et al. Tepoxalin: a dual cyclooxygenase/5-lipoxygenase inhibitor of arachidonic acid metabolism with potent anti-inflammatory activity and a favorable gastrointestinal profile. J. Pharmacol. Exp. Ther. 271, 1399–1408 (1994).

Animal Drugs at FDA: Tepoxalin (Food and Drug Administration, accessed 15 December 2019); https://animaldrugsatfda.fda.gov/adafda/views/#/home/previewsearch/141-193

Dubey, R. et al. Chromatin-remodeling complex SWI/SNF controls multidrug resistance by transcriptionally regulating the drug efflux pump ABCB1. Cancer Res. 76, 5810–5821 (2016).

Waldman, S. A. et al. Pharmacokinetics and pharmacodynamics of tepoxalin after single oral dose administration to healthy volunteers. J. Clin. Pharmacol. 36, 462–468 (1996).

Dimberg, L. Y. et al. A genome-wide loss-of-function screen identifies SLC26A2 as a novel mediator of TRAIL resistance. Mol. Cancer Res. 15, 382–394 (2017).

Straussman, R. et al. Tumour micro-environment elicits innate resistance to RAF inhibitors through HGF secretion. Nature 487, 500–504 (2012).

Stover, E. H. et al. Pooled genomic screens identify anti-apoptotic genes as targetable mediators of chemotherapy resistance in ovarian cancer.Mol. Cancer Res. 17, 2281–2293 (2019).

Subramanian, A. et al. A next generation connectivity map: L1000 platform and the first 1,000,000 profiles. Cell 171, 1437–1452.e17 (2017).

Zhang, X. D. A pair of new statistical parameters for quality control in RNA interference high-throughput screening assays. Genomics 89, 552–561 (2007).

Johnson, W. E., Li, C. & Rabinovic, A. Adjusting batch effects in microarray expression data using empirical Bayes methods. Biostatistics 8, 118–127 (2007).

Smirnov, P. et al. PharmacoGx: an R package for analysis of large pharmacogenomic datasets. Bioinformatics 32, 1244–1246 (2016).

Strobl, C., Boulesteix, A.-L., Kneib, T., Augustin, T. & Zeileis, A. Conditional variable importance for random forests. BMC Bioinformatics 9, 307 (2008).

Chatfield, C. Statistics for Technology: a Course in Applied Statistics 3rd edn (CRC Press, 2018).

Honaker, J., King, G. & Blackwell, M. Amelia II: a program for missing data. J. Stat. Softw. https://www.jstatsoft.org/article/view/v045i07 (2011).

Ritchie, M. E. et al. limma powers differential expression analyses for RNA-sequencing and microarray studies. Nucleic Acids Res. 43, e47 (2015).

Doench, J. G. et al. Optimized sgRNA design to maximize activity and minimize off-target effects of CRISPR-Cas9. Nat. Biotechnol. 34, 184–191 (2016).

Sanson, K. R. et al. Optimized libraries for CRISPR-Cas9 genetic screens with multiple modalities. Nat. Commun. 9, 5416 (2018).

Li, W. et al. Quality control, modeling, and visualization of CRISPR screens with MAGeCK-VISPR. Genome Biol. 16, 281 (2015).

He, L. et al. in Cancer Systems Biology: Methods and Protocols (ed von Stechow, L.) 351–398 (Springer, 2018).

Polli, J. W. et al. Rational use of in vitro P-glycoprotein assays in drug discovery. J. Pharmacol. Exp. Ther. 299, 620–628 (2001).

Aguet, F. et al. Genetic effects on gene expression across human tissues. Nature 550, 204–213 (2017).

Birger, C. et al. FireCloud, a scalable cloud-based platform for collaborative genome analysis: strategies for reducing and controlling costs. Preprint at bioRxiv https://doi.org/10.1101/209494 (2017).

Love, M. I., Huber, W. & Anders, S. Moderated estimation of fold change and dispersion for RNA-seq data with DESeq2. Genome Biol. 15, 550 (2014).
Acknowledgements
We thank C. Yu, W. Hahn, B. Wolpin, A. Bass, N. Gray, K. Stegmaier, E. Stover, T. Lewis, M. Mesleh, A. Burgin, S. Alper, G. Botta, M. Macaluso, P. Tsvetkov, X. Jin, K. Blakeslee, G. Ciolek and E. Lander for helpful scientific discussions. M. Passino, C. Zhu, K. Gore, M. Laird, C. Trapechio and E. Parikh generated the barcoded PRISM cell lines and performed the assays. K. Stumbraite assisted with STR fingerprinting. S. Johnson and J. Davis performed lysate processing and detection. S.E. Johnston and R. Singh provided analytical chemistry support. A. Vrcic, C. Sandland and S. Figueroa-Lazu assisted with compound management. G. Kugener and A. Gonzalez provided technical assistance. This study was supported in part by the Carlos Slim Foundation (Slim Initiative in Genomic Medicine for the Americas), the Next Generation Fund at the Broad Institute of MIT and Harvard (S.M.C.), the Conquer Cancer Foundation of ASCO Young Investigator Award (S.M.C.) and National Institutes of Health grants nos. U01 HG008699 (T.R.G and A.S.), U54 HL127366 (T.R.G and A.S.), KL2 TR002542 (S.M.C.) and K08 CA230220 (S.M.C.).
Ethics declarations
Competing interests
S.M.C., X.W., H.G., M.M., A.S. and T.R.G. receive research funding unrelated to this project from Bayer HealthCare. M.M. receives research funding from Ono and serves as a scientific advisory board and consultant for OrigiMed. M.M. has patents licensed to LabCorp and Bayer. M.M. and T.R.G. were formerly consultants and equity holders in Foundation Medicine, which was acquired by Roche. J.A.B. is an employee and shareholder of Vertex Pharmaceuticals. J.G.D. and A.T. consult for Tango Therapeutics. T.R.G. is a consultant to GlaxoSmithKline and is a founder of Sherlock Biosciences. Patent applications for the drug uses detailed in this manuscript have been filed. The other authors declare no competing interests.
Additional information
Publisher's note Springer Nature remains neutral with regard to jurisdictional claims in published maps and institutional affiliations.
Supplementary information
About this article
Cite this article
Corsello, S.M., Nagari, R.T., Spangler, R.D. et al. Discovering the anticancer potential of non-oncology drugs by systematic viability profiling. Nat Cancer 1, 235–248 (2020). https://doi.org/10.1038/s43018-019-0018-6
Received:

Accepted:

Published:

Issue Date:

DOI: https://doi.org/10.1038/s43018-019-0018-6