Recurrent networks can be trained using a generalization of backpropagation, called backpropagation through time, but a gap exists between the mathematics of this learning algorithm and biological plausibility. E-prop is a biologically inspired alternative that opens up possibilities for a new generation of online training algorithms for recurrent networks.
Access options
Subscribe to Journal
Get full journal access for 1 year
$99.00
only $8.25 per issue
All prices are NET prices.
VAT will be added later in the checkout.
Tax calculation will be finalised during checkout.
Rent or Buy article
Get time limited or full article access on ReadCube.
from$8.99
All prices are NET prices.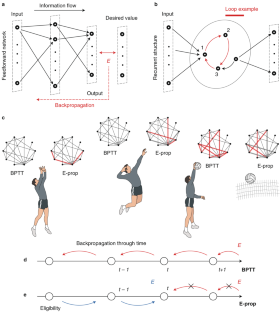 References
1.

Silver, D. et al. Nature 550, 354–359 (2017).

2.

Bellec, G. et al. Preprint at https://doi.org/10.1101/738385 (2019).

3.

Werbos, P. J. Proc. IEEE 78, 1550–1560 (1990).

4.

Clopath, C., Büsing, L., Vasilaki, E. & Gerstner, W. Nat. Neurosci. 13, 344–352 (2010).

5.

Williams, R. J. & Zipser, D. Neural Comput. 1, 270–280 (1989).

6.

Sutton, R. S. & Barto, A. G. Introduction to Reinforcement Learning Vol. 2 (MIT Press, 1998).

7.

Vasilaki, E., Frémaux, N., Urbanczik, R., Senn, W. & Gerstner, W. PLOS Comput. Biol. 5, e1000586 (2009).
Ethics declarations
Competing interests
The authors declare no competing interests.
About this article
Cite this article
Manneschi, L., Vasilaki, E. An alternative to backpropagation through time. Nat Mach Intell 2, 155–156 (2020). https://doi.org/10.1038/s42256-020-0162-9
Further reading
Adnan Mehonic

,

Abu Sebastian

,

Bipin Rajendran

,

Osvaldo Simeone

,

Eleni Vasilaki

&

Anthony J. Kenyon

Advanced Intelligent Systems (2020)