Abstract
The multifunctional roles of metabolic enzymes allow for the integration of multiple signals to precisely transduce external stimuli into cell fate decisions. Elevation of 3-phosphoglycerate dehydrogenase (PHGDH), the rate-limiting enzyme for de novo serine biosynthesis, is broadly associated with human cancer development; although how PHGDH activity is regulated and its implication in tumorigenesis remains unclear. Here we show that glucose restriction induces the phosphorylation of PHGDH by p38 at Ser371, which promotes the translocation of PHGDH from the cytosol into the nucleus. Concurrently, AMPK phosphorylates PHGDH-Ser55, selectively increasing PHGDH oxidation of malate into oxaloacetate, thus generating NADH. In the nucleus, the altered PHGDH activity restricts NAD+ level and compartmentally repressed NAD+-dependent PARP1 activity for poly(ADP-ribosyl)ation of c-Jun, thereby leading to impaired c-Jun transcriptional activity linked to cell growth inhibition. Physiologically, nuclear PHGDH sustains tumour growth under nutrient stress, and the levels of PHGDH-Ser371 and PHGDH-Ser55 phosphorylation correlate with p38 and AMPK activity, respectively, in clinical human pancreatic cancer specimens. These findings illustrate a previously unidentified nutrient-sensing mechanism with the critical involvement of a non-canonical metabolic effect of PHGDH and underscore the functional importance of alternative PHGDH activity in tumorigenesis.
Access options
Subscribe to Journal
Get full journal access for 1 year
$119.00
only $9.92 per issue
All prices are NET prices.
VAT will be added later in the checkout.
Tax calculation will be finalised during checkout.
Rent or Buy article
Get time limited or full article access on ReadCube.
from$8.99
All prices are NET prices.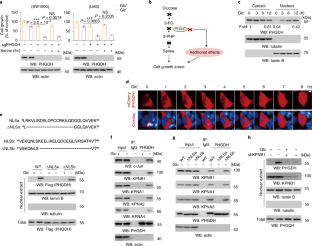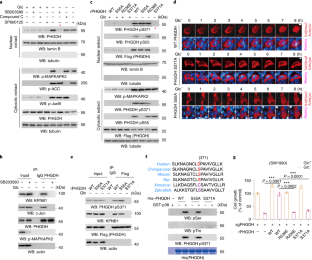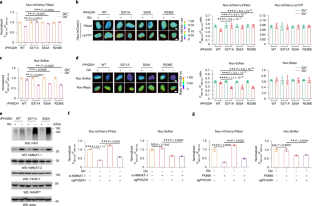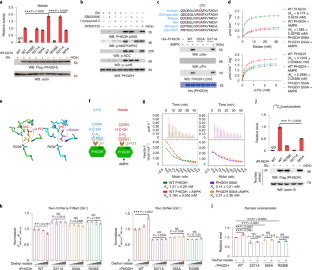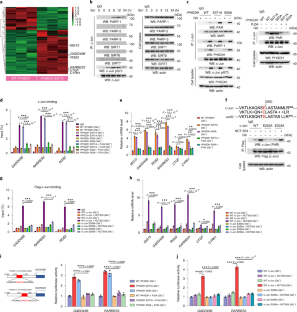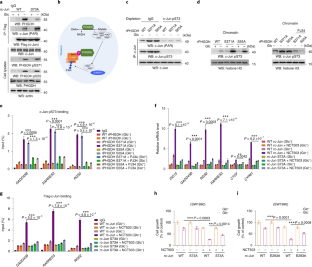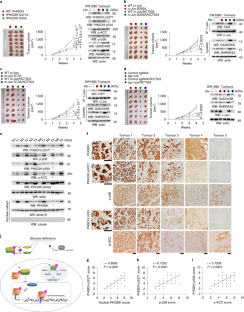 Data availability
RNA-sequencing datasets are available under accession number GSE180640. All other data are available from the authors upon reasonable request. Source data are provided with this paper.
References
1.

Pavlova, N. N. & Thompson, C. B. The emerging hallmarks of cancer metabolism. Cell Metab. 23, 27–47 (2016).

2.

DeBerardinis, R. J. & Chandel, N. S. Fundamentals of cancer metabolism. Sci. Adv. 2, e1600200 (2016).

3.

Li, X., Egervari, G., Wang, Y., Berger, S. L. & Lu, Z. Regulation of chromatin and gene expression by metabolic enzymes and metabolites. Nat. Rev. Mol. Cell Biol. 19, 563–578 (2018).

4.

Boon, R., Silveira, G. G. & Mostoslavsky, R. Nuclear metabolism and the regulation of the epigenome. Nat. Metab. 2, 1190–1203 (2020).

5.

Campbell, S. L. & Wellen, K. E. Metabolic signaling to the nucleus in cancer. Mol. Cell 71, 398–408 (2018).

6.

Fell, D. A. & Snell, K. Control analysis of mammalian serine biosynthesis. Feedback inhibition on the final step. Biochem. J. 256, 97–101 (1988).

7.

Possemato, R. et al. Functional genomics reveal that the serine synthesis pathway is essential in breast cancer. Nature 476, 346–350 (2011).

8.

Locasale, J. W. et al. Phosphoglycerate dehydrogenase diverts glycolytic flux and contributes to oncogenesis. Nat. Genet. 43, 869–874 (2011).

9.

Song, Z., Feng, C., Lu, Y., Lin, Y. & Dong, C. PHGDH is an independent prognosis marker and contributes cell proliferation, migration and invasion in human pancreatic cancer. Gene 642, 43–50 (2018).

10.

Reid, M. A. et al. Serine synthesis through PHGDH coordinates nucleotide levels by maintaining central carbon metabolism. Nat. Commun. 9, 5442 (2018).

11.

Fan, J. et al. Human phosphoglycerate dehydrogenase produces the oncometabolite d-2-hydroxyglutarate. ACS Chem. Biol. 10, 510–516 (2015).

12.

Kosugi, S., Hasebe, M., Tomita, M. & Yanagawa, H. Systematic identification of cell cycle-dependent yeast nucleocytoplasmic shuttling proteins by prediction of composite motifs. Proc. Natl Acad. Sci. USA 106, 10171–10176 (2009).

13.

Zou, Y. et al. Illuminating NAD+ metabolism in live cells and in vivo using a genetically encoded fluorescent sensor. Dev. Cell 53, 240–252 (2020).

14.

Zhao, Y. et al. SoNar, a highly responsive NAD+/NADH sensor, allows high-throughput metabolic screening of anti-tumor agents. Cell Metab. 21, 777–789 (2015).

15.

Zhao, Y. et al. In vivo monitoring of cellular energy metabolism using SoNar, a highly responsive sensor for NAD+/NADH redox state. Nat. Protoc. 11, 1345–1359 (2016).

16.

Canto, C., Menzies, K. J. & Auwerx, J. NAD+ metabolism and the control of energy homeostasis: a balancing act between mitochondria and the nucleus. Cell Metab. 22, 31–53 (2015).

17.

Ryu, K. W. et al. Metabolic regulation of transcription through compartmentalized NAD+ biosynthesis. Science https://doi.org/10.1126/science.aan5780 (2018).

18.

Unterlass, J. E. et al. Structural insights into the enzymatic activity and potential substrate promiscuity of human 3-phosphoglycerate dehydrogenase (PHGDH). Oncotarget 8, 104478–104491 (2017).

19.

Weinstabl, H. et al. Intracellular trapping of the selective phosphoglycerate dehydrogenase (PHGDH) inhibitor BI-4924 disrupts serine biosynthesis. J. Med. Chem. 62, 7976–7997 (2019).

20.

Bossy-Wetzel, E., Bakiri, L. & Yaniv, M. Induction of apoptosis by the transcription factor c-Jun. EMBO J. 16, 1695–1709 (1997).

21.

Weiss, C. et al. JNK phosphorylation relieves HDAC3-dependent suppression of the transcriptional activity of c-Jun. EMBO J. 22, 3686–3695 (2003).

22.

Huang, D., Wang, Y., Yang, C., Liao, Y. & Huang, K. Angiotensin II promotes poly(ADP-ribosyl)ation of c-Jun/c-Fos in cardiac fibroblasts. J. Mol. Cell. Cardiol. 46, 25–32 (2009).

23.

Lynn, R. C. et al. c-Jun overexpression in CAR T cells induces exhaustion resistance. Nature 576, 293–300 (2019).

24.

Pacold, M. E. et al. A PHGDH inhibitor reveals coordination of serine synthesis and one-carbon unit fate. Nat. Chem. Biol. 12, 452–458 (2016).

25.

Zhang, Y., Wang, J., Ding, M. & Yu, Y. Site-specific characterization of the Asp- and Glu-ADP-ribosylated proteome. Nat. Methods 10, 981–984 (2013).

26.

Shaulian, E. & Karin, M. AP-1 as a regulator of cell life and death. Nat. Cell Biol. 4, E131–E136 (2002).

27.

Wang, T. et al. O-GlcNAcylation of fumarase maintains tumour growth under glucose deficiency. Nat. Cell Biol. 19, 833–843 (2017).

28.

Tao, R. et al. Genetically encoded fluorescent sensors reveal dynamic regulation of NADPH metabolism. Nat. Methods 14, 720–728 (2017).

29.

Hall, M. D., Simeonov, A. & Davis, M. I. Avoiding fluorescence assay interference–the case for Diaphorase. Assay. Drug Dev. Technol. 14, 175–179 (2016).

30.

Sdelci, S. et al. MTHFD1 interaction with BRD4 links folate metabolism to transcriptional regulation. Nat. Genet. 51, 990–998 (2019).
Acknowledgements
We thank L. -J. Liao at East China Normal University for the technical assistance. This work was supported by National Key R&D Program of China (2020YFA0803602 and 2017YFA0506200 to Y.J.; 2019YFA0904800 to Y.Z.), National Nature Science Foundation of China (81972586 and 81773006 to Y.J.; 32030065, 31722033 and 92049304 to Y.Z.), Shanghai Municipal Education Commission (Gaofeng Clinical Medicine grant 20161319 to Y.J.; Frontier Science Research Base of Optogenetic Techniques for Cell Metabolism grant 2021 Sci & Tech 03-28 to Y.Z.), Research Unit of New Techniques for Live-cell Metabolic Imaging (Chinese Academy of Medical Sciences, 2019-I2M-5–013 to Y.Z.), Innovative research team of high-level local universities in Shanghai, the State Key Laboratory of Bioreactor Engineering and the Fundamental Research Funds for the Central Universities.
Ethics declarations
Competing interests
The authors declare no competing interests.
Additional information
Peer review information Nature Metabolism thanks Sarah-Maria Fendt and the other, anonymous, reviewer(s) for their contribution to the peer review of this work. Primary Handling Editor: George Caputa.
Publisher's note Springer Nature remains neutral with regard to jurisdictional claims in published maps and institutional affiliations.
Supplementary information
About this article
Cite this article
Ma, C., Zheng, K., Jiang, K. et al. The alternative activity of nuclear PHGDH contributes to tumour growth under nutrient stress. Nat Metab 3, 1357–1371 (2021). https://doi.org/10.1038/s42255-021-00456-x
Received:

Accepted:

Published:

Issue Date:
Further reading
Daniela Annibali
Sarah-Maria Fendt

Nature Metabolism (2021)