In this study, the serine biosynthetic enzyme PHGDH is shown to transition from the cytosol to the nucleus following nutrient stress. Nuclear PHGDH reduces local NAD+ availability needed for the PARylation of the transcription factor c-Jun. Consequently, c-Jun activity is reduced, contributing to sustained cancer cell proliferation.
Access options
Subscribe to Journal
Get full journal access for 1 year
$119.00
only $9.92 per issue
All prices are NET prices.
VAT will be added later in the checkout.
Tax calculation will be finalised during checkout.
Rent or Buy article
Get time limited or full article access on ReadCube.
from$8.99
All prices are NET prices.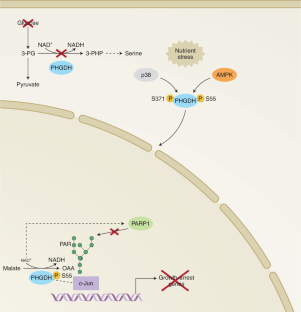 References
1.

Locasale, J. W. et al. Nat. Genet. 43, 869–874 (2011).

2.

Possemato, R. et al. Nature 476, 346–350 (2011).

3.

Yang, M. & Vousden, K. H. Nat. Rev. Cancer 16, 650–662 (2016).

4.

Ngo, B. et al. Cancer Discov. 10, 1352–1373 (2020).

5.

Chaneton, B. et al. Nature 491, 458–462 (2012).

6.

Rinaldi, G. et al. Molec. Cell 81, 386–397 (2021).

7.

Ma, C. et al. Nat. Metab. https://doi.org/10.1038/s42255-021-00456-x (2021).

8.

Unterlass, J. E. et al. Oncotarget 8, 104478–104491 (2017).

9.

Sullivan, M. R. et al. eLife 8, e44235 (2019).
Acknowledgements
S.-M.F. acknowledges funding from the European Research Council under the ERC Consolidator Grant Agreement no. 771486–MetaRegulation, FWO Projects (G098120N, G088318N), Fonds Baillet Latour, KU Leuven-FTBO and the King Baudouin Foundation.
Ethics declarations
Competing interests
S.-M.F. has received funding from Bayer, Merck and BlackBelt Therapeutic and has consulted for Fund+. D.A. declares no competing interests.
About this article
Cite this article
Annibali, D., Fendt, SM. Nuclear PHGDH protects cancer cells from nutrient stress. Nat Metab 3, 1284–1285 (2021). https://doi.org/10.1038/s42255-021-00448-x