The maternal diet can impact offspring development, yet the mechanisms responsible for this remain largely unknown. New research shows that oocyte metabolites, specifically NAD+ and the methyl donor S-adenosylmethionine, can mediate the impact of maternal nutrient stress on the progeny through metabolic reprogramming in Drosophila.
Access options
Subscribe to Journal
Get full journal access for 1 year
$119.00
only $9.92 per issue
All prices are NET prices.
VAT will be added later in the checkout.
Tax calculation will be finalised during checkout.
Rent or Buy article
Get time limited or full article access on ReadCube.
from$8.99
All prices are NET prices.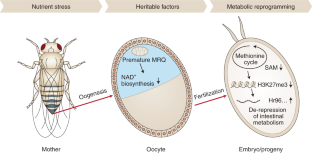 References
1.

Barker, D. J. J. Intern. Med. 261, 412–417 (2007).

2.

Huypens, P. et al. Nat. Genet. 48, 497–499 (2016).

3.

Han, L. et al. Nat. Genet. 50, 432–442 (2018).

4.

Hocaoglu, H. et al. Nat. Metab. https://doi.org/10.1038/s42255-021-00450-3 (2021).

5.

Sieber, M. H., Thomsen, M. B. & Spradling, A. C. Cell 164, 420–432 (2016).

6.

Lu, C. & Thompson, C. B. Cell Metab. 16, 9–17 (2012).

7.

Locasale, J. W. Nat. Rev. Cancer 13, 572–583 (2013).

8.

Li, L. et al. Mol. Cell 80, 525–540 (2020).

9.

Neri, C. & Edlow, A. G. Cold Spring Harb. Perspect. Med. 6, a026591 (2015).

10.

Luke, B. et al. Hum. Reprod. 26, 245–252 (2011).
Ethics declarations
Competing interests
The authors declare no competing interests.
About this article
Cite this article
Zhu, S., Wang, Q. Oocyte metabolites are heritable factors that drive metabolic reprogramming of the progeny. Nat Metab 3, 1148–1149 (2021). https://doi.org/10.1038/s42255-021-00447-y