When is a calorie not just a calorie? In the current issue of Nature Metabolism, Roy et al. use recombinant inbred strains of mice to investigate the role of genetic background in the response to dietary fat. Notably, both lifespan and weight gain have been found to be highly dependent on genotype, thus highlighting the need for a personalized approach to dietary interventions.
Access options
Subscribe to Journal
Get full journal access for 1 year
$119.00
only $9.92 per issue
All prices are NET prices.
VAT will be added later in the checkout.
Tax calculation will be finalised during checkout.
Rent or Buy article
Get time limited or full article access on ReadCube.
from$8.99
All prices are NET prices.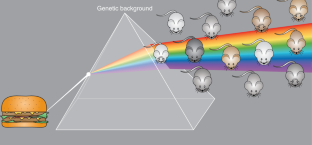 References
1.

Roy, S. et al. Nat. Metab. https://doi.org/10.1038/s42255-021-00449-w (2021).

2.

Barrington, W. T. et al. Genetics 208, 399–417 (2018).

3.

Mitchell, S. J. et al. Cell Metab. 23, 1093–1112 (2016).

4.

Levine, M. E. et al. Cell Metab. 19, 407–417 (2014).

5.

Fontana, L. et al. Cell Rep. 16, 520–530 (2016).

6.

Hall, K. D. et al. Cell Metab. 22, 427–436 (2015).

7.

Wali, J. A. et al. Nat. Metab. 3, 810–828 (2021).

8.

Yu, D. et al. Cell Metab. 33, 905–922.e906 (2021).

9.

Richardson, N. E. et al. Nat. Aging 1, 73–86 (2021).

10.

Solon-Biet, S. M. et al. Nat. Metab. 1, 532–545 (2019).
Acknowledgements
C.L.G. is supported by a postdoctoral fellowship from the Glenn Foundation for Medical Research. D.W.L. is supported in part by the National Institute on Aging (AG056771, AG062328 and AG061635) and the US Department of Veterans Affairs (I01-BX004031). The content is solely the responsibility of the authors and does not necessarily represent the official views of the NIH. This work does not represent the views of the Department of Veterans Affairs or the United States Government.
Ethics declarations
Competing interests
D.W.L. has received funding from, and is a scientific advisory board member of, Aeovian Pharmaceuticals, which seeks to develop novel, selective mTOR inhibitors for the treatment of various diseases. C.L.G. declares no conflicts of interest.
About this article
Cite this article
Green, C.L., Lamming, D.W. We are more than what we eat. Nat Metab 3, 1144–1145 (2021). https://doi.org/10.1038/s42255-021-00434-3