Abstract
CD8+ effector T (TE) cell proliferation and cytokine production depends on enhanced glucose metabolism. However, circulating T cells continuously adapt to glucose fluctuations caused by diet and inter-organ metabolite exchange. Here we show that transient glucose restriction (TGR) in activated CD8+ TE cells metabolically primes effector functions and enhances tumour clearance in mice. Tumour-specific TGR CD8+ TE cells co-cultured with tumour spheroids in replete conditions display enhanced effector molecule expression, and adoptive transfer of these cells in a murine lymphoma model leads to greater numbers of immunologically functional circulating donor cells and complete tumour clearance. Mechanistically, TE cells treated with TGR undergo metabolic remodelling that, after glucose re-exposure, supports enhanced glucose uptake, increased carbon allocation to the pentose phosphate pathway (PPP) and a cellular redox shift towards a more reduced state—all indicators of a more anabolic programme to support their enhanced functionality. Thus, metabolic conditioning could be used to promote efficiency of T-cell products for adoptive cellular therapy.
Relevant articles
Open Access articles citing this article.
Emily C. Britt

,

Jorgo Lika

…

Jing Fan

Nature Metabolism Open Access 28 March 2022

Matteo Morotti

,

Ashwag Albukhari

…

Ahmed A. Ahmed

British Journal of Cancer Open Access 29 March 2021

Michaël Cerezo

&

Stéphane Rocchi

Cell Death & Disease Open Access 11 November 2020
Access options
Subscribe to Nature+
Get immediate online access to Nature and 55 other Nature journal
Subscribe to Journal
Get full journal access for 1 year
$99.00
only $8.25 per issue
All prices are NET prices.
VAT will be added later in the checkout.
Tax calculation will be finalised during checkout.
Buy article
Get time limited or full article access on ReadCube.
$32.00
All prices are NET prices.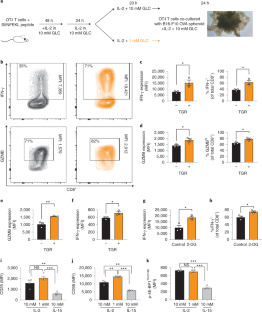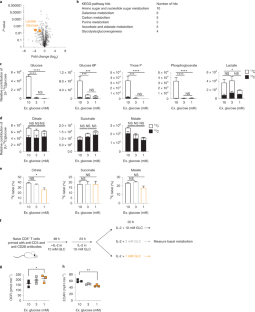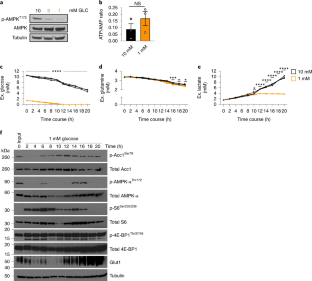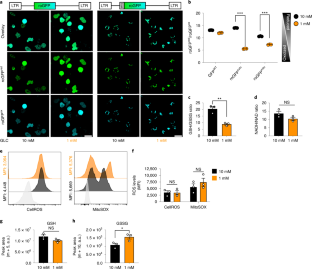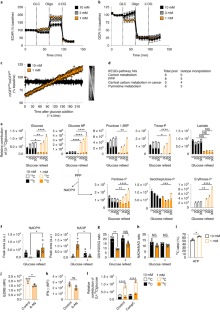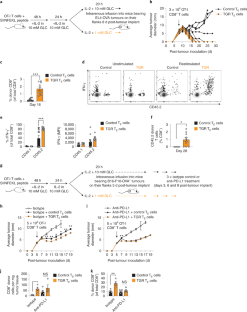 Data availability
The data that support the findings of this study, as well as further information and requests for resources and reagents, will be made available on reasonable request by the corresponding author. scRNA-seq data have been deposited in the Gene Ontology Omnibus (accession no. GSE152018). Source data are provided with this paper.
References
Michalek, R. D. et al. Cutting edge: distinct glycolytic and lipid oxidative metabolic programs are essential for effector and regulatory CD4+ T-cell subsets. J. Immunol. 186, 3299–3303 (2011).

Maciver, N. J. et al. Glucose metabolism in lymphocytes is a regulated process with significant effects on immune cell function and survival. J. Leukoc. Biol. 84, 949–957 (2008).

Chang, C.-H. et al. Metabolic competition in the tumor microenvironment is a driver of cancer progression. Cell 162, 1229–1241 (2015).

Chang, C.-H. et al. Post-transcriptional control of T-cell effector function by aerobic glycolysis. Cell 153, 1239–1251 (2013).

Blagih, J. et al. The energy sensor AMPK regulates T-cell metabolic adaptation and effector responses in vivo. Immunity 42, 41–54 (2015).

Rolf, J. et al. AMPKalpha1: a glucose sensor that controls CD8 T-cell memory. Eur. J. Immunol. 43, 889–896 (2013).

Klein Geltink, R. I. et al. Mitochondrial Priming by CD28. Cell 171, 385–397 (2017).

Buck, M. D. et al. Mitochondrial dynamics controls T-cell fate through metabolic programming. Cell 166, 63–76 (2016).

Sukumar, M. et al. Inhibiting glycolytic metabolism enhances CD8+ T-cell memory and anti-tumour function. J. Clin. Invest. 123, 4479–4488 (2013).

Sukumar, M. et al. Mitochondrial membrane potential identifies cells with enhanced stemness for cellular therapy. Cell Metab. 23, 63–76 (2016).

Scharping, N. E. et al. The tumor microenvironment represses T cell mitochondrial biogenesis to drive intratumoral T cell metabolic insufficiency and dysfunction. Immunity 45, 374–388 (2016).

Chowdhury, P. S., Chamoto, K., Kumar, A. & Honjo, T. PPAR-induced fatty acid oxidation in T cells increases the number of tumour-reactive CD8. Cancer Immunol. Res. 6, 1375–1387 (2018).

Buck, M. D., Sowell, R. T., Kaech, S. M. & Pearce, E. L. Metabolic instruction of immunity. Cell 169, 570–586 (2017).

Qiu, J. et al. Acetate promotes T-cell effector function during glucose restriction. Cell Rep. 27, 2063–2074 (2019).

Crompton, J. G., Sukumar, M. & Restifo, N. P. Targeting Akt in cell-transfer immunotherapy for cancer. Oncoimmunology 5, e1014776 (2016).

Nabe, S. et al. Reinforce the anti-tumour activity of CD8+ T cells via glutamine restriction. Cancer Sci. 109, 3737–3750 (2018).

Hosios, A. M. et al. Amino acids rather than glucose account for the majority of cell mass in proliferating mammalian cells. Dev. Cell 36, 540–549 (2016).

Garcia, D. & Shaw, R. J. AMPK: mechanisms of cellular energy sensing and restoration of metabolic balance. Mol. Cell 66, 789–800 (2017).

Saxton, R. A. & Sabatini, D. M. mTOR signaling in growth, metabolism, and disease. Cell 168, 960–976 (2017).

Jacobs, S. R. et al. Glucose uptake is limiting in T-cell activation and requires CD28-mediated Akt-dependent and independent pathways. J. Immunol. 180, 4476–4486 (2008).

Macintyre, A. N. et al. The glucose transporter Glut1 is selectively essential for CD4 T cell activation and effector function. Cell Metab. 20, 61–72 (2014).

Siska, P. J. et al. Suppression of Glut1 and glucose metabolism by decreased Akt/mTORC1 signaling drives T-cell impairment in B cell leukemia. J. Immunol. 197, 2532–2540 (2016).

Waypa, G. B. et al. Hypoxia triggers subcellular compartmental redox signaling in vascular smooth muscle cells. Circ. Res. 106, 526–535 (2010).

Schieber, M. & Chandel, N. S. ROS function in redox signaling and oxidative stress. Curr. Biol. 24, R453–R462 (2014).

Hosios, A. M. & Vander Heiden, M. G. The redox requirements of proliferating mammalian cells. J. Biol. Chem. 293, 7490–7498 (2018).

Kong, H. & Chandel, N. S. Regulation of redox balance in cancer and T cells. J. Biol. Chem. 293, 7499–7507 (2018).

Mak, T. W. et al. Glutathione primes T-cell metabolism for inflammation. Immunity 46, 675–689 (2017).

Smith, C. A., Want, E. J., O'Maille, G., Abagyan, R. & Siuzdak, G. XCMS: processing mass spectrometry data for metabolite profiling using nonlinear peak alignment, matching and identification. Anal. Chem. 78, 779–787 (2006).

Huang, X. et al. X13CMS: global tracking of isotopic labels in untargeted metabolomics. Anal. Chem. 86, 1632–1639 (2014).

Ma, E. H. et al. Serine is an essential metabolite for effector T-cell expansion. Cell Metab. 25, 345–357 (2017).

Crompton, J. G. et al. Akt inhibition enhances expansion of potent tumour-specific lymphocytes with memory-cell characteristics. Cancer Res. 75, 296–305 (2015).

Vander Heiden, M. G., Cantley, L. C. & Thompson, C. B. Understanding the Warburg effect: the metabolic requirements of cell proliferation. Science 324, 1029–1033 (2009).

Warburg, O. The metabolism of carcinoma cells. J. Cancer Res. 9, 148–163 (1925).

Liberti, M. V. & Locasale, J. W. The Warburg effect: how does it benefit cancer cells?. Trends Biochem. Sci. 41, 211–218 (2016).

Zhao, J., Song, Y. & Liu, D. Clinical trials of dual-target CAR T cells, donor-derived CAR T cells, and universal CAR T cells for acute lymphoid leukemia. J. Hematol. Oncol. 12, 17 (2019).

Sena, L. A. et al. Mitochondria are required for antigen-specific T-cell activation through reactive oxygen species signaling. Immunity 38, 225–236 (2013).

Nathan, C. & Cunningham-Bussel, A. Beyond oxidative stress: an immunologist's guide to reactive oxygen species. Nat. Rev. Immunol. 13, 349–361 (2013).

Chatterjee, S. et al. CD38−NAD+ axis regulates immunotherapeutic anti-tumour T-cell response. Cell Metab. 27, 85–100 (2018).

Johnson, M. O. et al. Distinct regulation of Th17 and Th1 cell differentiation by glutaminase-dependent metabolism. Cell 175, 1780–1795 (2018).

Ghergurovich, J. M. et al. A small-molecule G6PD inhibitor reveals immune dependence on pentose phosphate pathway. Nat. Chem. Biol. 16, 731–739 (2020).

Ma, E. H. et al. Metabolic profiling using stable isotope tracing reveals distinct patterns of glucose utilization by physiologically activated CD8. Immunity 51, 856–870 (2019).

Yang, J. C. & Rosenberg, S. A. Adoptive T-cell therapy for cancer. Adv. Immunol. 130, 279–294 (2016).

Chamoto, K. et al. Mitochondrial activation chemicals synergize with surface receptor PD-1 blockade for T-cell-dependent anti-tumour activity. Proc. Natl Acad. Sci. USA 114, E761–E770 (2017).

Kumar, A., Chamoto, K., Chowdhury, P. S. & Honjo, T. Tumours attenuating the mitochondrial activity in T cells escape from PD-1 blockade therapy. eLife 9, e52330 (2020).

Wills, J., Edwards-Hicks, J. & Finch, A. J. AssayR: a simple mass spectrometry software tool for targeted metabolic and stable isotope tracer analyses. Anal. Chem. 89, 9616–9619 (2017).

van der Windt, G. J. W., Chang, C. H. & Pearce, E. L. Measuring bioenergetics in T cells using a Seahorse extracellular flux analyser. Curr. Protoc. Immunol. 113, 3.16B.1–3.16B.14 (2016).

Pearce, E. L. et al. Enhancing CD8 T-cell memory by modulating fatty acid metabolism. Nature 460, 103–107 (2009).

Butler, A., Hoffman, P., Smibert, P., Papalexi, E. & Satija, R. Integrating single-cell transcriptomic data across different conditions, technologies, and species. Nat. Biotechnol. 36, 411–420 (2018).

Diaz-Papkovich, A., Anderson-Trocmé, L., Ben-Eghan, C. & Gravel, S. UMAP reveals cryptic population structure and phenotype heterogeneity in large genomic cohorts. PLoS Genet. 15, e1008432 (2019).

Aoki-Kinoshita, K. F. & Kanehisa, M. Gene annotation and pathway mapping in KEGG. Methods Mol. Biol. 396, 71–91 (2007).

Szklarczyk, D. et al. STRING v11: protein–protein association networks with increased coverage, supporting functional discovery in genome-wide experimental datasets. Nucleic Acids Res. 47, D607–D613 (2019).
Acknowledgements
We thank members of the Pearce laboratories for support and helpful discussions and A. Quintana and J. Sutherland mouse colony management. This work was funded by the National Institutes of Health (NIH; CA181125 to E.L.P. and AI110481 to E.J.P.) and the Max Planck Society. R.Z. was supported by the Deutsche Forschungsgemeinschaft (DFG; SFB1160, B09; TRR167, B06) and the European Research Council (ERC; GvHDCure no. 681012).
Ethics declarations
Competing interests
E.L.P. is a SAB member of ImmunoMet Therapeutics, and E.L.P. and E.J.P. are founders of Rheos Medicines. The other authors declare no competing interests.
Additional information
Peer review information Primary Handling Editor: Christoph Schmitt.
Publisher's note Springer Nature remains neutral with regard to jurisdictional claims in published maps and institutional affiliations.
Supplementary information
About this article
Cite this article
Klein Geltink, R.I., Edwards-Hicks, J., Apostolova, P. et al. Metabolic conditioning of CD8+ effector T cells for adoptive cell therapy. Nat Metab 2, 703–716 (2020). https://doi.org/10.1038/s42255-020-0256-z
Received:

Accepted:

Published:

Issue Date:

DOI: https://doi.org/10.1038/s42255-020-0256-z