Abstract
Type 1 diabetes (T1D) is caused by the autoimmune destruction of pancreatic beta cells. Pluripotent stem cells can now be differentiated into beta cells, thus raising the prospect of a cell replacement therapy for T1D. However, autoimmunity would rapidly destroy newly transplanted beta cells. Using a genome-scale CRISPR screen in a mouse model for T1D, we show that deleting RNLS, a genome-wide association study candidate gene for T1D, made beta cells resistant to autoimmune killing. Structure-based modelling identified the U.S. Food and Drug Administration–approved drug pargyline as a potential RNLS inhibitor. Oral pargyline treatment protected transplanted beta cells in diabetic mice, thus leading to disease reversal. Furthermore, pargyline prevented or delayed diabetes onset in several mouse models for T1D. Our results identify RNLS as a modifier of beta cell vulnerability and as a potential therapeutic target to avert beta cell loss in T1D.
Relevant articles
Open Access articles citing this article.
Cell Regeneration Open Access 01 August 2022

Xiaofei Zhang

,

Zhuo Ma

…

Tao Xu

Protein & Cell Open Access 10 March 2021

Diabetologia Open Access 16 January 2021
Access options
Access Nature and 54 other Nature Portfolio journals
Get Nature+, our best-value online-access subscription
$29.99 per month
cancel any time
Subscribe to this journal
Receive 12 digital issues and online access to articles
$99.00 per year
only $8.25 per issue
Rent or buy this article
Get just this article for as long as you need it
$39.95
Prices may be subject to local taxes which are calculated during checkout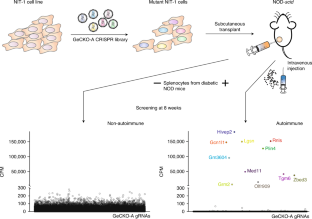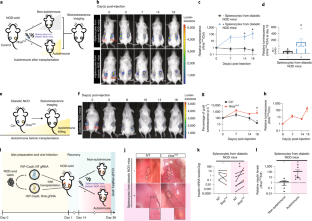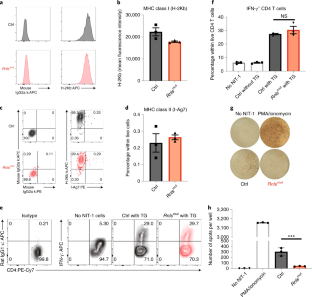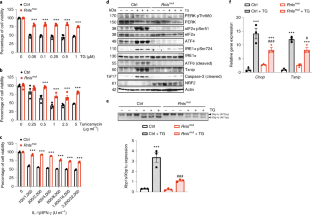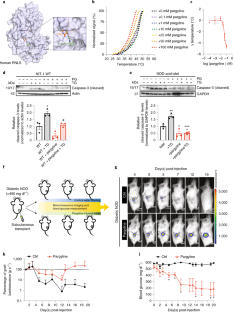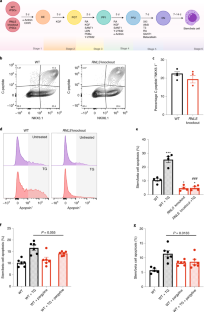 Data availability
The data that support the findings of this study are available from the corresponding authors upon reasonable request. Source data are provided with this paper.
References
Atkinson, M. A., Roep, B. O., Posgai, A., Wheeler, D. C. S. & Peakman, M. The challenge of modulating β-cell autoimmunity in type 1 diabetes. Lancet Diabetes Endocrinol. 7, 52–64 (2019).

Odorico, J. et al. Report of the key opinion leaders meeting on stem cell-derived beta cells. Transplantation 102, 1223–1229 (2018).

Herold, K. C. et al. An anti-CD3 antibody, teplizumab, in relatives at risk for Type 1 diabetes. N. Engl. J. Med. 381, 603–613 (2019).

Kroger, C. J., Clark, M., Ke, Q. & Tisch, R. M. Therapies to suppress β cell autoimmunity in type 1 diabetesFront. Immunol. 9, 1891 (2018).

Han, X. et al. Generation of hypoimmunogenic human pluripotent stem cells. Proc. Natl Acad. Sci. USA 116, 10441–10446 (2019).

Deuse, T. et al. Hypoimmunogenic derivatives of induced pluripotent stem cells evade immune rejection in fully immunocompetent allogeneic recipients. Nat. Biotechnol. 37, 252–258 (2019).

Hamaguchi, K., Gaskins, H. R. & Leiter, E. H. NIT-1, a pancreatic β-cell line established from a transgenic NOD/Lt mouse. Diabetes 40, 842–849 (1991).

Pearson, J. A., Wong, F. S. & Wen, L. The importance of the non obese diabetic (NOD) mouse model in autoimmune diabetes. J. Autoimmun. 66, 76–88 (2016).

Sanjana, N. E., Shalem, O. & Zhang, F. Improved vectors and genome-wide libraries for CRISPR screening. Nat. Methods 11, 783–784 (2014).

Barrett, J. C. et al. Genome-wide association study and meta-analysis find that over 40 loci affect risk of type 1 diabetes. Nat. Genet. 41, 703–707 (2009).

Howson, J. M. M. et al. Evidence of gene-gene interaction and age-at-diagnosis effects in type 1 diabetes. Diabetes 61, 3012–3017 (2012).

Haskins, K., Portas, M., Bergman, B., Lafferty, K. & Bradley, B. Pancreatic islet-specific T-cell clones from nonobese diabetic mice. Proc. Natl Acad. Sci. USA 86, 8000–8004 (1989).

Katz, J. D., Wang, B., Haskins, K., Benoist, C. & Mathis, D. Following a diabetogenic T cell from genesis through pathogenesis. Cell 74, 1089–1100 (1993).

Marré, M. L. et al. Inherent ER stress in pancreatic islet β cells causes self-recognition by autoreactive T cells in type 1 diabetes. J. Autoimmun. 72, 33–46 (2016).

Clark, A. L. & Urano, F. Endoplasmic reticulum stress in beta cells and autoimmune diabetes. Curr. Opin. Immunol. 43, 60–66 (2016).

Ozcan, U. et al. Endoplasmic reticulum stress links obesity, insulin action, and type 2 diabetes. Science 306, 457–461 (2004).

Izumi, T. et al. Dominant negative pathogenesis by mutant proinsulin in the Akita diabetic mouse. Diabetes 52, 409–416 (2003).

Kracht, M. J. L. et al. Autoimmunity against a defective ribosomal insulin gene product in type 1 diabetes. Nat. Med. 23, 501–507 (2017).

Marre, M. L. et al. Modifying enzymes are elicited by ER stress, generating epitopes that are selectively recognized by CD4+ T cells in patients with type 1 diabetes. Diabetes 67, 1356–1368 (2018).

Sidney, J. et al. Low HLA binding of diabetes-associated CD8+ T-cell epitopes is increased by post translational modifications. BMC Immunol. 19, 12 (2018).

Thomaidou, S. et al. β-cell stress shapes CTL immune recognition of preproinsulin signal peptide by post-transcriptional regulation of endoplasmic reticulum aminopeptidase 1. Diabetes 69, 670–680 (2020).

Cardozo, A. K. et al. Cytokines downregulate the sarcoendoplasmic reticulum pump Ca2+ ATPase 2b and deplete endoplasmic reticulum Ca2+, leading to induction of endoplasmic reticulum stress in pancreatic β-cells. Diabetes 54, 452–461 (2005).

Cox, J. S., Shamu, C. E. & Walter, P. Transcriptional induction of genes encoding endoplasmic reticulum resident proteins requires a transmembrane protein kinase. Cell 73, 1197–1206 (1993).

Harding, H. P., Zhang, Y. & Ron, D. Protein translation and folding are coupled by an endoplasmic-reticulum-resident kinase. Nature 397, 271–274 (1999).

Yoshida, H., Haze, K., Yanagi, H., Yura, T. & Mori, K. Identification of the cis-acting endoplasmic reticulum stress response element responsible for transcriptional induction of mammalian glucose-regulated proteins. Involvement of basic leucine zipper transcription factors. J. Biol. Chem. 273, 33741–33749 (1998).

Oyadomari, S. et al. Targeted disruption of the Chop gene delays endoplasmic reticulum stress-mediated diabetes. J. Clin. Invest. 109, 525–532 (2002).

Minn, A. H., Hafele, C. & Shalev, A. Thioredoxin-interacting protein is stimulated by glucose through a carbohydrate response element and induces β-cell apoptosis. Endocrinology 146, 2397–2405 (2005).

Oslowski, C. M. et al. Thioredoxin-interacting protein mediates ER stress-induced β cell death through Initiation of the inflammasome. Cell Metab. 16, 265–273 (2012).

Kensler, T. W., Wakabayashi, N. & Biswal, S. Cell survival responses to environmental stresses via the Keap1-Nrf2-ARE pathway. Annu. Rev. Pharmacol. Toxicol. 47, 89–116 (2007).

Moran, G. R. The catalytic function of renalase: a decade of phantoms. Biochim. Biophys. Acta 1864, 177–186 (2016).

Beaupre, B. A., Hoag, M. R., Roman, J., Försterling, F. H. & Moran, G. R. Metabolic function for human renalase: oxidation of isomeric forms of β-NAD(P)H that are inhibitory to primary metabolism. Biochemistry 54, 795–806 (2015).

Milani, M. et al. FAD-binding site and NADP reactivity in human renalase: a new enzyme involved in blood pressure regulation. J. Mol. Biol. 411, 463–473 (2011).

Taylor, J. D., Wykes, A. A., Gladish, Y. C. & Martin, W. B. New inhibitor of monoamine oxidase. Nature 187, 941–942 (1960).

Ansari, M. J. I. et al. The programmed death-1 (PD-1) pathway regulates autoimmune diabetes in nonobese diabetic (NOD) mice. J. Exp. Med. 198, 63–69 (2003).

Like, A. A. & Rossini, A. A. Streptozotocin-induced pancreatic insulitis: new model of diabetes mellitus. Science 193, 415–417 (1976).

Roep, B. O. Are insights gained from NOD mice sufficient to guide clinical translation? Another inconvenient truth. Ann. N. Y. Acad. Sci. 1103, 1–10 (2007).

Pagliuca, F. W. et al. Generation of functional human pancreatic β cells in vitro. Cell 159, 428–439 (2014).

Wang, L. et al. Renalase prevents AKI independent of amine oxidase activity. J. Am. Soc. Nephrol. 25, 1226–1235 (2014).

Wang, L., Velazquez, H., Chang, J., Safirstein, R. & Desir, G. V. Identification of a receptor for extracellular renalase. PLoS ONE 10, e0122932 (2015).

Kolodecik, T. R. et al. The serum protein renalase reduces injury in experimental pancreatitis. J. Biol. Chem. 292, 21047–21059 (2017).

Veres, A. et al. Charting cellular identity during human in vitro β-cell differentiation. Nature 569, 368–373 (2019).

Joung, J. et al. Genome-scale CRISPR-Cas9 knockout and transcriptional activation screening. Nat. Protoc. 12, 828–863 (2017).

Schuster, C., Jonas, F., Zhao, F. & Kissler, S. Peripherally induced regulatory T cells contribute to the control of autoimmune diabetes in the NOD mouse model. Eur. J. Immunol. 48, 1211–1216 (2018).

Shalem, O. et al. Genome-scale CRISPR-Cas9 knockout screening in human cells. Science 343, 84–87 (2014).

Cao, J. et al. An easy and efficient inducible CRISPR/Cas9 platform with improved specificity for multiple gene targeting. Nucleic Acids Res. 44, e149 (2016).

Kuznetsova, A. et al. Trimeprazine increases IRS2 in human islets and promotes pancreatic β cell growth and function in mice. JCI Insight 1, pii: e80749 (2016).

Binda, C. et al. Binding of rasagiline-related inhibitors to human monoamine oxidases: a kinetic and crystallographic analysis. J. Med. Chem. 48, 8148–8154 (2005).

Sastry, G. M., Adzhigirey, M., Day, T., Annabhimoju, R. & Sherman, W. Protein and ligand preparation: parameters, protocols, and influence on virtual screening enrichments. J. Comput. Aided Mol. Des. 27, 221–234 (2013).

Bowers, K. J. et al. Scalable algorithms for molecular dynamics simulations on commodity clusters. in Proc. International Conference for High Performance Computing, Networking, Storage, and Analysis (SC06) (ed. Horner-Miller, B.) 43 (ACM, 2006).
Acknowledgements
This research was supported in part by funds from the Pittsburgh Foundation/Walton Fund to P.Y., funds from the Myra Reinhard Family Foundation and grants from the Harvard Stem Cell Institute (no. DP-0167-17-00), Juvenile Diabetes Research Foundation (no. 2-SRA-2018-499-S-B) and National Institute of Diabetes and Digestive and Kidney Diseases (NIDDK) (no. 1R01DK120445) to P.Y. and S.K., by postdoctoral fellowships from the NIDDK (no. T32DK007260) to E.P.C. and W.Z., from the Mary K. Iacocca Foundation to E.P.C., Y.I. and W.Z., from the American Diabetes Association (no. 1-19-PMF-024) to N.C.L. and from the Japanese Society for the Promotion of Science to Y.I. We acknowledge support from core facilities funded by the NIDDK Diabetes Research Center award no. P30DK036836 to the Joslin Diabetes Center.
Ethics declarations
Competing interests
P.Y. and S.K. have filed patent applications related to the work described in this manuscript. D.A.M. is a scientific founder and a board observer of Semma Therapeutics. The authors declare that they have no other competing interests.
Additional information
Peer review information Primary Handling Editors: George Caputa; Elena Bellafante.
Publisher's note Springer Nature remains neutral with regard to jurisdictional claims in published maps and institutional affiliations.
Supplementary information
Source data
Uncropped western blots for Fig. 4.
Uncropped western blots for Fig. 5.
Uncropped agarose gel for Extended Data Fig. 10.
About this article
Cite this article
Cai, E.P., Ishikawa, Y., Zhang, W. et al. Genome-scale in vivo CRISPR screen identifies RNLS as a target for beta cell protection in type 1 diabetes. Nat Metab 2, 934–945 (2020). https://doi.org/10.1038/s42255-020-0254-1
Received:

Accepted:

Published:

Issue Date:

DOI: https://doi.org/10.1038/s42255-020-0254-1