Abstract
The de novo synthesis of fatty acids has emerged as a therapeutic target for various diseases, including cancer. Because cancer cells are intrinsically buffered to combat metabolic stress, it is important to understand how cells may adapt to the loss of de novo fatty acid biosynthesis. Here, we use pooled genome-wide CRISPR screens to systematically map genetic interactions (GIs) in human HAP1 cells carrying a loss-of-function mutation in fatty acid synthase (FASN), whose product catalyses the formation of long-chain fatty acids. FASN-mutant cells show a strong dependence on lipid uptake that is reflected in negative GIs with genes involved in the LDL receptor pathway, vesicle trafficking and protein glycosylation. Further support for these functional relationships is derived from additional GI screens in query cell lines deficient in other genes involved in lipid metabolism, including LDLR, SREBF1, SREBF2 and ACACA. Our GI profiles also identify a potential role for the previously uncharacterized gene C12orf49 (which we call LUR1) in regulation of exogenous lipid uptake through modulation of SREBF2 signalling in response to lipid starvation. Overall, our data highlight the genetic determinants underlying the cellular adaptation associated with loss of de novo fatty acid synthesis and demonstrate the power of systematic GI mapping for uncovering metabolic buffering mechanisms in human cells.
Access options
Subscribe to Journal
Get full journal access for 1 year
$119.00
only $9.92 per issue
All prices are NET prices.
VAT will be added later in the checkout.
Tax calculation will be finalised during checkout.
Rent or Buy article
Get time limited or full article access on ReadCube.
from$8.99
All prices are NET prices.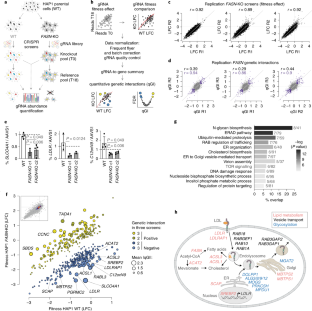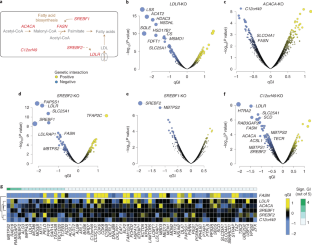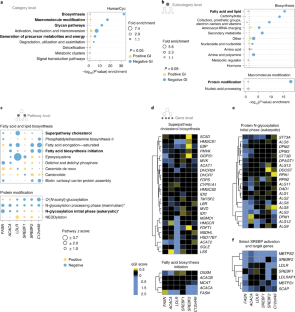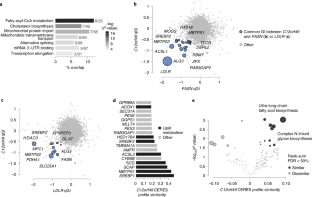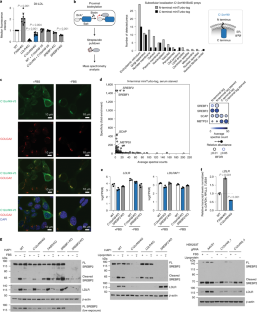 Data availability
The datasets generated and analysed in this study are included in the manuscript. The raw FASTQ files for the sequencing data are available upon request and have also been deposited to the Gene Expression Omnibus (https://www.ncbi.nlm.nih.gov/geo/): RNA-sequencing data, GSE147770; CRISPR screen sequencing data, GSE148627. All mass spectrometry data have been deposited to the MassIVE repository (https://massive.ucsd.edu/ProteoSAFe/static/massive.jsp) and assigned the accession number MSV000085005. The ProteomeXchange accession is PXD017719. Descriptions of the analyses, tools and algorithms are provided in the Methods and the Reporting Summary. Custom code for generating gRNA counts from FASTQ files and code for generating qGI scores is available on GitHub (https://github.com/csbio/metabolicGIN). Source data for Fig. 5 and Extended Data Figs. 1 and 6 are presented with the paper.
References
1.

Chen, M. & Huang, J. The expanded role of fatty acid metabolism in cancer: new aspects and targets. Precis. Clin. Med 2, 183–191 (2019).

2.

Chen, R. R. et al. Targeting of lipid metabolism with a metabolic inhibitor cocktail eradicates peritoneal metastases in ovarian cancer cells. Commun. Biol 2, 281 (2019).

3.

Imoto, M. Chemistry and biology for the small molecules targeting characteristics of cancer cells. Biosci. Biotechnol. Biochem. 83, 1–10 (2018).

4.

Menendez, J. A. & Lupu, R. Fatty acid synthase (FASN) as a therapeutic target in breast cancer. Expert Opin. Ther. Targets 21, 1001–1016 (2017).

5.

Garber, K. Cancer anabolic metabolism inhibitors move into clinic. Nat. Biotechnol. 34, 794–795 (2016).

6.

Röhrig, F. & Schulze, A. The multifaceted roles of fatty acid synthesis in cancer. Nat. Rev. Cancer 16, 732–749 (2016).

7.

Jones, S. F. & Infante, J. R. Molecular pathways: fatty acid synthase. Clin. Cancer Res. 21, 5434–5438 (2015).

8.

Benjamin, D. I. et al. Diacylglycerol metabolism and signaling is a driving force underlying FASN inhibitor sensitivity in cancer cells. ACS Chem. Biol. 10, 1616–1623 (2015).

9.

Birsoy, K. et al. Metabolic determinants of cancer cell sensitivity to glucose limitation and biguanides. Nature 508, 108–112 (2014).

10.

Birsoy, K. et al. An essential role of the mitochondrial electron transport chain in cell proliferation is to enable aspartate synthesis. Cell 162, 540–551 (2015).

11.

Costanzo, M. et al. A global genetic interaction network maps a wiring diagram of cellular function. Science 353, aaf1420 (2016).

12.

Fischer, B. et al. A map of directional genetic interactions in a metazoan cell. eLife 4, e05464 (2015).

13.

Harrison, R., Papp, B., Pál, C., Oliver, S. G. & Delneri, D. Plasticity of genetic interactions in metabolic networks of yeast. Proc. Natl Acad. Sci. USA 104, 2307–2312 (2007).

14.

Szappanos, B. et al. An integrated approach to characterize genetic interaction networks in yeast metabolism. Nat. Genet. 43, 656–662 (2011).

15.

Wright, A. V., Nuñez, J. K. & Doudna, J. A. Biology and applications of CRISPR systems: harnessing nature's toolbox for genome engineering. Cell 164, 29–44 (2016).

16.

Doench, J. G. Am I ready for CRISPR? A user's guide to genetic screens. Nat. Rev. Genet. 19, 67–80 (2018).

17.

Currie, E., Schulze, A., Zechner, R., Walther, T. C. & Farese, R. V. Cellular fatty acid metabolism and cancer. Cell Metab. 18, 153–161 (2013).

18.

Carette, J. E. et al. Ebola virus entry requires the cholesterol transporter Niemann-Pick C1. Nature 477, 340–343 (2011).

19.

Hart, T. et al. Evaluation and design of genome-wide CRISPR/SpCas9 knockout screens. G3 (Bethesda) 7, 2719–2727 (2017).

20.

Billmann, M., Chaudhary, V., ElMaghraby, M. F., Fischer, B. & Boutros, M. Widespread rewiring of genetic networks upon cancer signaling pathway activation. Cell Syst. 6, 52–64(2018).

21.

Costanzo, M. et al. The genetic landscape of a cell. Science 327, 425–431 (2010).

22.

Ryczko, M. C. et al. Metabolic reprogramming by hexosamine biosynthetic and Golgi N-glycan branching pathways. Sci. Rep. 6, 23043 (2016).

23.

Cheng, C. et al. Glucose-mediated N-glycosylation of SCAP is essential for SREBP-1 activation and tumor growth. Cancer Cell 28, 569–581 (2015).

24.

Wang, S. et al. Site-specific O-glycosylation of members of the low-density lipoprotein receptor superfamily enhances ligand interactions. J. Biol. Chem. 293, 7408–7422 (2018).

25.

Obaidat, A., Roth, M. & Hagenbuch, B. The expression and function of organic anion transporting polypeptides in normal tissues and in cancer. Annu. Rev. Pharmacol. Toxicol. 52, 135–151 (2012).

26.

Horton, J. D., Goldstein, J. L. & Brown, M. S. SREBPs: activators of the complete program of cholesterol and fatty acid synthesis in the liver. J. Clin. Invest. 109, 1125–1131 (2008).

27.

Romero, P. et al. Computational prediction of human metabolic pathways from the complete human genome. Genome Biol. 6, R2 (2005).

28.

Scott, C. C., Vossio, S., Rougemont, J. & Gruenberg, J. TFAP2 transcription factors are regulators of lipid droplet biogenesis. eLife 7, e36330 (2018).

29.

Shimano, H. & Sato, R. SREBP-regulated lipid metabolism: convergent physiology — divergent pathophysiology. Nat. Rev. Endocrinol. 13, 710–730 (2017).

30.

Zhou, Z., Zhou, J., Su, Z. & Gu, X. Asymmetric evolution of human transcription factor regulatory networks. Mol. Biol. Evol 31, 2149–2155 (2014).

31.

VanderSluis, B. et al. Genetic interactions reveal the evolutionary trajectories of duplicate genes. Mol. Syst. Biol. 6, 429 (2010).

32.

Ascencio, D., Ochoa, S., Delaye, L. & DeLuna, A. Increased rates of protein evolution and asymmetric deceleration after the whole-genome duplication in yeasts. BMC Evol. Biol. 17, 40 (2017).

33.

The UniProt Consortium. UniProt: a worldwide hub of protein knowledge. Nucleic Acids Res. 47, D506–D515 (2019).

34.

Mitchell, A. L. et al. InterPro in 2019: improving coverage, classification and access to protein sequence annotations. Nucleic Acids Res. 47, D351–D360 (2019).

35.

Uhlen, M. et al. Tissue-based map of the human proteome. Science 347, 1260419–1260419 (2015).

36.

Nagy, Á., Lánczky, A., Menyhárt, O. & Győrffy, B. Validation of miRNA prognostic power in hepatocellular carcinoma using expression data of independent datasets. Sci. Rep. 8, 9227 (2018).

37.

Meyers, R. M. et al. Computational correction of copy number effect improves specificity of CRISPR–Cas9 essentiality screens in cancer cells. Nat. Genet. 49, 1779–1784 (2017).

38.

Behan, F. M. et al. Prioritization of cancer therapeutic targets using CRISPR–Cas9 screens. Nature 568, 511–516 (2019).

39.

Klarin, D. et al. Genetics of blood lipids among ~300,000 multi-ethnic participants of the million veteran program. Nat. Genet. 50, 1514–1523 (2018).

40.

Brown, M. S. & Goldstein, J. L. The SREBP pathway: regulation of cholesterol metabolism by proteolysis of a membrane-bound transcription factor. Cell 89, 331–340 (1997).

41.

Go, C. D. et al. A proximity biotinylation map of a human cell. Preprint at bioRxiv https://doi.org/10.1101/796391(2019).

42.

Costanzo, M. et al. Global genetic networks and the genotype-to-phenotype relationship. Cell 177, 85–100 (2019).

43.

Horlbeck, M. A. et al. Mapping the genetic landscape of human cells. Cell 174, 953–967.e22 (2018).

44.

Najm, F. J. et al. Orthologous CRISPR–Cas9 enzymes for combinatorial genetic screens. Nat. Biotechnol. 36, 179–189 (2018).

45.

Han, K. et al. Synergistic drug combinations for cancer identified in a CRISPR screen for pairwise genetic interactions. Nat. Biotechnol. 35, 463–474 (2017).

46.

Norman, T. M. et al. Exploring genetic interaction manifolds constructed from rich single-cell phenotypes. Science 365, 786–793 (2019).

47.

Shen, J. P. et al. Combinatorial CRISPR–Cas9 screens for de novo mapping of genetic interactions. Nat. Methods 14, 573–576 (2017).

48.

Gonatopoulos-Pournatzis, T. et al. Genetic interaction mapping and exon-resolution functional genomics with a hybrid Cas9–Cas12a platform. Nat. Biotechnol. 38, 638–648 (2020).

49.

Brenner, A. et al. Heavily pre-treated breast cancer patients show promising responses in the first in human study of the first-In-class fatty acid synthase (FASN) inhibitor, TVB-2640 in combination with paclitaxel. in Cancer Res. 77, abstr. P6-11-09 (2017).

50.

Gimeno, R. E. Fatty acid transport proteins. Curr. Opin. Lipidol. 18, 271–276 (2007).

51.

Boyle, E. A., Pritchard, J. K. & Greenleaf, W. J. High-resolution mapping of cancer cell networks using co-functional interactions. Mol. Syst. Biol. 14, e8594 (2018).

52.

Kim, E. et al. A network of human functional gene interactions from knockout fitness screens in cancer cells. Life Sci. Alliance 2, e201800278 (2019).

53.

Luciano, M. et al. Association analysis in over 329,000 individuals identifies 116 independent variants influencing neuroticism. Nat. Genet. 50, 6–11 (2018).

54.

Kichaev, G. et al. Leveraging polygenic functional enrichment to improve GWAS power. Am. J. Hum. Genet. 104, 65–75 (2019).

55.

Nagel, M., Watanabe, K., Stringer, S., Posthuma, D. & van der Sluis, S. Item-level analyses reveal genetic heterogeneity in neuroticism. Nat. Commun. 9, 905 (2018).

56.

Aregger, M., Chandrashekhar, M., Tong, A. H. Y., Chan, K. & Moffat, J. Pooled lentiviral CRISPR–Cas9 screens for functional genomics in mammalian cells. Methods Mol. Biol. 1869, 169–188 (2019).

57.

Hesketh, G. G., Youn, J. Y., Samavarchi-Tehrani, P., Raught, B. & Gingras, A. C. Parallel exploration of interaction space by BioID and affinity purification coupled to mass spectrometry. Methods Mol. Biol 1550, 115–136 (2017).

58.

Branon, T. C. et al. Efficient proximity labeling in living cells and organisms with TurboID. Nat. Biotechnol. 36, 880–887 (2018).

59.

Knight, J. D. R. et al. ProHits-viz: a suite of web tools for visualizing interaction proteomics data. Nat. Methods 14, 645–646 (2017).

60.

Liu, G. et al. Data independent acquisition analysis in ProHits 4.0. J. Proteomics 149, 64–68 (2016).

61.

Deutsch, E. W. et al. Trans-Proteomic pipeline, a standardized data processing pipeline for large-scale reproducible proteomics informatics. Proteomics. Clin. Appl. 9, 745–754 (2015).

62.

Teo, G. et al. SAINTexpress: improvements and additional features in significance analysis of INTeractome software. J. Proteomics 100, 37–43 (2014).

63.

Dobin, A. et al. STAR: ultrafast universal RNA-seq aligner. Bioinformatics 29, 15–21 (2013).

64.

Abdel Rahman, A. M., Ryczko, M., Pawling, J. & Dennis, J. W. Probing the hexosamine biosynthetic pathway in human tumor cells by multitargeted tandem mass spectrometry. ACS Chem. Biol. 8, 2053–2062 (2013).

65.

Hart, T. et al. High-resolution CRISPR screens reveal fitness genes and genotype-specific cancer liabilities. Cell 163, 1515–1526 (2015).

66.

Greene, C. S. et al. Understanding multicellular function and disease with human tissue-specific networks. Nat. Genet. 47, 569–576 (2015).

67.

Ashburner, M. et al. Gene Ontology: tool for the unification of biology. Nat. Genet. 25, 25–29 (2000).

68.

Liberzon, A. et al. Molecular signatures database (MSigDB) 3.0. Bioinformatics 27, 1739–1740 (2011).

69.

Raudvere, U. et al. g:Profiler: a web server for functional enrichment analysis and conversions of gene lists (2019 update). Nucleic Acids Res. 47, W191–W198 (2019).
Acknowledgements
We thank members of the Moffat lab for helpful discussions. Q. Huang, M. Olivieri, C. Sheene, R. Akthar and S. Sidhu are gratefully acknowledged for assistance with molecular biology experiments. Next-generation sequencing was performed at the Donnelly Sequencing Centre at the University of Toronto. Proteomics work was performed at the Network Biology Collaborative Centre at the Lunenfeld-Tanenbaum Research Institute, a facility supported by Canada Foundation for Innovation funding, by the Ontarian Government and by Genome Canada and Ontario Genomics (OGI-097, OGI-139). M.A. was supported by a Swiss National Science Foundation Postdoctoral Fellowship; K.A.L. was supported by a Vanier Canada Graduate Scholarship and Studentship award from the Kidney Cancer Research Network of Canada. M.B. was supported by a DFG Fellowship (Bi 2086/1-1). This research was funded by grants from the Canadian Institutes for Health Research (J.M., C.B, B.J.A. and A.-C.G.), Ontario Research Fund (B.J.A., C.B. and J.M) and Canada Research Chairs Program (J.M., C.B. and A.-C.G.). C.L.M., M.B. and M.R. are partially supported by grants from the National Science Foundation (MCB 1818293) and the National Institutes of Health (R01HG005084, R01HG005853).
Ethics declarations
Competing interests
J.M., B.J.A. and C.B are shareholders in Northern Biologics. J.M. is a shareholder in Pionyr Immunotherapeutics, is acting chief scientific officer and shareholder in Empirica Therapeutics and is an SAB member and shareholder of Aelian Biotechnology. C.B. is an SAB member of Yumanity Therapeutics.
Additional information
Peer review information Primary Handling Editor: Pooja Jha.
Publisher's note Springer Nature remains neutral with regard to jurisdictional claims in published maps and institutional affiliations.
Supplementary information
About this article
Cite this article
Aregger, M., Lawson, K.A., Billmann, M. et al. Systematic mapping of genetic interactions for de novo fatty acid synthesis identifies C12orf49 as a regulator of lipid metabolism. Nat Metab 2, 499–513 (2020). https://doi.org/10.1038/s42255-020-0211-z
Received:

Accepted:

Published:

Issue Date: