By analysing microbial profiles in three adipose tissue depots and the liver and plasma of morbidly obese individuals, a new study uncovers a unique organ-specific microbial signature, or potential internal 'tissue microbiota', in obese people with diabetes.
Access options
Subscribe to Journal
Get full journal access for 1 year
$119.00
only $9.92 per issue
All prices are NET prices.
VAT will be added later in the checkout.
Tax calculation will be finalised during checkout.
Rent or Buy article
Get time limited or full article access on ReadCube.
from$8.99
All prices are NET prices.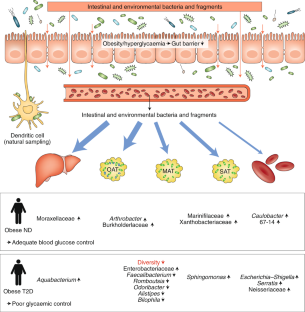 References
1.

Hotamisligil, G. S. Nature 444, 860–867 (2006).

2.

Cani, P. D. et al. Diabetes 56, 1761–1772 (2007).

3.

Cani, P. D. et al. Nat. Metab. 1, 34–46 (2019).

4.

Udayappan, S. D. et al. PLoS One 12, e0181693 (2017).

5.

Amar, J. et al. Diabetologia 54, 3055–3061 (2011).

6.

Schierwagen, R. et al. Gut https://doi.org/10.1136/gutjnl-2019-319123 (2019).

7.

Anhê, F. F. et al. Nat. Metab. https://doi.org/10.1038/s42255-020-0178-9 (2020).

8.

Tilg, H., Zmora, N., Adolph, T. E. & Elinav, E. Nat. Rev. Immunol. 20, 40–54 (2020).

9.

Cani, P. D. et al. Gut 58, 1091–1103 (2009).
Acknowledgements
P.D.C. is a senior research associate at Fonds de la Recherche Scientifique (FRS-FNRS), Belgium. He is supported by the Fonds Baillet Latour (Grant for Medical Research 2015), the Fondsde la Recherche Scientifique (FNRS, FRFS-WELBIO: WELBIO-CR-2019C-02R and EOS program no. 30770923).
Ethics declarations
Competing interests
P.D.C. is an inventor in patent applications related to the use of Akkermansia muciniphila and its components in the context of obesity and related disorders. P.D.C. is also a co-founder of A-Mansia Biotech SA. M.V.H. declares no conflicts of interest.
About this article
Cite this article
Cani, P.D., Van Hul, M. Microbial signatures in metabolic tissues: a novel paradigm for obesity and diabetes?. Nat Metab 2, 211–212 (2020). https://doi.org/10.1038/s42255-020-0182-0