Abstract
Following activation, conventional T (Tconv) cells undergo an mTOR-driven glycolytic switch. Regulatory T (Treg) cells reportedly repress the mTOR pathway and avoid glycolysis. However, here we demonstrate that human thymus-derived Treg (tTreg) cells can become glycolytic in response to tumour necrosis factor receptor 2 (TNFR2) costimulation. This costimulus increases proliferation and induces a glycolytic switch in CD3-activated tTreg cells, but not in Tconv cells. Glycolysis in CD3–TNFR2-activated tTreg cells is driven by PI3-kinase–mTOR signalling and supports tTreg cell identity and suppressive function. In contrast to glycolytic Tconv cells, glycolytic tTreg cells do not show net lactate secretion and shuttle glucose-derived carbon into the tricarboxylic acid cycle. Ex vivo characterization of blood-derived TNFR2hiCD4+CD25hiCD127lo effector T cells, which were FOXP3+IKZF2+, revealed an increase in glucose consumption and intracellular lactate levels, thus identifying them as glycolytic tTreg cells. Our study links TNFR2 costimulation in human tTreg cells to metabolic remodelling, providing an additional avenue for drug targeting.
Access options
Subscribe to Journal
Get full journal access for 1 year
$99.00
only $8.25 per issue
All prices are NET prices.
VAT will be added later in the checkout.
Tax calculation will be finalised during checkout.
Rent or Buy article
Get time limited or full article access on ReadCube.
from$8.99
All prices are NET prices.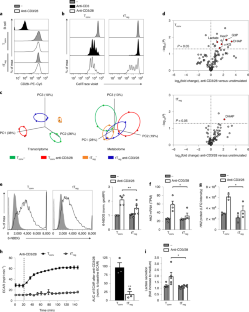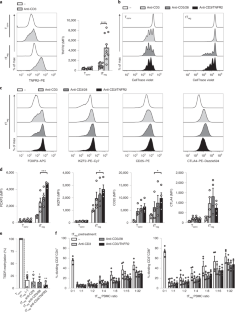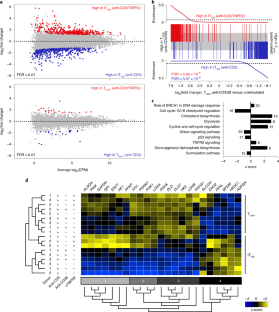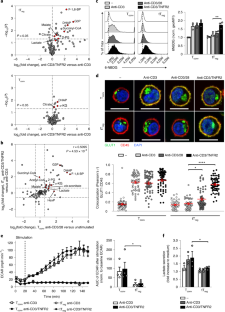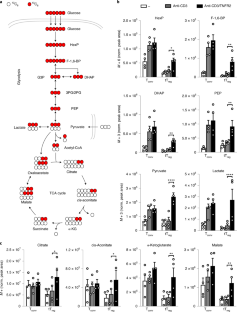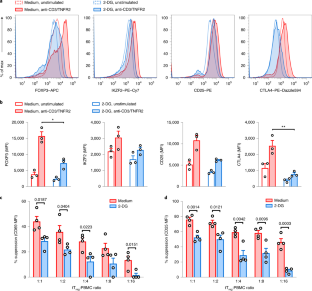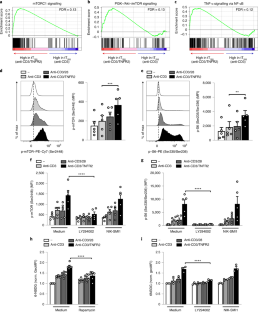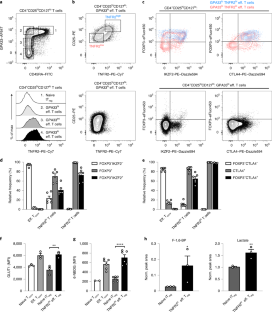 Data availability
All RNA-seq data are available in the GEO database under accession code GSE138603 and GSE138604. GSEAs were performed with GSEA software using the hallmark gene sets listed in the Molecular Signatures Database (MSigDB) available through https://www.gsea-msigdb.org/gsea/index.jsp. The proteomics data set used in this study is published by Cuadrado et al.14. All other data that support the findings of this study are available from the corresponding author on reasonable request.
References
1.

Wing, J. B., Tanaka, A. & Sakaguchi, S. Human FOXP3+ regulatory T cell heterogeneity and function in autoimmunity and cancer. Immunity 50, 302–316 (2019).

2.

Shevach, E. M. & Thornton, A. M. tTregs, pTregs, and iTregs: similarities and differences. Immunol. Rev. 259, 88–102 (2014).

3.

Fontenot, J. D., Gavin, M. A. & Rudensky, A. Y. Foxp3 programs the development and function of CD4+CD25+ regulatory T cells. Nat. Immunol. 4, 330–336 (2003).

4.

Hori, S., Nomura, T. & Sakaguchi, S. Control of regulatory T cell development by the transcription factor Foxp3. Science 299, 1057–1061 (2003).

5.

Floess, S. et al. Epigenetic control of the foxp3 locus in regulatory T cells. PLoS Biol. 5, e38 (2007).

6.

Blazar, B. R., MacDonald, K. P. A. & Hill, G. R. Immune regulatory cell infusion for graft-versus-host disease prevention and therapy. Blood 131, 2651–2660 (2018).

7.

Riley, J. L., June, C. H. & Blazar, B. R. Human T regulatory cell therapy: take a billion or so and call me in the morning. Immunity 30, 656–665 (2009).

8.

Koenen, H. J. et al. Human CD25highFoxp3pos regulatory T cells differentiate into IL-17-producing cells. Blood 112, 2340–2352 (2008).

9.

Medler, J. & Wajant, H. Tumor necrosis factor receptor-2 (TNFR2): an overview of an emerging drug target. Expert Opin. Ther. Targets 23, 295–307 (2019).

10.

Salomon, B. L. et al. Tumor necrosis factor alpha and regulatory T cells in oncoimmunology. Front. Immunol. 9, 444 (2018).

11.

Huynh, A. et al. Control of PI(3) kinase in Treg cells maintains homeostasis and lineage stability. Nat. Immunol. 16, 188–196 (2015).

12.

Zeiser, R. et al. Differential impact of mammalian target of rapamycin inhibition on CD4+CD25+Foxp3+ regulatory T cells compared with conventional CD4+ T cells. Blood 111, 453–462 (2008).

13.

Sauer, S. et al. T cell receptor signaling controls Foxp3 expression via PI3K, Akt, and mTOR. Proc. Natl Acad. Sci. USA 105, 7797–7802 (2008).

14.

Cuadrado, E. et al. Proteomic analyses of human regulatory T cells reveal adaptations in signaling pathways that protect cellular identity. Immunity 48, 1046–1059 (2018).

15.

Menk, A. V. et al. Early TCR signaling induces rapid aerobic glycolysis enabling distinct acute T cell effector functions. Cell Rep. 22, 1509–1521 (2018).

16.

Frauwirth, K. A. et al. The CD28 signaling pathway regulates glucose metabolism. Immunity 16, 769–777 (2002).

17.

Basu, S., Hubbard, B. & Shevach, E. M. Foxp3-mediated inhibition of Akt inhibits Glut1 (glucose transporter 1) expression in human T regulatory cells. J. Leukoc. Biol. 97, 279–283 (2015).

18.

Michalek, R. D. et al. Cutting edge: distinct glycolytic and lipid oxidative metabolic programs are essential for effector and regulatory CD4+ T cell subsets. J. Immunol. 186, 3299–3303 (2011).

19.

Shi, L. Z. et al. HIF1alpha-dependent glycolytic pathway orchestrates a metabolic checkpoint for the differentiation of TH17 and Treg cells. J. Exp. Med. 208, 1367–1376 (2011).

20.

He, N. et al. Metabolic control of regulatory T cell (Treg) survival and function by Lkb1. Proc. Natl Acad. Sci. USA 114, 12542–12547 (2017).

21.

Beier, U. H. et al. Essential role of mitochondrial energy metabolism in Foxp3+ T-regulatory cell function and allograft survival. FASEB J. 29, 2315–2326 (2015).

22.

Angelin, A. et al. Foxp3 reprograms T cell metabolism to function in low-glucose, high-lactate environments. Cell Metab. 25, 1282–1293 e1287 (2017).

23.

Gerriets, V. A. et al. Foxp3 and Toll-like receptor signaling balance Treg cell anabolic metabolism for suppression. Nat. Immunol. 17, 1459–1466 (2016).

24.

Howie, D. et al. Foxp3 drives oxidative phosphorylation and protection from lipotoxicity. JCI Insight 2, e89160 (2017).

25.

Delgoffe, G. M. et al. The kinase mTOR regulates the differentiation of helper T cells through the selective activation of signaling by mTORC1 and mTORC2. Nat. Immunol. 12, 295–303 (2011).

26.

Wei, J. et al. Autophagy enforces functional integrity of regulatory T cells by coupling environmental cues and metabolic homeostasis. Nat. Immunol. 17, 277–285 (2016).

27.

Chapman, N. M. et al. mTOR coordinates transcriptional programs and mitochondrial metabolism of activated Treg subsets to protect tissue homeostasis. Nat. Commun. 9, 2095 (2018).

28.

Procaccini, C. et al. The proteomic landscape of human ex vivo regulatory and conventional T cells reveals specific metabolic requirements. Immunity 44, 712 (2016).

29.

De Rosa, V. et al. Glycolysis controls the induction of human regulatory T cells by modulating the expression of FOXP3 exon 2 splicing variants. Nat. Immunol. 16, 1174–1184 (2015).

30.

Yang, S., Wang, J., Brand, D. D. & Zheng, S. G. Role of TNF–TNF receptor 2 Signal in regulatory T cells and Its therapeutic implications. Front. Immunol. 9, 784 (2018).

31.

Atretkhany, K. N. et al. Intrinsic TNFR2 signaling in T regulatory cells provides protection in CNS autoimmunity. Proc. Natl Acad. Sci. USA 115, 13051–13056 (2018).

32.

Marin Morales, J. M. et al. Automated clinical grade expansion of regulatory T cells in a fully closed system. Front. Immunol. 10, 38 (2019).

33.

Opstelten, R. et al. GPA33: A marker to identify stable human regulatory T cells. J. Immunol. 204, 3139–3148 (2020).

34.

Zheng, Y. et al. Genome-wide analysis of Foxp3 target genes in developing and mature regulatory T cells. Nature 445, 936–940 (2007).

35.

Golovina, T. N. et al. CD28 costimulation is essential for human T regulatory expansion and function. J. Immunol. 181, 2855–2868 (2008).

36.

Tanner, L. B. et al. Four key steps control glycolytic flux in mammalian cells. Cell Syst. 7, 49–62 e48 (2018).

37.

Gerriets, V. A. et al. Metabolic programming and PDHK1 control CD4+ T cell subsets and inflammation. J. Clin. Invest. 125, 194–207 (2015).

38.

Shi, J. H. & Sun, S. C. Tumor necrosis factor receptor-associated factor regulation of nuclear factor κB and mitogen-activated protein kinase pathways. Front. Immunol. 9, 1849 (2018).

39.

He, X. et al. A TNFR2-agonist facilitates high purity expansion of human low purity treg cells. PLoS ONE 11, e0156311 (2016).

40.

Macintyre, A. N. et al. The glucose transporter Glut1 is selectively essential for CD4 T cell activation and effector function. Cell Metab. 20, 61–72 (2014).

41.

Hui, S. et al. Glucose feeds the TCA cycle via circulating lactate. Nature 551, 115–118 (2017).

42.

Vander Heiden, M. G., Cantley, L. C. & Thompson, C. B. Understanding the Warburg effect: the metabolic requirements of cell proliferation. Science 324, 1029–1033 (2009).

43.

Haas, R. et al. Intermediates of metabolism: from bystanders to signalling molecules. Trends Biochem. Sci. 41, 460–471 (2016).

44.

Acuto, O. & Michel, F. CD28-mediated co-stimulation: a quantitative support for TCR signalling. Nat. Rev. Immunol. 3, 939–951 (2003).

45.

Walker, L. S. & Sansom, D. M. Confusing signals: recent progress in CTLA-4 biology. Trends Immunol. 36, 63–70 (2015).

46.

Grell, M. et al. The transmembrane form of tumor necrosis factor is the prime activating ligand of the 80 kDa tumor necrosis factor receptor. Cell 83, 793–802 (1995).

47.

Urbano, P. C. M., Koenen, H., Joosten, I. & He, X. An autocrine TNFα-tumor necrosis factor receptor 2 loop promotes epigenetic effects inducing human treg stability in vitro. Front. Immunol. 9, 573 (2018).

48.

Kleijwegt, F. S. et al. Critical role for tnf in the induction of human antigen-specific regulatory T cells by tolerogenic dendritic cells. J. Immunol. 185, 1412 (2010).

49.

Chopra, M. et al. Exogenous TNFR2 activation protects from acute GvHD via host T reg cell expansion. J. Exp. Med. 213, 1881–1900 (2016).

50.

Herbertson, R. A. et al. Targeted chemoradiation in metastatic colorectal cancer: a phase I trial of 131I-huA33 with concurrent capecitabine. J. Nucl. Med. 55, 534–539 (2014).

51.

Zhang, D. et al. Metabolic regulation of gene expression by histone lactylation. Nature 574, 575–580 (2019).

52.

Williams, N. C. & O'Neill, L. A. J. A role for the Krebs cycle intermediate citrate in metabolic reprogramming in innate immunity and inflammation. Front. Immunol. 9, 141 (2018).

53.

Thurnher, M. & Gruenbacher, G. T lymphocyte regulation by mevalonate metabolism. Sci. Signal 8, re4 (2015).

54.

Timilshina, M. et al. Activation of mevalonate pathway via LKB1 is essential for stability of treg cells. Cell Rep. 27, 2948–2961 e2947 (2019).

55.

Zeng, H. et al. mTORC1 couples immune signals and metabolic programming to establish Treg-cell function. Nature 499, 485–490 (2013).

56.

Brightbill, H. D. et al. NF-κB inducing kinase is a therapeutic target for systemic lupus erythematosus. Nat. Commun. 9, 179 (2018).

57.

McCarthy, D. J., Chen, Y. & Smyth, G. K. Differential expression analysis of multifactor RNA-seq experiments with respect to biological variation. Nucleic Acids Res. 40, 4288–4297 (2012).

58.

Robinson, M. D., McCarthy, D. J. & Smyth, G. K. edgeR: a Bioconductor package for differential expression analysis of digital gene expression data. Bioinformatics 26, 139–140 (2010).

59.

Chen, Y., Lun, A. & Smyth, G. From reads to genes to pathways: differential expression analysis of RNA-seq experiments using Rsubread and the edgeR quasi-likelihood pipeline. F1000Res 5, 1438 (2016).

60.

Ritchie, M. E. et al. limma powers differential expression analyses for RNA-sequencing and microarray studies. Nucleic Acids Res. 43, e47 (2015).

61.

Liberzon, A. et al. The molecular signatures database hallmark gene set collection. Cell Syst. 1, 417–425 (2015).

62.

Ross, K. L. & Dalluge, J. J. Liquid chromatography/tandem mass spectrometry of glycolytic intermediates: deconvolution of coeluting structural isomers based on unique product ion ratios. Anal. Chem. 81, 4021–4026 (2009).

63.

Smith, C. A. et al. METLIN: a metabolite mass spectral database. Ther. Drug Monit. 27, 747–751 (2005).

64.

Guijas, C. et al. METLIN: a technology platform for identifying knowns and unknowns. Anal. Chem. 90, 3156–3164 (2018).

65.

van der Windt, G. J., Chang, C. H. & Pearce, E. L. Measuring bioenergetics in T cells using a seahorse extracellular flux analyzer. Curr. Protoc. Immunol. 113, 3.16B.11–13.16B.14 (2016).

66.

Zhuo, C. et al. Higher FOXP3–TSDR demethylation rates in adjacent normal tissues in patients with colon cancer were associated with worse survival. Mol. Cancer 13, 153 (2014).
Acknowledgements
We thank the employees of the Flow Cytometry Facility and Genomics Facility of the Netherlands Cancer Institute and the Flow Cytometry Core Facility at Leiden University Medical Center for their technical assistance, M. Giera and S. Kostidis of the Center for Proteomics and Metabolomics Facility at Leiden University Medical Center for valuable discussions regarding the metabolomics experiments on freshly sorted cells and E. Schrama for assistance in flow-cytometric assays. M. A. Aslam was supported by the Institute of Molecular Biology and Biotechnology, Bahauddin Zakariya University, Multan, Pakistan. This work was supported by Oncode, ZonMW-TOP grant 40-00812-98-13071 and grants ICI-00014 and ICI-00025 from the Institute for Chemical Immunology, funded by ZonMW Gravitation.
Ethics declarations
Competing interests
All authors declare to have no financial or non-financial competing interests.
Additional information
Peer review information Primary Handling Editors: George Caputa; Elena Bellafante.
Publisher's note Springer Nature remains neutral with regard to jurisdictional claims in published maps and institutional affiliations.
Supplementary information
About this article
Cite this article
de Kivit, S., Mensink, M., Hoekstra, A.T. et al. Stable human regulatory T cells switch to glycolysis following TNF receptor 2 costimulation. Nat Metab 2, 1046–1061 (2020). https://doi.org/10.1038/s42255-020-00271-w
Received:

Accepted:

Published:

Issue Date:
Further reading
Nature Reviews Rheumatology (2021)