Transistors that are printed on paper substrates using all-carbon inks can be completely recycled, providing a potential route to helping solve the problem of electronic waste.
Access options
Subscribe to Journal
Get full journal access for 1 year
$99.00
only $8.25 per issue
All prices are NET prices.
VAT will be added later in the checkout.
Tax calculation will be finalised during checkout.
Rent or Buy article
Get time limited or full article access on ReadCube.
from$8.99
All prices are NET prices.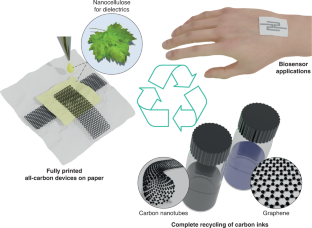 References
1.

Baldé, C. P., Forti, V., Gray, V., Kuehr, R. & Stegmann, P. The Global E-waste Monitor 2017 (United Nations University, International Telecommunication Union & International Solid Waste Association, 2017).

2.

Hwang, S.-W. et al. Science 337, 1640–1644 (2012).

3.

Boutry, C. M. et al. Nat. Biomed. Eng. 3, 47–57 (2019).

4.

Kang, S.-K. et al. Nature 530, 71–76 (2016).

5.

Tan, M. J. et al. J. Mater. Chem. C 4, 5531–5558 (2016).

6.

Zou, Z. et al. Sci. Adv. 4, eaaq0508 (2018).

7.

Chen, P. et al. Nano Lett. 11, 5301–5308 (2011).

8.

Huang, L. et al. ACS Appl. Mater. Interfaces 6, 7426–7433 (2014).

9.

Williams, N. X. et al. Nat. Electron. https://doi.org/10.1038/s41928-021-00574-0 (2021).
Ethics declarations
Competing interests
The authors declare no competing interests.
About this article
Cite this article
Lee, B., Chung, S. Printed carbon electronics get recycled. Nat Electron 4, 241–242 (2021). https://doi.org/10.1038/s41928-021-00578-w