Neuromorphic engineering attempts to create brain-like computing hardware and has helped reawaken interest in computer chip start-ups. But is the technology ready for mainstream application?
Access options
Subscribe to Journal
Get full journal access for 1 year
$99.00
only $8.25 per issue
All prices are NET prices.
VAT will be added later in the checkout.
Tax calculation will be finalised during checkout.
Rent or Buy article
Get time limited or full article access on ReadCube.
from$8.99
All prices are NET prices.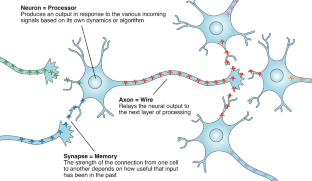 References
1.

Neuromorphic Computing Market Size (KBV Research, 2018); https://go.nature.com/3eTA6cr.

2.

Neuromorphic Chip Market - Growth, Trends, and Forecast (2020 - 2025) (Mordor Intelligence, 2019); https://go.nature.com/3gnxHXJ

3.

Neuromorphic Computing Market Size Worth $6.48 Billion by 2024 (Grand View Research, 2018); https://go.nature.com/2NUj55X

4.

Mead, C. Proc. IEEE 78, 1629–1636 (1990).

5.

Mead, C, Nat. Electron. https://doi.org/10.1038/s41928-020-0448-2 (2020).

6.

Jouppi, N. P. et al. In Proc. 44th Annual Int. Symposium on Computer Architecture https://doi.org/10.1145/3079856.3080246 (2017).

7.

Bekolay, T. et al. Front. Neuroinform. 7, 48 (2014).

8.

Femtosense – Overview (Crunchbase, 2020); https://go.nature.com/3eVI58X

9.

Waters, R. World's biggest chip created to meet demands of AI. The Financial Times (19 August 2019); https://go.nature.com/3dUgvYg
About this article
Cite this article
Bains, S. The business of building brains. Nat Electron 3, 348–351 (2020). https://doi.org/10.1038/s41928-020-0449-1