Abstract
Renewable and biodegradable materials derived from biomass are attractive candidates to replace non-biodegradable petrochemical plastics. However, the mechanical performance and wet stability of biomass are generally insufficient for practical applications. Herein, we report a facile in situ lignin regeneration strategy to synthesize a high-performance bioplastic from lignocellulosic resources (for example, wood). In this process, the porous matrix of natural wood is deconstructed to form a homogeneous cellulose–lignin slurry that features nanoscale entanglement and hydrogen bonding between the regenerated lignin and cellulose micro/nanofibrils. The resulting lignocellulosic bioplastic shows high mechanical strength, excellent water stability, ultraviolet-light resistance and improved thermal stability. Furthermore, the lignocellulosic bioplastic has a lower environmental impact as it can be easily recycled or safely biodegraded in the natural environment. This in situ lignin regeneration strategy involving only green and recyclable chemicals provides a promising route to producing strong, biodegradable and sustainable lignocellulosic bioplastic as a promising alternative to petrochemical plastics.
Your institute does not have access to this article
Relevant articles
Open Access articles citing this article.
Guihua Yan

,

Shuaiming He

…

Xianhai Zeng

Nano-Micro Letters Open Access 29 March 2022

Hongzhen Luo

,

Lei Gao

…

Mohammad J. Taherzadeh

Bioresources and Bioprocessing Open Access 19 December 2021
Access options
Subscribe to Nature+
Get immediate online access to the entire Nature family of 50+ journals
Subscribe to Journal
Get full journal access for 1 year
$99.00
only $8.25 per issue
All prices are NET prices.
VAT will be added later in the checkout.
Tax calculation will be finalised during checkout.
Buy article
Get time limited or full article access on ReadCube.
$32.00
All prices are NET prices.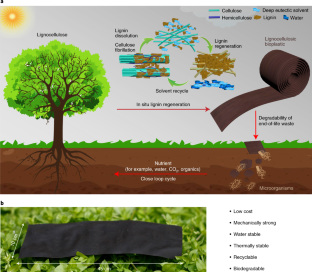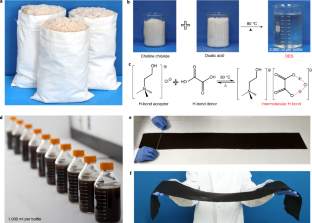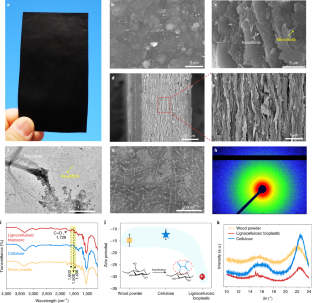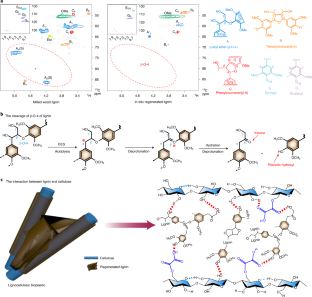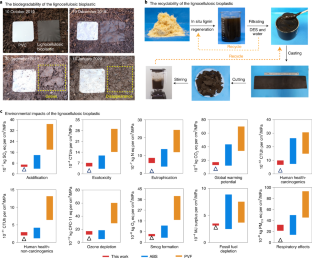 Data availability
Data are available on reasonable request from the authors, according to their contributions.
References
Yun, X. & Dong, T. in Food Packaging (ed. Grumezescu, A. M.) 147–184 (Academic Press, 2017).

Záleská, M. et al. Structural, mechanical and hygrothermal properties of lightweight concrete based on the application of waste plastics. Constr. Build. Mater. 180, 1–11 (2018).

Someya, T., Bao, Z. & Malliaras, G. G. The rise of plastic bioelectronics. Nature 540, 379–385 (2016).

Kudrin, A. M., Gabriel's, K. S. & Karaeva, O. A. The temperature effect on mechanical properties of carbon fiber reinforced plastics for aviation purposes. Inorg. Mater. 9, 763–766 (2018).

Rochman, C. M. et al. Classify plastic waste as hazardous. Nature 494, 169–171 (2013).

Brahney, J., Hallerud, M., Heim, E., Hahnenbergeret, M. & Sukumaran, S. Plastic rain in protected areas of the United States. Science 368, 1257–1260 (2020).

Law, K. L. et al. The United States' contribution of plastic waste to land and ocean. Sci. Adv. 6, eabd0288 (2020).

Zhu, Y., Romain, C. & Williams, C. K. Sustainable polymers from renewable resources. Nature 540, 354–362 (2016).

Lambert, S. & Wagner, M. Environmental performance of bio-based and biodegradable plastics: the road ahead. Chem. Soc. Rev. 46, 6855–6871 (2017).

Chen, C. et al. Structure–property–function relationships of natural and engineered wood. Nat. Rev. Mater. 5, 642–666 (2020).

Yang, J., Ching, Y. C. & Chuah, C. H. Applications of lignocellulosic fibers and lignin in bioplastics: a review. Polymers 11, 751 (2019).

Balaguer, M. P., Gomez-Estaca, J., Gavara, R. & Hernandez-Munoz, P. Biochemical properties of bioplastics made from wheat gliadins cross-linked with cinnamaldehyde. J. Agric. Food Chem. 59, 13212–13220 (2011).

Yue, H. B., Cui, Y. D., Shuttleworth, P. S. & Clark, J. H. Preparation and characterisation of bioplastics made from cottonseed protein. Green. Chem. 14, 2009–2016 (2012).

Herres-Pawlis, S. New stereocontrol on the block. Nat. Chem. 12, 107–109 (2020).

Venkateshaiah, A. et al. Recycling non-food-grade tree gum wastes into nanoporous carbon for sustainable energy harvesting. Green. Chem. 22, 1198–1208 (2020).

Yang, Y., Tilman, D., Lehman, C. & Trost, J. J. Sustainable intensification of high-diversity biomass production for optimal biofuel benefits. Nat. Sustain. 1, 686–692 (2018).

Isogai, A., Saito, T. & Fukuzumi, H. TEMPO-oxidized cellulose nanofibers. Nanoscale 3, 71–85 (2011).

Arnodo, D., Ghinato, S., Nejrotti, S., Blangetti, M. & Prandi, C. Lateral lithiation in deep eutectic solvents: regioselective functionalization of substituted toluene derivatives. Chem. Commun. 56, 2391–2394 (2020).

Hong, S. et al. In-depth interpretation of the structural changes of lignin and formation of diketones during acidic deep eutectic solvent pretreatment. Green. Chem. 22, 1851–1858 (2020).

Hammond, O. S., Edler, K. J., Bowron, D. T. & Torrente-Murciano, L. Deep eutectic-solvothermal synthesis of nanostructured ceria. Nat. Commun. 8, 14150 (2017).

Tan, X., Zhao, W. & Mu, T. Controllable exfoliation of natural silk fibers into nanofibrils by protein denaturant deep eutectic solvent: nanofibrous strategy for multifunctional membranes. Green. Chem. 20, 3625–3633 (2018).

Sirvio, J. A., Visanko, M. & Liimatainen, H. Acidic deep eutectic solvents as hydrolytic media for cellulose nanocrystal production. Biomacromolecules 17, 3025–3032 (2016).

Wang, M. et al. Highly stretchable, transparent, and conductive wood fabricated by in situ photopolymerization with polymerizable deep eutectic solvents. ACS Appl. Mater. Interfaces 11, 14313–14321 (2019).

Xia, Q. et al. Multiple hydrogen bond coordination in three-constituent deep eutectic solvents enhances lignin fractionation from biomass. Green. Chem. 20, 2711–2721 (2018).

Liu, Q. et al. Novel deep eutectic solvents with different functional groups towards highly efficient dissolution of lignin. Green. Chem. 21, 5291–5297 (2019).

Zhao, D. et al. A dynamic gel with reversible and tunable topological networks and performances. Matter 2, 390–403 (2020).

Li, Y. et al. Facile extraction of cellulose nanocrystals from wood using ethanol and peroxide solvothermal pretreatment followed by ultrasonic nanofibrillation. Green. Chem. 18, 1010–1018 (2016).

Wang, H. et al. Extraction of cellulose nanocrystals using a recyclable deep eutectic solvent. Cellulose 27, 1301–1314 (2019).

Zhu, M. et al. Highly anisotropic, highly transparent wood composites. Adv. Mater. 28, 5181–5187 (2016).

Moon, R. J., Martini, A., Nairn, J., Simonsen, J. & Youngblood, J. Cellulose nanomaterials review: structure, properties and nanocomposites. Chem. Soc. Rev. 40, 3941–3994 (2011).

Alvarez-Vasco, C. et al. Unique low-molecular-weight lignin with high purity extracted from wood by deep eutectic solvents (DES): a source of lignin for valorization. Green. Chem. 18, 5133–5141 (2016).

Wu, X. et al. Lignin‐derived electrochemical energy materials and systems. Biofuel. Bioprod. Birefin. 14, 650–672 (2020).

Iravani, S. & Varma, R. S. Greener synthesis of lignin nanoparticles and their applications. Green. Chem. 22, 612–636 (2020).

Ragauskas, A. J. et al. Lignin valorization: improving lignin processing in the biorefinery. Science 344, 1246843 (2014).

Wu, X. et al. Solar energy-driven lignin-first approach to full utilization of lignocellulosic biomass under mild conditions. Nat. Catal. 1, 772–780 (2018).

Fraile, JoséM., Zoel Hormigón, J. I. G., Mayoral, J. A., Saavedra, C. J., & Salvatella, L. Role of substituents in the solid acid-catalyzed cleavage of the β-O-4 linkage in lignin models. ACS Sustain. Chem. Eng. 6, 1837–1847 (2018).

Sanderson, K. Lignocellulose: a chewy problem. Nature 474, S12–S14 (2011).

Jung, Y. H. et al. High-performance green flexible electronics based on biodegradable cellulose nanofibril paper. Nat. Commun. 6, 7170 (2015).

Ashter, S. A. in Thermoforming of Single and Multilayer Laminates Ch. 10 (William Andrew, 2013).
Acknowledgements
We acknowledge the support of the Maryland Nanocenter, its Surface Analysis Center and AIMLab. We acknowledge J. Gao for his experimental suggestions.
Ethics declarations
Competing interests
The authors declare no competing interests.
Additional information
Peer review information Nature Sustainability thanks Robert Allen, Eun Yeol Lee and Tong-Qi Yuan for their contribution to the peer review of this work.
Publisher's note Springer Nature remains neutral with regard to jurisdictional claims in published maps and institutional affiliations.
Supplementary information
About this article
Cite this article
Xia, Q., Chen, C., Yao, Y. et al. A strong, biodegradable and recyclable lignocellulosic bioplastic. Nat Sustain 4, 627–635 (2021). https://doi.org/10.1038/s41893-021-00702-w
Received:

Accepted:

Published:

Issue Date:

DOI: https://doi.org/10.1038/s41893-021-00702-w