The terms sustainability, resilience and others group under the heading of 'stability'. Their ubiquity speaks to a vital need to characterize changes in complex social and environmental systems. In a bewildering array of terms, practical measurements are essential to permit comparisons and so untangle underlying relationships.
Access options
Subscribe to Journal
Get full journal access for 1 year
$99.00
only $8.25 per issue
All prices are NET prices.
VAT will be added later in the checkout.
Rent or Buy article
Get time limited or full article access on ReadCube.
from$8.99
All prices are NET prices.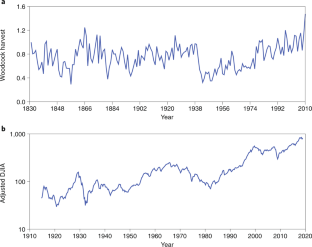 References
1.

Donohue, I. et al. Ecol. Lett. 19, 1172–1185 (2016).

2.

Pimm, S. L. Nature 307, 321–326 (1984).

3.

Grafton, R. Q. et al. Nat. Sustain. https://doi.org/10.1038/s41893-019-0376-1 (2019).

4.

Tavor, T. & Teitler-Regev, S. Jàmbá 11, a534 (2019).

5.

Fussell, E. Am. Behav. Sci. 59, 1231–1245 (2015).

6.

Pimm, S. L. The Balance of Nature? Ecological Issues in the Conservation of Species and Communities (Univ. Chicago Press, 1991).

7.

Arnoldi, J.-F., Bideault, A., Loreau, M. & Haegeman, B. J. Theor. Biol. 436, 79–92 (2018).

8.

Keneni, G., Bekele, E., Imtiaz, M. & Dagne, K. Int. J. Plant Res. 2, 69–79 (2012).

9.

Isbell, F. et al. Nature 526, 574–577 (2015).

10.

Inchausti, P. & Halley, J. Science 293, 655–657 (2001).

11.

Pimm, S. L. & Redfearn, A. Nature 334, 613–614 (1988).

12.

Holling, C. S. Annu. Rev. Ecol. Syst. 4, 1–23 (1973).

13.

Montoya, J. M., Donohue, I. & Pimm, S. L. Trends Ecol. Evol. 33, 71–73 (2018).

14.

Lovejoy, T. E. & Nobre, C. Sci. Adv. 4, eaat2340 (2018).

15.

Scheffers, B. R. et al. Science 354, aaf7671 (2016).

16.

Kéfi, S., Holmgren, M. & Scheffer, M. Funct. Ecol. 30, 88–97 (2016).

17.

Stein, C., Harpole, W. S. & Suding, K. N. Ecology 97, 2319–2330 (2016).

18.

Capon, S. J. et al. Sci. Total Environ. 534, 122–130 (2015).

19.

Royama, T. Ecol. Monogr. 54, 429–462 (1984).

20.

Hutchings, J. A. Can. J. Fish. Aquat. Sci. 62, 824–832 (2005).

21.

WWF Living Planet Report 2016. Risk and Resilience in a New Era (WWW International, 2016).

22.

Rockström, J. Beyond the Anthropocene. World Economic Forum (14 February 2017); https://www.youtube.com/watch?v=V9ETiSaxyfk
About this article
Cite this article
Pimm, S.L., Donohue, I., Montoya, J.M. et al. Measuring resilience is essential to understand it. Nat Sustain 2, 895–897 (2019). https://doi.org/10.1038/s41893-019-0399-7