Abstract
Risk evaluation of lymph node metastasis (LNM) for endoscopically resected submucosal invasive (T1) colorectal cancers (CRC) is critical for determining therapeutic strategies, but interobserver variability for histologic evaluation remains a major problem. To address this issue, we developed a machine-learning model for predicting LNM of T1 CRC without histologic assessment. A total of 783 consecutive T1 CRC cases were randomly split into 548 training and 235 validation cases. First, we trained convolutional neural networks (CNN) to extract cancer tile images from whole-slide images, then re-labeled these cancer tiles with LNM status for re-training. Statistical parameters of the tile images based on the probability of primary endpoints were assembled to predict LNM in cases with a random forest algorithm, and defined its predictive value as random forest score. We evaluated the performance of case-based prediction models for both training and validation datasets with area under the receiver operating characteristic curves (AUC). The accuracy for classifying cancer tiles was 0.980. Among cancer tiles, the accuracy for classifying tiles that were LNM-positive or LNM-negative was 0.740. The AUCs of the prediction models in the training and validation sets were 0.971 and 0.760, respectively. CNN judged the LNM probability by considering histologic tumor grade.
References
Urabe, Y. et al. Impact of revisions of the JSCCR guidelines on the treatment of T1 colorectal carcinomas in Japan. Z. Gastroenterol. 53, 291–301 (2015).

Marin-Gabriel, J. C., Fernandez-Esparrach, G., Diaz-Tasende, J. & Herreros de Tejada, A. Colorectal endoscopic submucosal dissection from a Western perspective: today's promises and future challenges. World J. Gastrointest. Endosc. 8, 40–55 (2016).

Tateishi, Y., Nakanishi, Y., Taniguchi, H., Shimoda, T. & Umemura, S. Pathological prognostic factors predicting lymph node metastasis in submucosal invasive (T1) colorectal carcinoma. Mod. Pathol. 23, 1068–1072 (2010).

Kawachi, H. et al. A three-tier classification system based on the depth of submucosal invasion and budding/sprouting can improve the treatment strategy for T1 colorectal cancer: a retrospective multicenter study. Mod. Pathol. 28, 872–879 (2015).

Egashira, Y. et al. Analysis of pathological risk factors for lymph node metastasis of submucosal invasive colon cancer. Mod. Pathol. 17, 503–511 (2004).

Hashiguchi, Y. et al. Japanese Society for Cancer of the Colon and Rectum (JSCCR) guidelines 2019 for the treatment of colorectal cancer. Int. J. Clin. Oncol. 25, 1–42 (2020).

Saitoh, Y. et al. Management of colorectal T1 carcinoma treated by endoscopic resection. Dig. Endosc. 28, 324–329 (2016).

Nishimura, T. et al. Clinical significance of immunohistochemical lymphovascular evaluation to determine additional surgery after endoscopic submucosal dissection for colorectal T1 carcinoma. Int. J. Colorectal. Dis. 36, 949–958 (2021).

Iguchi, K. et al. Additional surgical resection after endoscopic resection for patients with high-risk T1 colorectal cancer. In Vivo 33, 1243–1248 (2019).

Yamashita, K. et al. Preceding endoscopic submucosal dissection for T1 colorectal carcinoma does not affect the prognosis of patients who underwent additional surgery: a large multicenter propensity score-matched analysis. J. Gastroenterol. 54, 897–906 (2019).

Harris, E. I. et al. Lymphovascular invasion in colorectal cancer: an interobserver variability study. Am. J. Surg. Pathol. 32, 1816–1821 (2008).

Puppa, G. et al. Diagnostic reproducibility of tumour budding in colorectal cancer: a multicentre, multinational study using virtual microscopy. Histopathology 61, 562–575 (2012).

Takamatsu, M. et al. Immunohistochemical evaluation of tumor budding for stratifying T1 colorectal cancer: optimal cut-off value and a novel computer-assisted semiautomatic method. Mod. Pathol. 32, 675–683 (2019).

Kai, K. et al. Cytokeratin immunohistochemistry improves interobserver variability between unskilled pathologists in the evaluation of tumor budding in T1 colorectal cancer. Pathol. Int. 66, 75–82 (2016).

Liu, Z. et al. Survival prediction in gallbladder cancer using CT based machine learning. Front. Oncol. 10, 604288 (2020).

Klauschen, F. et al. Scoring of tumor-infiltrating lymphocytes: From visual estimation to machine learning. Semin. Cancer Biol. 52, 151–157 (2018).

Cheng, L. et al. A random forest classifier predicts recurrence risk in patients with ovarian cancer. Mol. Med. Rep. 18, 3289–3297 (2018).

Bychkov, D. et al. Deep learning based tissue analysis predicts outcome in colorectal cancer. Sci. Rep. 8, 3395 (2018).

Ma, B. et al. Artificial intelligence-based multiclass classification of benign or malignant mucosal lesions of the stomach. Front. Pharmacol. 11, 572372 (2020).

Montazeri, M., Montazeri, M., Montazeri, M. & Beigzadeh, A. Machine learning models in breast cancer survival prediction. Technol. Health Care 24, 31–42 (2016).

Yu, K. H. et al. Predicting non-small cell lung cancer prognosis by fully automated microscopic pathology image features. Nat. Commun. 7, 12474 (2016).

Mobadersany, P. et al. Predicting cancer outcomes from histology and genomics using convolutional networks. Proc. Natl. Acad. Sci. USA 115, E2970–E2979 (2018).

Campanella, G. et al. Clinical-grade computational pathology using weakly supervised deep learning on whole slide images. Nat. Med. 25, 1301–1309 (2019).

Chen, P. C. et al. An augmented reality microscope with real-time artificial intelligence integration for cancer diagnosis. Nat. Med. 25, 1453–1457 (2019).

Skrede, O. J. et al. Deep learning for prediction of colorectal cancer outcome: a discovery and validation study. Lancet 395, 350–360 (2020).

Wulczyn, E. et al. Deep learning-based survival prediction for multiple cancer types using histopathology images. PLoS ONE 15, e0233678 (2020).

Kudo, S. E. et al. Artificial intelligence system to determine risk of T1 colorectal cancer metastasis to lymph node. Gastroenterology 160, 1075 (2020).

Jiang, D. et al. A machine learning-based prognostic predictor for stage III colon cancer. Sci. Rep. 10, 10333 (2020).

Xu, Y., Ju, L., Tong, J., Zhou, C. M. & Yang, J. J. Machine learning algorithms for predicting the recurrence of stage IV colorectal cancer after tumor resection. Sci. Rep. 10, 2519 (2020).

Komuta, K. et al. Interobserver variability in the pathological assessment of malignant colorectal polyps. Br. J. Surg. 91, 1479–1484 (2004).

Ueno, H. et al. New criteria for histologic grading of colorectal cancer. Am. J. Surg. Pathol. 36, 193–201 (2012).

Barresi, V. et al. Histologic grading based on counting poorly differentiated clusters in preoperative biopsy predicts nodal involvement and pTNM stage in colorectal cancer patients. Hum. Pathol. 45, 268–275 (2014).

Iizuka, T., Fukasawa, M. & Kameyama, M. Deep-learning-based imaging-classification identified cingulate island sign in dementia with Lewy bodies. Sci. Rep. 9, 8944 (2019).

Dai, G. et al. Exploring the effect of hypertension on retinal microvasculature using deep learning on East Asian population. PLoS ONE 15, e0230111 (2020).

Jones, H. G. et al. Genetic and epigenetic intra-tumour heterogeneity in colorectal cancer. World J. Surg. 41, 1375–1383 (2017).

Aytac, E. et al. Impact of tumor location on lymph node metastasis in T1 colorectal cancer. Langenbecks Arch. Surg. 401, 627–632 (2016).

Kobayashi, H. et al. Characteristics of recurrence after curative resection for T1 colorectal cancer: Japanese multicenter study. J. Gastroenterol. 46, 203–211 (2011).

Ueno, H. et al. Proposed objective criteria for "grade 3" in early invasive colorectal cancer. Am. J. Clin. Pathol. 134, 312–322 (2010).

R Core Team. R: A language and environment for statistical computing. R Foundation for Statistical Computing, Vienna, Austria. (2013).

Mark Sandler, A.H., Menglong, Z., Andrey, Z., Liang-Chieh, C. MobileNetV2: inverted residuals and linear bottlenecks. In The IEEE Conference on Computer Vision and Pattern Recognition, pp. 4510–4520 (2018).

OpenSlide library for Python, version 1.1.2. https://openslide.org/download/. 2020.

Breiman, L. Random forests. Mach. Learn. 45, 5–32 (2001).

Takamatsu, M. et al. Prediction of early colorectal cancer metastasis by machine learning using digital slide images. Comput. Methods Prog. Biomed. 178, 155–161 (2019).
Acknowledgements
The authors thank Tomoyo Kakita, Motoyoshi Iwakoshi, and Hiroshi Yoko-o for their excellent technical assistance.
Ethics declarations
Competing interests
The authors declare no competing interests.
Additional information
Publisher's note
Springer Nature remains neutral with regard to jurisdictional claims in published maps and institutional affiliations.
Supplementary Information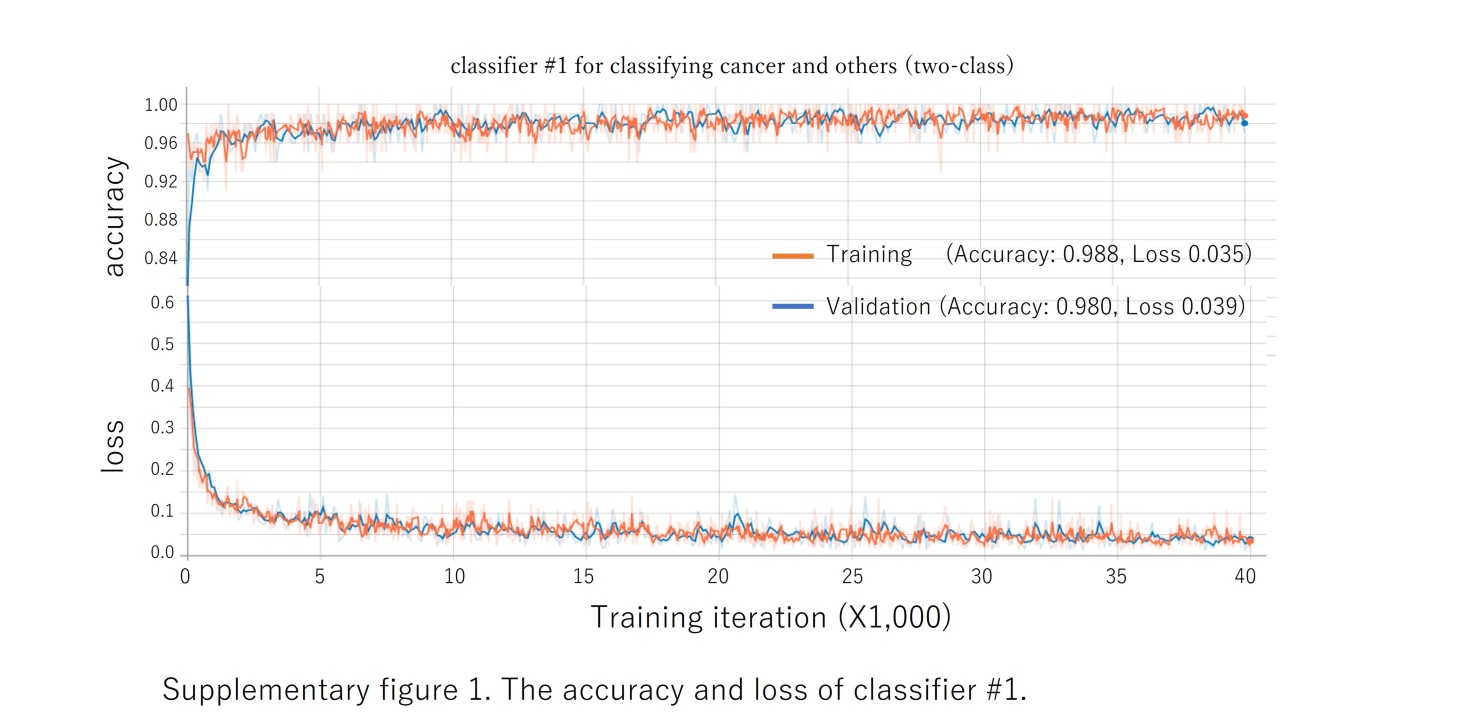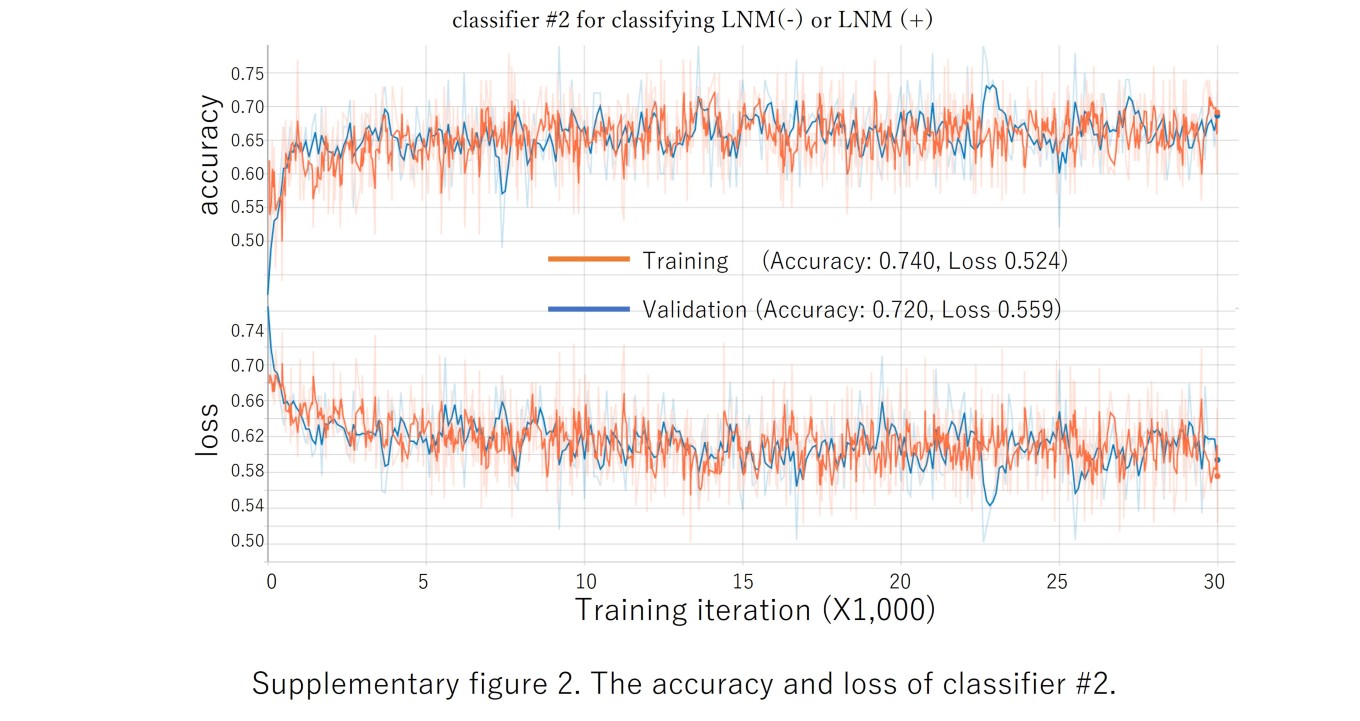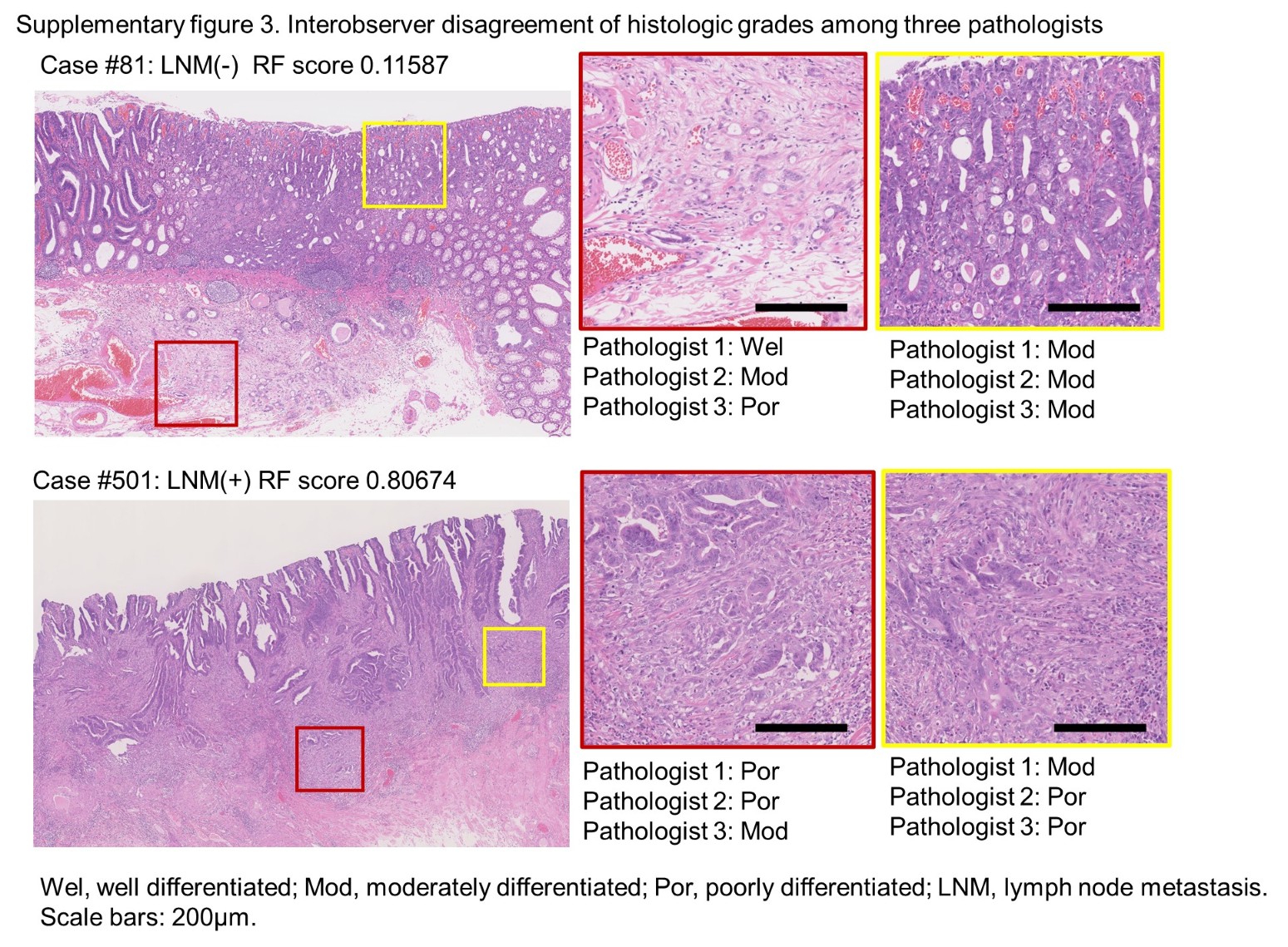 Rights and permissions
Open Access This article is licensed under a Creative Commons Attribution 4.0 International License, which permits use, sharing, adaptation, distribution and reproduction in any medium or format, as long as you give appropriate credit to the original author(s) and the source, provide a link to the Creative Commons licence, and indicate if changes were made. The images or other third party material in this article are included in the article's Creative Commons licence, unless indicated otherwise in a credit line to the material. If material is not included in the article's Creative Commons licence and your intended use is not permitted by statutory regulation or exceeds the permitted use, you will need to obtain permission directly from the copyright holder. To view a copy of this licence, visit http://creativecommons.org/licenses/by/4.0/.
About this article
Cite this article
Takamatsu, M., Yamamoto, N., Kawachi, H. et al. Prediction of lymph node metastasis in early colorectal cancer based on histologic images by artificial intelligence. Sci Rep 12, 2963 (2022). https://doi.org/10.1038/s41598-022-07038-1
Received:

Accepted:

Published:

DOI: https://doi.org/10.1038/s41598-022-07038-1
This article is cited by
Katsuro Ichimasa
Shin-ei Kudo
Khay Guan Yeoh

Journal of Gastroenterology (2022)

Morten Hartwig
Karoline Bendix Bräuner
Ismail Gögenur

International Journal of Colorectal Disease (2022)
Comments
By submitting a comment you agree to abide by our Terms and Community Guidelines. If you find something abusive or that does not comply with our terms or guidelines please flag it as inappropriate.