Abstract
The biological mechanisms involved in SARS-CoV-2 infection are only partially understood. Thus we explored the plasma metabolome of patients infected with SARS-CoV-2 to search for diagnostic and/or prognostic biomarkers and to improve the knowledge of metabolic disturbance in this infection. We analyzed the plasma metabolome of 55 patients infected with SARS-CoV-2 and 45 controls by LC-HRMS at the time of viral diagnosis (D0). We first evaluated the ability to predict the diagnosis from the metabotype at D0 in an independent population. Next, we assessed the feasibility of predicting the disease evolution at the 7th and 15th day. Plasma metabolome allowed us to generate a discriminant multivariate model to predict the diagnosis of SARS-CoV-2 in an independent population (accuracy > 74%, sensitivity, specificity > 75%). We identified the role of the cytosine and tryptophan-nicotinamide pathways in this discrimination. However, metabolomic exploration modestly explained the disease evolution. Here, we present the first metabolomic study in SARS-CoV-2 patients which showed a high reliable prediction of early diagnosis. We have highlighted the role of the tryptophan-nicotinamide pathway clearly linked to inflammatory signals and microbiota, and the involvement of cytosine, previously described as a coordinator of cell metabolism in SARS-CoV-2. These findings could open new therapeutic perspectives as indirect targets.
Acknowledgements
We thank all the clinicians and all the hospital staff involved in patients' management, Sophie Parade for the collection of some clinical data, and the technicians of biochemical laboratory.
Ethics declarations
Competing interests
The authors declare no competing interests.
Additional information
Publisher's note
Springer Nature remains neutral with regard to jurisdictional claims in published maps and institutional affiliations.
Supplementary information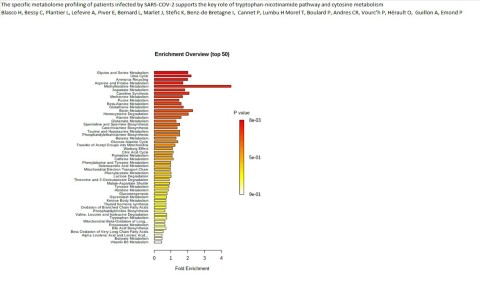 Rights and permissions
Open Access This article is licensed under a Creative Commons Attribution 4.0 International License, which permits use, sharing, adaptation, distribution and reproduction in any medium or format, as long as you give appropriate credit to the original author(s) and the source, provide a link to the Creative Commons licence, and indicate if changes were made. The images or other third party material in this article are included in the article's Creative Commons licence, unless indicated otherwise in a credit line to the material. If material is not included in the article's Creative Commons licence and your intended use is not permitted by statutory regulation or exceeds the permitted use, you will need to obtain permission directly from the copyright holder. To view a copy of this licence, visit http://creativecommons.org/licenses/by/4.0/.
About this article
Cite this article
Blasco, H., Bessy, C., Plantier, L. et al. The specific metabolome profiling of patients infected by SARS-COV-2 supports the key role of tryptophan-nicotinamide pathway and cytosine metabolism. Sci Rep 10, 16824 (2020). https://doi.org/10.1038/s41598-020-73966-5
Received:

Accepted:

Published:

DOI: https://doi.org/10.1038/s41598-020-73966-5
Comments
By submitting a comment you agree to abide by our Terms and Community Guidelines. If you find something abusive or that does not comply with our terms or guidelines please flag it as inappropriate.