Abstract
Viruses use internal ribosome entry sites (IRES) to hijack host ribosomes and promote cap-independent translation. Although they are well-studied in bulk, the dynamics of IRES-mediated translation remain unexplored at the single-molecule level. Here, we developed a bicistronic biosensor encoding distinct repeat epitopes in two open reading frames (ORFs), one translated from the 5′ cap, and the other from the encephalomyocarditis virus IRES. When combined with a pair of complementary probes that bind the epitopes cotranslationally, the biosensor lights up in different colors depending on which ORF is translated. Using the sensor together with single-molecule tracking and computational modeling, we measured the kinetics of cap-dependent versus IRES-mediated translation in living human cells. We show that bursts of IRES translation are shorter and rarer than bursts of cap translation, although the situation reverses upon stress. Collectively, our data support a model for translational regulation primarily driven by transitions between translationally active and inactive RNA states.
Access options
Subscribe to Journal
Get full journal access for 1 year
$59.00
only $4.92 per issue
All prices are NET prices.
VAT will be added later in the checkout.
Tax calculation will be finalised during checkout.
Rent or Buy article
Get time limited or full article access on ReadCube.
from$8.99
All prices are NET prices.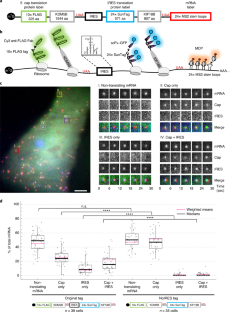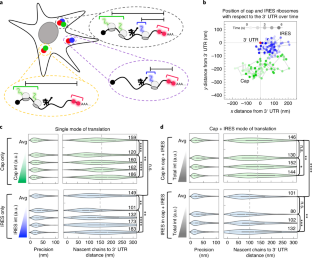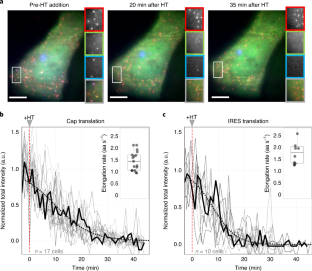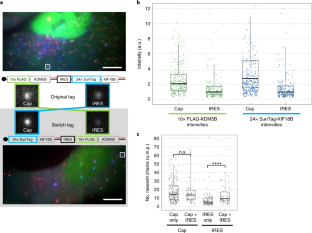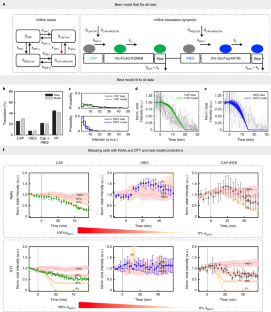 References
1.

Jackson, R. J., Hellen, C. U. T. & Pestova, T. V. The mechanism of eukaryotic translation initiation and principles of its regulation. Nat. Rev. Mol. Cell Biol. 11, 113–127 (2010).

2.

Bornes Stéphanie et al. Translational induction of VEGF internal ribosome entry site elements during the early response to ischemic stress. Circ. Res. 100, 305–308 (2007).

3.

Xue, S. et al. RNA regulons in Hox 5′ UTRs confer ribosome specificity to gene regulation. Nature 517, 33–38 (2015).

4.

Stoneley, M., Paulin, F. E., Le Quesne, J. P., Chappell, S. A. & Willis, A. E. C-Myc 5′ untranslated region contains an internal ribosome entry segment. Oncogene 16, 423–428 (1998).

5.

Ray, P. S., Grover, R. & Das, S. Two internal ribosome entry sites mediate the translation of p53 isoforms. EMBO Rep. 7, 404 (2006).

6.

Firth, A. E. & Brierley, I. Non-canonical translation in RNA viruses. J. Gen. Virol. 93, 1385–1409 (2012).

7.

Doudna, J. A. & Sarnow, P. Translation Initiation by Viral Internal Ribosome Entry Sites. 25 (2007).

8.

Komar, A. A., Mazumder, B. & Merrick, W. C. A new framework for understanding IRES-mediated translation. Gene 502, 75–86 (2012).

9.

Kieft, J. S. Viral IRES RNA structures and ribosome interactions. Trends Biochem. Sci. 33, 274–283 (2008).

10.

Filbin, M. E. & Kieft, J. S. Toward a structural understanding of IRES RNA function. Curr. Opin. Struct. Biol. 19, 267–276 (2009).

11.

Baird, S. D. Searching for IRES. RNA 12, 1755–1785 (2006).

12.

Fernández-Miragall, O., de Quinto, S. L. & Martínez-Salas, E. Relevance of RNA structure for the activity of picornavirus IRES elements. Virus Res. 139, 172–182 (2009).

13.

Gendron, K., Ferbeyre, G., Heveker, N. & Brakier-Gingras, L. The activity of the HIV-1 IRES is stimulated by oxidative stress and controlled by a negative regulatory element. Nucleic Acids Res. 39, 902–912 (2011).

14.

Hanson, P., Yang, D., Zhang, H. & Hemida, M. in Viral Replication (ed Rosas-Acosta, G.) Ch. 5 (InTech, 2013).

15.

Holcik, M. & Sonenberg, N. Translational control in stress and apoptosis. Nat. Rev. Mol. Cell Biol. 6, 318–327 (2005).

16.

Hanson, P. J. et al. IRES-dependent translational control during virus-induced endoplasmic reticulum stress and apoptosis. Front. Microbiol. 3, 92 (2012).

17.

Hetz, C. The unfolded protein response: controlling cell fate decisions under ER stress and beyond. Nat. Rev. Mol. Cell Biol. 13, 89–102 (2012).

18.

Hooper, P. L., Hightower, L. E. & Hooper, P. L. Loss of stress response as a consequence of viral infection: implications for disease and therapy. Cell Stress Chaperones 17, 647–655 (2012).

19.

Fernandez, J., Yaman, I., Sarnow, P., Snider, M. D. & Hatzoglou, M. Regulation of internal ribosomal entry site-mediated translation by phosphorylation of the translation initiation factor eIF2α. J. Biol. Chem. 277, 19198–19205 (2002).

20.

Sonenberg, N. & Hinnebusch, A. G. Regulation of translation initiation in eukaryotes: mechanisms and biological targets. Cell 136, 731–745 (2009).

21.

Thompson, S. R. & Sarnow, P. Regulation of host cell translation by viruses and effects on cell function. Curr. Opin. Microbiol. 3, 366–370 (2000).

22.

Weingarten-gabbay, S. & Segal, E. Toward a systematic understanding of translational regulatory elements in human and viruses. RNA Biol. 13, 927–933 (2016).

23.

Plank, T. D. M., Whitehurst, J. T. & Kieft, J. S. Cell type specificity and structural determinants of IRES activity from the 5' leaders of different HIV-1 transcripts. Nucleic Acids Res. 41, 6698–6714 (2013).

24.

Davies, M. V. & Kaufman, R. J. The sequence context of the initiation codon in the encephalomyocarditis virus leader modulates efficiency of internal translation initiation. J. Virol. 66, 9 (1992).

25.

Gale, M., Tan, S.-L. & Katze, M. G. Translational control of viral gene expression in eukaryotes. Microbiol. Mol. Biol. Rev. 64, 239–280 (2000).

26.

De Quinto, S. L., Lafuente, E. & Martínez-Salas, E. IRES interaction with translation initiation factors: Functional characterization of novel RNA contacts with eIF3, eIF4B, and eIF4GII. RNA 7, 1213–1226 (2001).

27.

Morisaki, T. et al. Real-time quantification of single RNA translation dynamics in living cells. Science 352, 1425–1429 (2016).

28.

Viswanathan, S. et al. High-performance probes for light and electron microscopy. Nat. Methods 12, 568–576 (2015).

29.

Yan, X., Hoek, T. A., Vale, R. D. & Tanenbaum, M. E. Dynamics of translation of single mRNA molecules in vivo. Cell 165, 976–989 (2016).

30.

Carocci, M. & Bakkali-Kassimi, L. The encephalomyocarditis virus. Virulence 3, 351–367 (2012).

31.

Chamond, N., Deforges, J., Ulryck, N. & Sargueil, B. 40S recruitment in the absence of eIF4G/4A by EMCV IRES refines the model for translation initiation on the archetype of type II IRESs. Nucleic Acids Res. 42, 10373–10384 (2014).

32.

Bochkov, Y. A. & Palmenberg, A. C. Translational efficiency of EMCV IRES in bicistronic vectors is dependent upon IRES sequence and gene location. BioTechniques 41, 283–292 (2006).

33.

McNeil, P. L. & Warder, E. Glass beads load macromolecules into living cells. J. Cell Sci. 88, 669–678 (1987).

34.

Azzam, M. E. & Algranati, I. D. Mechanism of puromycin action: fate of ribosomes after release of nascent protein chains from polysomes. Proc. Natl Acad. Sci. USA 70, 3866–3869 (1973).

35.

Tokunaga, M., Imamoto, N. & Sakata-Sogawa, K. Highly inclined thin illumination enables clear single-molecule imaging in cells. Nat. Methods 5, 159–161 (2008).

36.

Cattoglio, C. et al. Determining cellular CTCF and cohesin abundances to constrain 3D genome models. eLife 8, e40164 (2019).

37.

Adivarahan, S. et al. Spatial organization of single mRNPs at different stages of the gene expression pathway. Mol. Cell 72, 727–738 (2018).

38.

Khong, A. & Parker, R. mRNP architecture in translating and stress conditions reveals an ordered pathway of mRNP compaction. J. Cell Biol. 217, 4124–4140 (2018).

39.

Svitkin, Y. V. et al. General RNA-binding proteins have a function in poly(A)-binding protein-dependent translation. EMBO J. 28, 58–68 (2009).

40.

Sharma, A. K. et al. A chemical kinetic basis for measuring translation initiation and elongation rates from ribosome profiling data. PLoS Comput. Biol. 15, e1007070 (2019).

41.

Morisaki, T. & Stasevich, T. J. Quantifying single mRNA translation kinetics in living cells. Cold Spring Harb. Perspect. Biol. 10, a032078 (2018).

42.

Aguilera, L. U. et al. Computational design and interpretation of single-RNA translation experiments. PLoS Comput. Biol. 15, e1007425 (2019).

43.

Munsky, B., Neuert, G. & van Oudenaarden, A. Using gene expression noise to understand gene regulation. Science 336, 183–187 (2012).

44.

Ingolia, N. T., Hussmann, J. A. & Weissman, J. S. Ribosome profiling: Global views of translation. Cold Spring Harb. Perspect. Biol. 11, a032698 (2019)

45.

Ruiz-Ramos, R., Lopez-Carrillo, L., Rios-Perez, A. D., De Vizcaya-Ruíz, A. & Cebrian, M. E. Sodium arsenite induces ROS generation, DNA oxidative damage, HO-1 and c-Myc proteins, NF-κB activation and cell proliferation in human breast cancer MCF-7 cells. Mutat. Res. Toxicol. Environ. Mutagen 674, 109–115 (2009).

46.

Wang, C., Han, B., Zhou, R. & Zhuang, X. Real-time imaging of translation on single mRNA transcripts in live cells. Cell 165, 990–1001 (2016).

47.

Pelletier, J. & Sonenberg, N. Internal initiation of translation of eukaryotic mRNA directed by a sequence derived from poliovirus RNA. Nature 334, 320–325 (1988).

48.

Marshall, R. A., Aitken, C. E., Dorywalska, M. & Puglisi, J. D. Translation at the single-molecule level. Annu. Rev. Biochem. 77, 177–203 (2008).

49.

Wu, B., Eliscovich, C., Yoon, Y. J. & Singer, R. H. Translation dynamics of single mRNAs in live cells and neurons. Science 352, 1430–1435 (2016).

50.

Kanamori, Y. & Nakashima, N. A tertiary structure model of the internal ribosome entry site (IRES) for methionine-independent initiation of translation. RNA 7, 266–274 (2001).

51.

Edelstein, A. D. et al. Advanced methods of microscope control using μManager software. J. Biol. Methods 1, e10 (2014).

52.

Schindelin, J. et al. Fiji: an open-source platform for biological-image analysis. Nat. Methods 9, 676–682 (2012).
Acknowledgements
We thank L. Lavis for kindly providing JF646 labeled HaloTag ligand and H. Scherman for purifying Halo-MCP and GFP-scFv (anti-SunTag). We thank L. Whitehead and collaborators for the Imagej Zoom plugin. We thank all members of the Stasevich and Munsky labs for their support and helpful discussions. B.M. and L.A. were supported by a grant from the W.M. Keck Foundation and by the NIH (grant no. 5R35GM124747). T.J.S., A.K. and T.M. were supported by the National Institutes of Health (grant no. R35GM119728).
Ethics declarations
Competing interests
The authors declare no competing interests.
Additional information
Peer review information Peer reviewer reports are available. Anke Sparmann was the primary editor on this article and managed its editorial process and peer review in collaboration with the rest of the editorial team.
Publisher's note Springer Nature remains neutral with regard to jurisdictional claims in published maps and institutional affiliations.
Supplementary information
About this article
Cite this article
Koch, A., Aguilera, L., Morisaki, T. et al. Quantifying the dynamics of IRES and cap translation with single-molecule resolution in live cells. Nat Struct Mol Biol 27, 1095–1104 (2020). https://doi.org/10.1038/s41594-020-0504-7
Received:

Accepted:

Published:

Issue Date:
Further reading
Sulagna Das

,

Maria Vera

,

Valentina Gandin

,

Robert H. Singer

&

Evelina Tutucci

Nature Reviews Molecular Cell Biology (2021)

Youssi M. Athar

&

Simpson Joseph

Biochemistry (2020)