Abstract
In any given situation, the environment can be parsed in different ways to yield decision variables (DVs) defining strategies useful for different tasks. It is generally presumed that the brain only computes a single DV defining the current behavioral strategy. Here to test this assumption, we recorded neural ensembles in the frontal cortex of mice performing a foraging task admitting multiple DVs. Methods developed to uncover the currently employed DV revealed the use of multiple strategies and occasional switches in strategy within sessions. Optogenetic manipulations showed that the secondary motor cortex (M2) is needed for mice to use the different DVs in the task. Surprisingly, we found that regardless of which DV best explained the current behavior, M2 activity concurrently encoded a full basis set of computations defining a reservoir of DVs appropriate for alternative tasks. This form of neural multiplexing may confer considerable advantages for learning and adaptive behavior.
Access options
Access Nature and 54 other Nature Portfolio journals
Get Nature+, our best-value online-access subscription
$29.99 / 30 days
cancel any time
Subscribe to this journal
Receive 12 print issues and online access
$189.00 per year
only $15.75 per issue
Rent or buy this article
Get just this article for as long as you need it
$39.95
Prices may be subject to local taxes which are calculated during checkout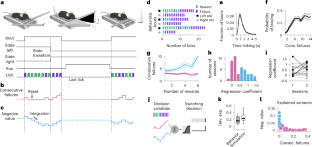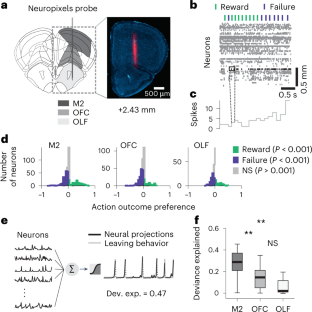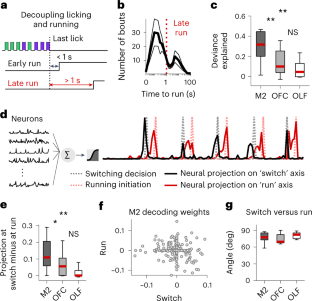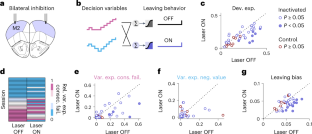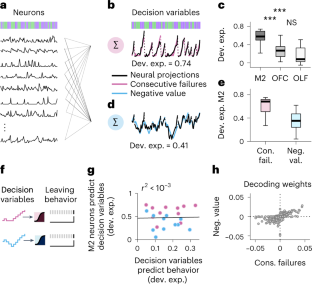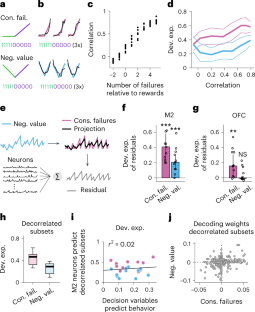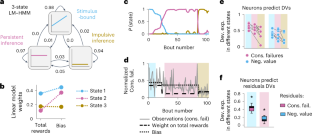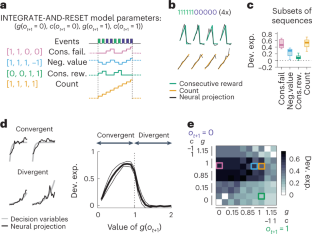 References
Niv, Y. Learning task-state representations. Nat. Neurosci. 22, 1544–1553 (2019).

Kang, Y. H. et al. Multiple decisions about one object involve parallel sensory acquisition but time-multiplexed evidence incorporation. eLife 10, e63721 (2021).

Pashler, H. Processing stages in overlapping tasks: evidence for a central bottleneck. J. Exp. Psychol. Hum. Percept. Perform. 10, 358–377 (1984).

Sigman, M. & Dehaene, S. Parsing a cognitive task: a characterization of the mind's bottleneck. PLoS Biol. 3, e37 (2005).

Scott, B. B. et al. Fronto-parietal cortical circuits encode accumulated evidence with a diversity of timescales. Neuron 95, 385–398 (2017).

Bernacchia, A., Seo, H., Lee, D. & Wang, X.-J. A reservoir of time constants for memory traces in cortical neurons. Nat. Neurosci. 14, 366–372 (2011).

Cazettes, F., Reato, D., Morais, J. P., Renart, A. & Mainen, Z. F. Phasic activation of dorsal raphe serotonergic neurons increases pupil size. Curr. Biol. 31, 192–197 (2021).

Vertechi, P. et al. Inference-based decisions in a hidden state foraging task: differential contributions of prefrontal cortical areas. Neuron 106, 166–176 (2020).

Jun, J. J. et al. Fully integrated silicon probes for high-density recording of neural activity. Nature 551, 232–236 (2017).

Murakami, M., Vicente, M. I., Costa, G. M. & Mainen, Z. F. Neural antecedents of self-initiated actions in secondary motor cortex. Nat. Neurosci. 17, 1574 (2014).

Li, N., Chen, T.-W., Guo, Z. V., Gerfen, C. R. & Svoboda, K. A motor cortex circuit for motor planning and movement. Nature 519, 51–56 (2015).

Siniscalchi, M. J., Phoumthipphavong, V., Ali, F., Lozano, M. & Kwan, A. C. Fast and slow transitions in frontal ensemble activity during flexible sensorimotor behavior. Nat. Neurosci. 19, 1234–1242 (2016).

Recanatesi, S., Pereira-Obilinovic, U., Murakami, M., Mainen, Z. & Mazzucato, L. Metastable attractors explain the variable timing of stable behavioral action sequences. Neuron 110, 139–153 (2022).

Ashwood, Z. C. et al. Mice alternate between discrete strategies during perceptual decision-making. Nat. Neurosci. 25, 201–212 (2022).

Enel, P., Procyk, E., Quilodran, R. & Dominey, P. F. Reservoir computing properties of neural dynamics in prefrontal cortex. PLoS Comput. Biol. 12, e1004967 (2016).

Jaeger, H. & Haas, H. Harnessing nonlinearity: predicting chaotic systems and saving energy in wireless communication. Science 304, 78–80 (2004).

Sussillo, D. & Abbott, L. F. Generating coherent patterns of activity from chaotic neural networks. Neuron 63, 544–557 (2009).

Mello, G. B. M., Soares, S. & Paton, J. J. A scalable population code for time in the striatum. Curr. Biol. 25, 1113–1122 (2015).

Simen, P., Balci, F., deSouza, L., Cohen, J. D. & Holmes, P. A model of interval timing by neural integration. J. Neurosci. 31, 9238–9253 (2011).

Sugrue, L. P., Corrado, G. S. & Newsome, W. T. Matching behavior and the representation of value in the parietal cortex. Science 304, 1782–1787 (2004).

Hayden, B. Y., Pearson, J. M. & Platt, M. L. Neuronal basis of sequential foraging decisions in a patchy environment. Nat. Neurosci. 14, 933–939 (2011).

Brunton, B. W., Botvinick, M. M. & Brody, C. D. Rats and humans can optimally accumulate evidence for decision-making. Science 340, 95–98 (2013).

Xiong, Q., Znamenskiy, P. & Zador, A. M. Selective corticostriatal plasticity during acquisition of an auditory discrimination task. Nature 521, 348–351 (2015).

Drugowitsch, J., Mendonça, A. G., Mainen, Z. F. & Pouget, A. Learning optimal decisions with confidence. Proc. Natl Acad. Sci. USA 116, 24872–24880 (2019).

Kobak, D. et al. Demixed principal component analysis of neural population data. eLife 5, e10989 (2016).

Mante, V., Sussillo, D., Shenoy, K. V. & Newsome, W. T. Context-dependent computation by recurrent dynamics in prefrontal cortex. Nature 503, 78–84 (2013).

Raposo, D., Kaufman, M. T. & Churchland, A. K. A category-free neural population supports evolving demands during decision-making. Nat. Neurosci. 17, 1784–1792 (2014).

Rigotti, M. et al. The importance of mixed selectivity in complex cognitive tasks. Nature 497, 585–590 (2013).

Tanaka, G. et al. Recent advances in physical reservoir computing: a review. Neural Netw. 115, 100–123 (2019).

Wald, A. Sequential Analysis (John Wiley & Sons, 1947).

Drugowitsch, J., Moreno-Bote, R., Churchland, A. K., Shadlen, M. N. & Pouget, A. The cost of accumulating evidence in perceptual decision making. J. Neurosci. 32, 3612–3628 (2012).

Gold, J. I. & Shadlen, M. N. Banburismus and the brain: decoding the relationship between sensory stimuli, decisions, and reward. Neuron 36, 299–308 (2002).

Glaze, C. M., Kable, J. W. & Gold, J. I. Normative evidence accumulation in unpredictable environments. eLife 4, e08825 (2015).

Krajbich, I. & Rangel, A. Multialternative drift-diffusion model predicts the relationship between visual fixations and choice in value-based decisions. Proc. Natl Acad. Sci. USA 108, 13852–13857 (2011).

Yang, T. & Shadlen, M. N. Probabilistic reasoning by neurons. Nature 447, 1075–1080 (2007).

Sarafyazd, M. & Jazayeri, M. Hierarchical reasoning by neural circuits in the frontal cortex. Science 364, eaav8911 (2019).

Sutton, R. S. & Barto, A. G. Reinforcement Learning: An Introduction (MIT Press, 1998).

Kaelbling, L. P., Littman, M. L. & Cassandra, A. R. Planning and acting in partially observable stochastic domains. Artif. Intell. 101, 99–134 (1998).

Rao, R. P. N. Decision making under uncertainty: a neural model based on partially observable Markov decision processes. Front. Comput. Neurosci. 4, 146 (2010).

Rushworth, M. F. S. & Behrens, T. E. J. Choice, uncertainty and value in prefrontal and cingulate cortex. Nat. Neurosci. 11, 389–397 (2008).

Hermoso-Mendizabal, A. et al. Response outcomes gate the impact of expectations on perceptual decisions. Nat. Commun. 11, 1057 (2020).

Gershman, S. J. & Niv, Y. Learning latent structure: carving nature at its joints. Curr. Opin. Neurobiol. 20, 251–256 (2010).

Thompson, W. R. On the likelihood that one unknown probability exceeds another in view of the evidence of two samples. Biometrika 25, 285–294 (1933).

Wilson, R. C., Takahashi, Y. K., Schoenbaum, G. & Niv, Y. Orbitofrontal cortex as a cognitive map of task space. Neuron 81, 267–279 (2014).

Pisupati, S., Chartarifsky-Lynn, L., Khanal, A. & Churchland, A. K. Lapses in perceptual decisions reflect exploration. eLife 10, e55490 (2021).

Zylberberg, A., Ouellette, B., Sigman, M. & Roelfsema, P. R. Decision making during the psychological refractory period. Curr. Biol. 22, 1795–1799 (2012).

Cisek, P. Cortical mechanisms of action selection: the affordance competition hypothesis. Philos. Trans. R. Soc. B Biol. Sci. 362, 1585–1599 (2007).

Gallivan, J. P., Logan, L., Wolpert, D. M. & Flanagan, J. R. Parallel specification of competing sensorimotor control policies for alternative action options. Nat. Neurosci. 19, 320–326 (2016).

Klapp, S. T., Maslovat, D. & Jagacinski, R. J. The bottleneck of the psychological refractory period effect involves timing of response initiation rather than response selection. Psychon. Bull. Rev. 26, 29–47 (2019).

Lopes, G. et al. Bonsai: an event-based framework for processing and controlling data streams. Front. Neuroinform. 9, 7 (2015).

Shamash, P., Carandini, M., Harris, K. & Steinmetz, N. A tool for analyzing electrode tracks from slice histology. Preprint at bioRxiv https://doi.org/10.1101/447995 (2018).

Steinmetz, N. A., Zatka-Haas, P., Carandini, M. & Harris, K. D. Distributed coding of choice, action, and engagement across the mouse brain. Nature 576, 266–273 (2019).

Simon, N., Friedman, J. H., Hastie, T. & Tibshirani, R. Regularization paths for Cox's proportional hazards model via coordinate descent. J. Stat. Softw. 39, 1–13 (2011).

Friedman, J. H., Hastie, T. & Tibshirani, R. Regularization paths for generalized linear models via coordinate descent. J. Stat. Softw. 33, 1–22 (2010).
Acknowledgements
We thank P. Vertechi for insightful discussions about the project and the model and D. Reato for support with analyses. We also thank M. Beckert for assistance with the illustrations. This work was supported by an EMBO long-term fellowship (F.C.; ALTF 461-2016) an AXA postdoctoral fellowship (F.C.), the National Institute of Neurological Disorders and Stroke grant R01-NS118461 (BRAIN Initiative, L.M.), the MEXT Grant-in-Aid for Scientific Research (19H05208, 19H05310 and 19K06882 (M.M.)), the Takeda Science Foundation (M.M.), Fundação para a Ciência e a Tecnologia (PTDC/MED_NEU/32068/2017, M.M., Z.F.M.; and LISBOA-01-0145-FEDER-032077, A.R.), the European Research Council Advanced Grant (671251, Z.F.M.), Simons Foundation (SCGB 543011, Z.F.M.) and Champalimaud Foundation (Z.F.M., A.R.). This work was also supported by Portuguese national funds, through FCT—Fundação para a Ciência e a Tecnologia—in the context of the project UIDB/04443/2020 and by the research infrastructure CONGENTO, cofinanced by Lisboa Regional Operational Programme (Lisboa2020), under the PORTUGAL 2020 Partnership Agreement, through the European Regional Development Fund (ERDF) and Fundação para a Ciência e Tecnologia (Portugal) under the projects LISBOA-01-0145-FEDER-02217 and LISBOA-01-0145-FEDER-022122.
Ethics declarations
Competing interests
All authors declare no competing interests.
Peer review
Peer review information
Nature Neuroscience thanks Alex Kwan and the other, anonymous, reviewer(s) for their contribution to the peer review of this work.
Additional information
Publisher's note Springer Nature remains neutral with regard to jurisdictional claims in published maps and institutional affiliations.
Supplementary information
Rights and permissions
Springer Nature or its licensor (e.g. a society or other partner) holds exclusive rights to this article under a publishing agreement with the author(s) or other rightsholder(s); author self-archiving of the accepted manuscript version of this article is solely governed by the terms of such publishing agreement and applicable law.
About this article
Cite this article
Cazettes, F., Mazzucato, L., Murakami, M. et al. A reservoir of foraging decision variables in the mouse brain. Nat Neurosci 26, 840–849 (2023). https://doi.org/10.1038/s41593-023-01305-8
Received:

Accepted:

Published:

Issue Date:

DOI: https://doi.org/10.1038/s41593-023-01305-8
This article is cited by
Nature Reviews Neuroscience (2023)