Abstract
Relating neural activity to behavior requires an understanding of how neural computations arise from the coordinated dynamics of distributed, recurrently connected neural populations. However, inferring the nature of recurrent dynamics from partial recordings of a neural circuit presents considerable challenges. Here we show that some of these challenges can be overcome by a fine-grained analysis of the dynamics of neural residuals—that is, trial-by-trial variability around the mean neural population trajectory for a given task condition. Residual dynamics in macaque prefrontal cortex (PFC) in a saccade-based perceptual decision-making task reveals recurrent dynamics that is time dependent, but consistently stable, and suggests that pronounced rotational structure in PFC trajectories during saccades is driven by inputs from upstream areas. The properties of residual dynamics restrict the possible contributions of PFC to decision-making and saccade generation and suggest a path toward fully characterizing distributed neural computations with large-scale neural recordings and targeted causal perturbations.
Access options
Access Nature and 54 other Nature Portfolio journals
Get Nature+, our best-value online-access subscription
$29.99 / 30 days
cancel any time
Subscribe to this journal
Receive 12 print issues and online access
$189.00 per year
only $15.75 per issue
Rent or buy this article
Get just this article for as long as you need it
$39.95
Prices may be subject to local taxes which are calculated during checkout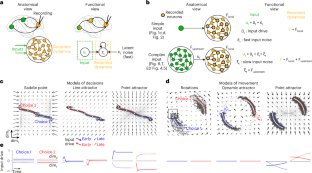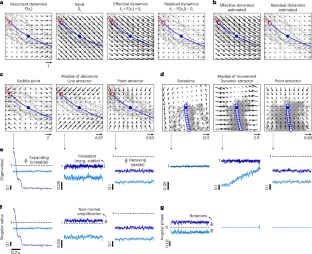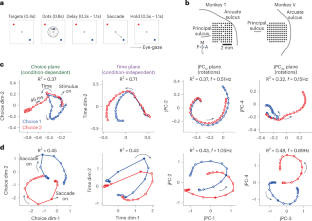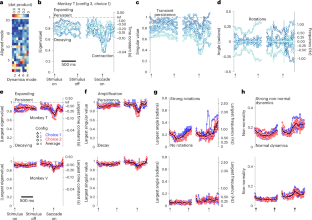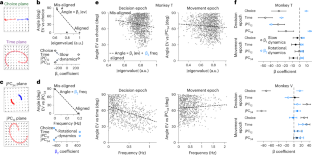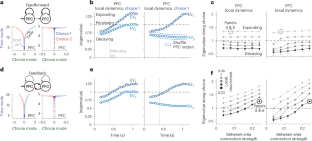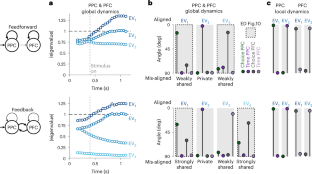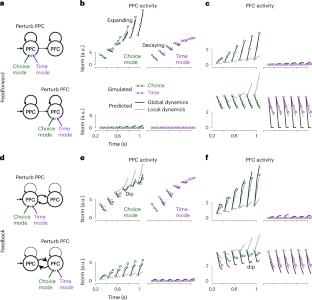 References
Steinmetz, N. A., Zatka-Haas, P., Carandini, M. & Harris, K. D. Distributed coding of choice, action and engagement across the mouse brain. Nature 576, 266–273 (2019).

Yuste, R. From the neuron doctrine to neural networks. Nat. Rev. Neurosci. 16, 487–497 (2015).

Cunningham, J. P. & Yu, B. M. Dimensionality reduction for large-scale neural recordings. Nat. Neurosci. 17, 1500–1509 (2014).

Yu, B. M. et al. Gaussian-process factor analysis for low-dimensional single-trial analysis of neural population activity. J. Neurophysiol. 102, 614–635 (2009).

Linderman, S. W. et al. Bayesian learning and inference in recurrent switching linear dynamical systems. Proc. 20th Int. Conf. Artif. Intell. Stat. 54, 914–922 (2017).

Zhao, Y. & Park, I. M. Variational latent Gaussian process for recovering single-trial dynamics from population spike trains. Neural Comput. 29, 1293–1316 (2017).

Pandarinath, C. et al. Inferring single-trial neural population dynamics using sequential auto-encoders. Nat. Methods 15, 805–815 (2018).

Duncker, L., Bohner, G., Boussard, J. & Sahani, M. Learning interpretable continuous-time models of latent stochastic dynamical systems. in: Proceedings of the 36th International Conference on International Conference on Machine Learning 1726–1734 (PMLR, 2019).

Chaudhuri, R., Gerçek, B., Pandey, B., Peyrache, A. & Fiete, I. The intrinsic attractor manifold and population dynamics of a canonical cognitive circuit across waking and sleep. Nat. Neurosci. 22, 1512–1520 (2019).

Mazor, O. & Laurent, G. Transient dynamics versus fixed points in odor representations by locust antennal lobe projection neurons. Neuron 48, 661–673 (2005).

Vyas, S., Golub, M. D., Sussillo, D. & Shenoy, K. V. Computation through neural population dynamics. Annu. Rev. Neurosci. 43, 249–275 (2020).

Mante, V., Sussillo, D., Shenoy, K. V. & Newsome, W. T. Context-dependent computation by recurrent dynamics in prefrontal cortex. Nature 503, 78–84 (2013).

Sussillo, D., Churchland, M. M., Kaufman, M. T. & Shenoy, K. V. A neural network that finds a naturalistic solution for the production of muscle activity. Nat. Neurosci. 18, 1025–1033 (2015).

Sohn, H., Narain, D., Meirhaeghe, N. & Jazayeri, M. Bayesian computation through cortical latent dynamics. Neuron 103, 934–947 (2019).

Barak, O., Sussillo, D., Romo, R., Tsodyks, M. & Abbott, L. F. From fixed points to chaos: three models of delayed discrimination. Prog. Neurobiol. 103, 214–222 (2013).

Mastrogiuseppe, F. & Ostojic, S. Linking connectivity, dynamics, and computations in low-rank recurrent neural networks. Neuron 99, 609–623 (2018).

Pinto, L. et al. Task-dependent changes in the large-scale dynamics and necessity of cortical regions. Neuron 104, 810–824 (2019).

Sauerbrei, B. A. et al. Cortical pattern generation during dexterous movement is input-driven. Nature 577, 386–391 (2020).

Shadlen, M. N. & Newsome, W. T. The variable discharge of cortical neurons: implications for connectivity, computation, and information coding. J. Neurosci. 18, 3870–3896 (1998).

Churchland, A. K. et al. Variance as a signature of neural computations during decision making. Neuron 69, 818–831 (2011).

Churchland, M. M. et al. Stimulus onset quenches neural variability: a widespread cortical phenomenon. Nat. Neurosci. 13, 369–378 (2010).

Cohen, M. R. & Kohn, A. Measuring and interpreting neuronal correlations. Nat. Neurosci. 14, 811–819 (2011).

Goris, R. L. T., Movshon, J. A. & Simoncelli, E. P. Partitioning neuronal variability. Nat. Neurosci. 17, 858–865 (2014).

Rosenbaum, R., Smith, M. A., Kohn, A., Rubin, J. E. & Doiron, B. The spatial structure of correlated neuronal variability. Nat. Neurosci. 20, 107–114 (2017).

Ebrahimi, S. et al. Emergent reliability in sensory cortical coding and inter-area communication. Nature 605, 713–721 (2022).

Li, N., Daie, K., Svoboda, K. & Druckmann, S. Robust neuronal dynamics in premotor cortex during motor planning. Nature 532, 459–464 (2016).

Chettih, S. N. & Harvey, C. D. Single-neuron perturbations reveal feature-specific competition in V1. Nature 567, 334–340 (2019).

Inagaki, H. K., Fontolan, L., Romani, S. & Svoboda, K. Discrete attractor dynamics underlies persistent activity in the frontal cortex. Nature 566, 212–217 (2019).

Jazayeri, M. & Afraz, A. Navigating the neural space in search of the neural code. Neuron 93, 1003–1014 (2017).

Sadtler, P. T. et al. Neural constraints on learning. Nature 512, 423–426 (2014).

Gallego, J. A., Perich, M. G., Chowdhury, R. H., Solla, S. A. & Miller, L. E. Long-term stability of cortical population dynamics underlying consistent behavior. Nat. Neurosci. 23, 260–270 (2020).

Buesing, L., Macke, J. H. & Sahani, M. Spectral learning of linear dynamics from generalised-linear observations with application to neural population data. Adv. Neural Inf. Process. Syst. 25, 1682–1690 (2012).

Sani, O. G., Abbaspourazad, H., Wong, Y. T., Pesaran, B. & Shanechi, M. M. Modeling behaviorally relevant neural dynamics enabled by preferential subspace identification. Nat. Neurosci. 24, 140–149 (2021).

Angrist, J. D. & Krueger, A. B. Instrumental variables and the search for identification: from supply and demand to natural experiments. J. Econ. Perspect. 15, 69–85 (2001).

Wang, X.-J. Decision making in recurrent neuronal circuits. Neuron 60, 215–234 (2008).

Churchland, M. M. et al. Neural population dynamics during reaching. Nature 487, 51–56 (2012).

Laje, R. & Buonomano, D. V. Robust timing and motor patterns by taming chaos in recurrent neural networks. Nat. Neurosci. 16, 925–933 (2013).

Murray, J. D., Jaramillo, J. & Wang, X.-J. Working memory and decision-making in a frontoparietal circuit model. J. Neurosci. 37, 12167–12186 (2017).

Das, A. & Fiete, I. R. Systematic errors in connectivity inferred from activity in strongly recurrent networks. Nat. Neurosci. 23, 1286–1296 (2020).

Wilting, J. & Priesemann, V. Inferring collective dynamical states from widely unobserved systems. Nat. Commun. 9, 2325 (2018).

Chaudhuri, R., Knoblauch, K., Gariel, M. A., Kennedy, H. & Wang, X.-J. A large-scale circuit mechanism for hierarchical dynamical processing in the primate cortex. Neuron 88, 419–431 (2015).

Gold, J. I. & Shadlen, M. N. The neural basis of decision making. Annu. Rev. Neurosci. 30, 535–574 (2007).

Machens, C. K., Romo, R. & Brody, C. D. Functional, but not anatomical, separation of 'what' and 'when' in prefrontal cortex. J. Neurosci. 30, 350–360 (2010).

Semedo, J. D., Zandvakili, A., Machens, C. K., Yu, B. M. & Kohn, A. Cortical areas interact through a communication subspace. Neuron 102, 249–259 (2019).

Murphy, B. K. & Miller, K. D. Balanced amplification: a new mechanism of selective amplification of neural activity patterns. Neuron 61, 635–648 (2009).

Goldman, M. S. Memory without feedback in a neural network. Neuron 61, 621–634 (2009).

Ganguli, S., Huh, D. & Sompolinsky, H. Memory traces in dynamical systems. Proc. Natl Acad. Sci. USA 105, 18970–18975 (2008).

Gao, P. et al. A theory of multineuronal dimensionality, dynamics and measurement. Preprint at https://www.biorxiv.org/content/10.1101/214262v2 (2017).

Kiani, R. et al. Natural grouping of neural responses reveals spatially segregated clusters in prearcuate cortex. Neuron 85, 1359–1373 (2015).

Stokes, M. G. 'Activity-silent' working memory in prefrontal cortex: a dynamic coding framework. Trends Cogn. Sci. 19, 394–405 (2015).

Kaufman, M. T., Churchland, M. M., Ryu, S. I. & Shenoy, K. V. Cortical activity in the null space: permitting preparation without movement. Nat. Neurosci. 17, 440–448 (2014).

Javadzadeh, M. & Hofer, S. B. Dynamic causal communication channels between neocortical areas. Neuron 110, 2470–2483 (2022).

Murray, J. D. et al. A hierarchy of intrinsic timescales across primate cortex. Nat. Neurosci. 17, 1661–1663 (2014).

Hart, E. & Huk, A. C. Recurrent circuit dynamics underlie persistent activity in the macaque frontoparietal network. eLife 9, e52460 (2020).

Hanks, T. D. et al. Distinct relationships of parietal and prefrontal cortices to evidence accumulation. Nature 520, 220–223 (2015).

Kiani, R., Hanks, T. D. & Shadlen, M. N. Bounded integration in parietal cortex underlies decisions even when viewing duration is dictated by the environment. J. Neurosci. 28, 3017–3029 (2008).

Aoi, M. C., Mante, V. & Pillow, J. W. Prefrontal cortex exhibits multidimensional dynamic encoding during decision-making. Nat. Neurosci. 23, 1410–1420 (2020).

Libby, A. & Buschman, T. J. Rotational dynamics reduce interference between sensory and memory representations. Nat. Neurosci. 24, 715–726 (2021).

Hennequin, G., Vogels, T. P. & Gerstner, W. Optimal control of transient dynamics in balanced networks supports generation of complex movements. Neuron 82, 1394–1406 (2014).

Durstewitz, D. & Seamans, J. K. Beyond bistability: biophysics and temporal dynamics of working memory. Neuroscience 139, 119–133 (2006).

Deco, G. & Jirsa, V. K. Ongoing cortical activity at rest: criticality, multistability, and ghost attractors. J. Neurosci. 32, 3366–3375 (2012).

Dahmen, D., Grün, S., Diesmann, M. & Helias, M. Second type of criticality in the brain uncovers rich multiple-neuron dynamics. Proc. Natl Acad. Sci. USA 116, 13051–13060 (2019).

Purcell, B. A., Heitz, R. P., Cohen, J. Y. & Schall, J. D. Response variability of frontal eye field neurons modulates with sensory input and saccade preparation but not visual search salience. J. Neurophysiol. 108, 2737–2750 (2012).

Hennequin, G., Ahmadian, Y., Rubin, D. B., Lengyel, M. & Miller, K. D. The dynamical regime of sensory cortex: stable dynamics around a single stimulus-tuned attractor account for patterns of noise variability. Neuron 98, 846–860 (2018).

Litwin-Kumar, A. & Doiron, B. Slow dynamics and high variability in balanced cortical networks with clustered connections. Nat. Neurosci. 15, 1498–1505 (2012).

Britten, K. H., Shadlen, M. N., Newsome, W. T. & Movshon, J. A. The analysis of visual motion: a comparison of neuronal and psychophysical performance. J. Neurosci. 12, 4745–4765 (1992).

Santhanam, G., Ryu, S. I., Yu, B. M., Afshar, A. & Shenoy, K. V. A high-performance brain–computer interface. Nature 442, 195–198 (2006).

Katayama, T. Subspace Methods for System Identification (Springer London, 2005).

Cedervall, M. & Stoica, P. System identification from noisy measurements by using instrumental variables and subspace fitting. Circuits Syst. Signal Process. 15, 275–290 (1996).

Hastie, T., Tibshirani, R. & Friedman, J. The Elements of Statistical Learning: Data Mining, Inference and Prediction. (Springer, 2008).

Wald, A. The fitting of straight lines if both variables are subject to error. Ann. Math. Stat. 11, 284–300 (1940).

Bound, J., Jaeger, D. A. & Baker, R. M. Problems with instrumental variables estimation when the correlation between the instruments and the endogenous explanatory variable is weak. J. Am. Stat. Assoc. 90, 443–450 (1995).

Rudin, L. I., Osher, S. & Fatemi, E. Nonlinear total variation based noise removal algorithms. Phys. Nonlinear Phenom. 60, 259–268 (1992).

D'Errico, J. Eigenshuffle, MATLAB Central File Exchange. https://www.mathworks.com/matlabcentral/fileexchange/22885-eigenshuffle

Henrici, P. Bounds for iterates, inverses, spectral variation and fields of values of non-normal matrices. Numer. Math. 4, 24–40 (1962).
Acknowledgements
We thank J. Reppas and W. Newsome for the data collection. We thank K. Martin and all members of the Mante Lab for their valuable feedback as well as N. Meirhaeghe, L. Duncker and M. Jazayeri for discussions and comments on the manuscript. This work was funded by the Swiss National Science Foundation (award PP00P3-157539, V.M.), the Simons Foundation (SCGB 328189 and 543013, V.M., and SCGB 543039 and 323228, M.S.), the Swiss Primate Competence Center in Research (V.M.), the Gatsby Charitable Foundation (M.S.), the Howard Hughes Medical Institute (W. Newsome) and the Air Force Research Laboratory (W. Newsome).
Ethics declarations
Competing interests
The authors have no competing interests to disclose.
Peer review
Peer review information
Nature Neuroscience thanks Matthew Perich and the other, anonymous, reviewer(s) for their contribution to the peer review of this work.
Additional information
Publisher's note Springer Nature remains neutral with regard to jurisdictional claims in published maps and institutional affiliations.
Supplementary information
Supplementary Methods, Supplementary Text A, Supplementary Math Note A, Supplementary Math Note B and Supplementary References
Rights and permissions
Springer Nature or its licensor (e.g. a society or other partner) holds exclusive rights to this article under a publishing agreement with the author(s) or other rightsholder(s); author self-archiving of the accepted manuscript version of this article is solely governed by the terms of such publishing agreement and applicable law.
About this article
Cite this article
Galgali, A.R., Sahani, M. & Mante, V. Residual dynamics resolves recurrent contributions to neural computation. Nat Neurosci 26, 326–338 (2023). https://doi.org/10.1038/s41593-022-01230-2
Received:

Accepted:

Published:

Issue Date:

DOI: https://doi.org/10.1038/s41593-022-01230-2