Abstract
The persistence of negative affect in pain leads to co-morbid symptoms such as anhedonia and depression—major health issues in the United States. The neuronal circuitry and contribution of specific cellular populations underlying these behavioral adaptations remains unknown. A common characteristic of negative affect is a decrease in motivation to initiate and complete goal-directed behavior, known as anhedonia. We report that in rodents, inflammatory pain decreased the activity of ventral tegmental area (VTA) dopamine (DA) neurons, which are critical mediators of motivational states. Pain increased rostromedial tegmental nucleus inhibitory tone onto VTA DA neurons, making them less excitable. Furthermore, the decreased activity of DA neurons was associated with reduced motivation for natural rewards, consistent with anhedonia-like behavior. Selective activation of VTA DA neurons was sufficient to restore baseline motivation and hedonic responses to natural rewards. These findings reveal pain-induced adaptations within VTA DA neurons that underlie anhedonia-like behavior.
Access options
Access Nature and 54 other Nature Portfolio journals
Get Nature+, our best-value online-access subscription
$29.99 per month
cancel any time
Subscribe to this journal
Receive 12 print issues and online access
$189.00 per year
only $15.75 per issue
Rent or buy this article
Get just this article for as long as you need it
$39.95
Prices may be subject to local taxes which are calculated during checkout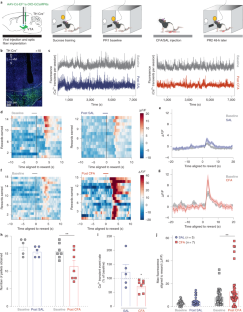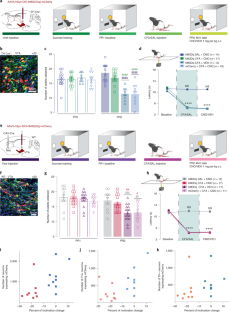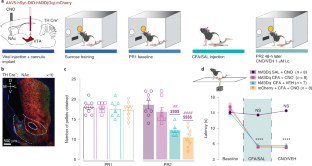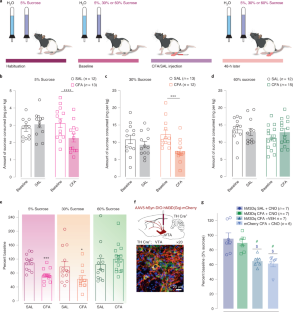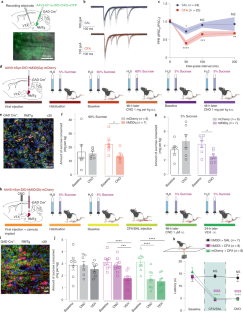 Data availability
The data that support the findings of this study are available from the corresponding authors upon request.
References
Leknes, S. & Tracey, I. A common neurobiology for pain and pleasure. Nat. Rev. Neurosci. 9, 314–320 (2008).

Bair, M. J., Robinson, R. L., Katon, W. & Kroenke, K. Depression and pain comorbidity: a literature review. Arch. Intern. Med. 163, 2433–2445 (2003).

McWilliams, L. A., Goodwin, R. D. & Cox, B. J. Depression and anxiety associated with three pain conditions: results from a nationally representative sample. Pain 111, 77–83 (2004).

Campbell, L. C., Clauw, D. J. & Keefe, F. J. Persistent pain and depression: a biopsychosocial perspective. Biol. Psychiatry 54, 399–409 (2003).

Volkow, N. D. & McLellan, A. T. Opioid abuse in chronic pain—misconceptions and mitigation strategies. N. Engl. J. Med. 374, 1253–1263 (2016).

Apkarian, A. V. et al. Chronic pain patients are impaired on an emotional decision-making task. Pain 108, 129–136 (2004).

Verdejo-García, A., López-Torrecillas, F., Calandre, E. P., Delgado-Rodríguez, A. & Bechara, A. Executive function and decision-making in women with fibromyalgia. Arch. Clin. Neuropsychol. 24, 113–122 (2009).

Wiech, K. et al. Influence of prior information on pain involves biased perceptual decision-making. Curr. Biol. 24, R679–R681 (2014).

Seixas, D., Palace, J. & Tracey, I. Chronic pain disrupts the reward circuitry in multiple sclerosis. Eur. J. Neurosci. 44, 1928–1934 (2016).

Nestler, E. J. & Carlezon, W. A. The mesolimbic dopamine reward circuit in depression. Biol. Psychiatry 59, 1151–1159 (2006).

Schultz, W. Behavioral dopamine signals. Trends Neurosci. 30, 203–210 (2007).

Berridge, K. C. & Robinson, T. E. What is the role of dopamine in reward: hedonic impact, reward learning, or incentive salience? Brain Res. Rev. 28, 309–369 (1998).

Bromberg-Martin, E. S., Matsumoto, M. & Hikosaka, O. Dopamine in motivational control: rewarding, aversive, and alerting. Neuron 68, 815–834 (2010).

Martikainen, I. K. et al. Chronic back pain is associated with alterations in dopamine neurotransmission in the ventral striatum. J. Neurosci. 35, 9957–9965 (2015).

Scott, D. J., Heitzeg, M. M., Koeppe, R. A., Stohler, C. S. & Zubieta, J.-K. Variations in the human pain stress experience mediated by ventral and dorsal basal ganglia dopamine activity. J. Neurosci. 26, 10789–10795 (2006).

Benarroch, E. E. Involvement of the nucleus accumbens and dopamine system in chronic pain. Neurology 87, 1720–1726 (2016).

Hipolito, L. et al. Inflammatory pain promotes increased opioid self-administration: role of dysregulated ventral tegmental area opioid receptors. J. Neurosci. 35, 12217–12231 (2015).

Taylor, A. M. W. et al. Microglia disrupt mesolimbic reward circuitry in chronic pain. J. Neurosci. 35, 8442–8450 (2015).

Massaly, N. et al. Pain-induced negative affect is mediated via recruitment of the nucleus accumbens kappa opioid system. Neuron 102, 564–573.e6 (2019).

Schwartz, N. et al. Decreased motivation during chronic pain requires long-term depression in the nucleus accumbens. Science 345, 535–542 (2014).

Matsui, A., Jarvie, B. C., Robinson, B. G., Hentges, S. T. & Williams, J. T. Separate GABA afferents to dopamine neurons mediate acute action of opioids, development of tolerance and expression of withdrawal. Neuron 82, 1346–1356 (2014).

Ozaki, S. et al. Suppression of the morphine-induced rewarding effect in the rat with neuropathic pain: implication of the reduction in µ-opioid receptor functions in the ventral tegmental area. J. Neurochem. 82, 1192–1198 (2002).

Hodos, W. Progressive ratio as a measure of reward strength. Science 134, 943–944 (1961).

Brennan, K., Roberts, D. C., Anisman, H. & Merali, Z. Individual differences in sucrose consumption in the rat: motivational and neurochemical correlates of hedonia. Psychopharmacology (Berl.) 157, 269–276 (2001).

Kitai, S. T., Shepard, P. D., Callaway, J. C. & Scroggs, R. Afferent modulation of dopamine neuron firing patterns. Curr. Opin. Neurobiol. 9, 690–697 (1999).

Neuhoff, H., Neu, A., Liss, B. & Roeper, J. Ih channels contribute to the different functional properties of identified dopaminergic subpopulations in the midbrain. J. Neurosci. 22, 1290–1302 (2002).

Saddoris, M. P., Cacciapaglia, F., Wightman, R. M. & Carelli, R. M. Differential dopamine release dynamics in the nucleus accumbens core and shell reveal complementary signals for error prediction and incentive motivation. J. Neurosci. 35, 11572–11582 (2015).

Boekhoudt, L. et al. Enhancing excitability of dopamine neurons promotes motivational behaviour through increased action initiation. Eur. Neuropsychopharmacol. 28, 171–184 (2018).

Yang, H. et al. Nucleus accumbens subnuclei regulate motivated behavior via direct inhibition and disinhibition of VTA dopamine subpopulations. Neuron 97, 434–449.e4 (2018).

Al-Hasani, R. et al. Distinct subpopulations of nucleus accumbens dynorphin neurons drive aversion and reward. Neuron 87, 1063–1077 (2015).

Boender, A. J. et al. Combined use of the canine adenovirus-2 and DREADD-technology to activate specific neural pathways in vivo. PLoS ONE 9, e95392 (2014).

Navratilova, E. et al. Pain relief produces negative reinforcement through activation of mesolimbic reward–valuation circuitry. Proc. Natl Acad. Sci. USA 109, 20709–20713 (2012).

Liu, M.-Y. et al. Sucrose preference test for measurement of stress-induced anhedonia in mice. Nat. Protoc. 13, 1686–1698 (2018).

van Zessen, R., Phillips, J. L., Budygin, E. A. & Stuber, G. D. Activation of VTA GABA neurons disrupts reward consumption. Neuron 73, 1184–1194 (2012).

Jhou, T. C., Fields, H. L., Baxter, M. G., Saper, C. B. & Holland, P. C. The rostromedial tegmental nucleus (RMTg), a GABAergic afferent to midbrain dopamine neurons, encodes aversive stimuli and inhibits motor responses. Neuron 61, 786–800 (2009).

Huang, S., Borgland, S. L. & Zamponi, G. W. Peripheral nerve injury-induced alterations in VTA neuron firing properties. Mol. Brain 12, 89 (2019).

Creed, M. C., Ntamati, N. R. & Tan, K. R. VTA GABA neurons modulate specific learning behaviors through the control of dopamine and cholinergic systems. Front. Behav. Neurosci. 8, 8 (2014).

Waung, M. W., Margolis, E. B., Charbit, A. R. & Fields, H. L. A midbrain circuit that mediates headache aversiveness in rats. Cell Rep. 28, 2739–2747.e4 (2019).

Schultz, W. Dopamine reward prediction error coding. Dialogues Clin. Neurosci. 18, 23–32 (2016).

Schultz, W., Dayan, P. & Montague, P. R. A neural substrate of prediction and reward. Science 275, 1593–1599 (1997).

Li, H. et al. Three rostromedial tegmental afferents drive triply dissociable aspects of punishment learning and aversive valence encoding. Neuron 104, 987–999.e4 (2019).

Morales, M. & Margolis, E. B. Ventral tegmental area: cellular heterogeneity, connectivity and behaviour. Nat. Rev. Neurosci. 18, 73–85 (2017).

Navratilova, E. & Porreca, F. Reward and motivation in pain and pain relief. Nat. Neurosci. 17, 1304–1312 (2014).

Leknes, S., Lee, M., Berna, C., Andersson, J. & Tracey, I. Relief as a reward: hedonic and neural responses to safety from pain. PLoS ONE 6, e17870 (2011).

Mohebi, A. et al. Dissociable dopamine dynamics for learning and motivation. Nature 570, 65–70 (2019).

Liu, S. et al. Neuropathic pain alters reward and affect via kappa opioid receptor (KOR) upregulation. FASEB J. https://doi.org/10.1096/fasebj.30.1_supplement.928.5 (2016).

Hayward, M. D., Schaich-Borg, A., Pintar, J. E. & Low, M. J. Differential involvement of endogenous opioids in sucrose consumption and food reinforcement. Pharmacol. Biochem. Behav. 85, 601–611 (2006).

Nummenmaa, L. et al. μ-opioid receptor system mediates reward processing in humans. Nat. Commun. 9, 1500 (2018).

Harris, R. E. et al. Decreased central μ-opioid receptor availability in fibromyalgia. J. Neurosci. 27, 10000–10006 (2007).

Zhou, W. et al. A neural circuit for comorbid depressive symptoms in chronic pain. Nat. Neurosci. https://doi.org/10.1038/s41593-019-0468-2 (2019).
Acknowledgements
We would like to thank all members from the Moron-Concepcion, Bruchas, Creed and Alvarez laboratories for their help throughout the completion of the current study. In addition, we thank I. Monosov for help with statistical analysis for Fig. 3i,j,k, and A. R. Wilson-Poe for manuscript review and editing. This work was supported by US National Institutes of Health (NIH) grants DA041781 (to J.A.M.), DA042581 (to J.A.M.), DA042499 (to J.A.M.), DA041883 (to J.A.M.) and DA045463 (to J.A.M.), a NARSAD Independent Investigator Award from the Brain and Behavior Research Foundation (to J.A.M.), the Brain and Behavior Research Foundation (NARSAD Young Investigator grant 27197 to M.C.C.), National Institutes of Health National Institute on Drug Abuse R21-DA047127 (to M.C.C.) and R01-DA049924 (to M.C.C.), Whitehall Foundation grant 2017-12-54 (to M.C.C.), a Rita Allen Scholar Award in Pain (to M.C.C.), and NRSA F31DA051124 (to C.E.P.).
Ethics declarations
Competing interests
The authors declare no competing interests.
Additional information
Peer review information Nature Neuroscience thanks Kate Wassum and the other, anonymous, reviewer(s) for their contribution to the peer review of this work.
Publisher's note Springer Nature remains neutral with regard to jurisdictional claims in published maps and institutional affiliations.
Supplementary information
About this article
Cite this article
Markovic, T., Pedersen, C.E., Massaly, N. et al. Pain induces adaptations in ventral tegmental area dopamine neurons to drive anhedonia-like behavior. Nat Neurosci 24, 1601–1613 (2021). https://doi.org/10.1038/s41593-021-00924-3
Received:

Accepted:

Published:

Issue Date:

DOI: https://doi.org/10.1038/s41593-021-00924-3