Abstract
Social interactions and relationships are often rewarding, but the neural mechanisms through which social interaction drives positive experience remain poorly understood. In this study, we developed an automated operant conditioning system to measure social reward in mice and found that adult mice of both sexes display robust reinforcement of social interaction. Through cell-type-specific manipulations, we identified a crucial role for GABAergic neurons in the medial amygdala (MeA) in promoting the positive reinforcement of social interaction. Moreover, MeA GABAergic neurons mediate social reinforcement behavior through their projections to the medial preoptic area (MPOA) and promote dopamine release in the nucleus accumbens. Finally, activation of this MeA-to-MPOA circuit can robustly overcome avoidance behavior. Together, these findings establish the MeA as a key node for regulating social reward in both sexes, providing new insights into the regulation of social reward beyond the classic mesolimbic reward system.
Your institute does not have access to this article
Access options
Subscribe to Nature+
Get immediate online access to the entire Nature family of 50+ journals
Subscribe to Journal
Get full journal access for 1 year
$59.00
only $4.92 per issue
All prices are NET prices.
VAT will be added later in the checkout.
Tax calculation will be finalised during checkout.
Buy article
Get time limited or full article access on ReadCube.
$32.00
All prices are NET prices.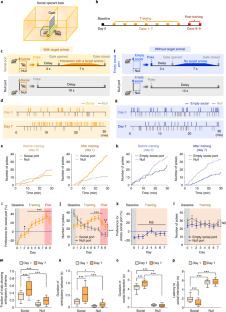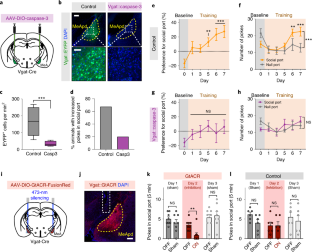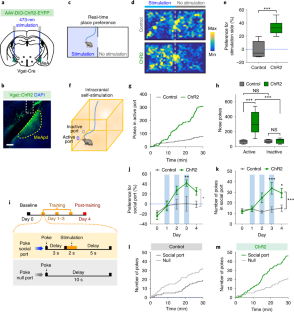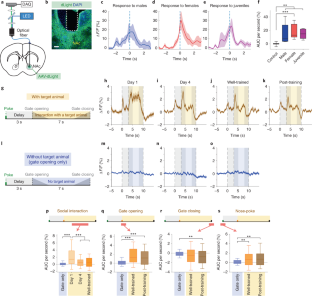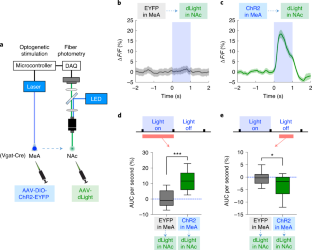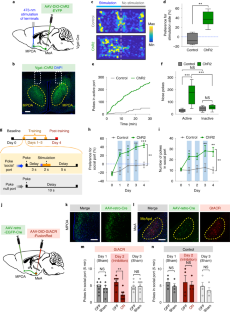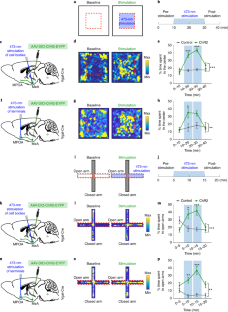 Data availability
All data generated and analyzed during this study are either included in this published article or available from the corresponding author upon reasonable request.
Code availability
Behavior was analyzed using MATLAB code, available at https://pdollar.github.io/toolbox/. The code that supports these findings is available upon reasonable request from the corresponding author.
References
Stanley, D. A. & Adolphs, R. Toward a neural basis for social behavior. Neuron 80, 816–826 (2013).

Umberson, D., Crosnoe, R. & Reczek, C. Social relationships and health behavior across the life course. Annu. Rev. Socio. 36, 139–157 (2010).

Chen, P. & Hong, W. Neural circuit mechanisms of social behavior. Neuron 98, 16–30 (2018).

Tamir, D. I. & Hughes, B. L. Social rewards: from basic social building blocks to complex social behavior. Perspect. Psychol. Sci. 13, 700–717 (2018).

Hu, H. Reward and aversion. Annu. Rev. Neurosci. 39, 297–324 (2016).

Chevallier, C., Kohls, G., Troiani, V., Brodkin, E. S. & Schultz, R. T. The social motivation theory of autism. Trends Cogn. Sci. 16, 231–239 (2012).

Zeeland, A. A. S.-V., Dapretto, M., Ghahremani, D. G., Poldrack, R. A. & Bookheimer, S. Y. Reward processing in autism. Autism Res. 3, 53–67 (2010).

Nieh, E. H. et al. Inhibitory input from the lateral hypothalamus to the ventral tegmental area disinhibits dopamine neurons and promotes behavioral activation. Neuron 90, 1286–1298 (2016).

Hung, L. W. et al. Gating of social reward by oxytocin in the ventral tegmental area. Science 357, 1406–1411 (2017).

Dölen, G., Darvishzadeh, A., Huang, K. W. & Malenka, R. C. Social reward requires coordinated activity of nucleus accumbens oxytocin and serotonin. Nature 501, 179 (2013).

McHenry, J. A. et al. Hormonal gain control of a medial preoptic area social reward circuit. Nat. Neurosci. 20, 449–458 (2017).

Hong, W., Kim, D.-W. & Anderson, D. J. Antagonistic control of social versus repetitive self-grooming behaviors by separable amygdala neuronal subsets. Cell 158, 1348–1361 (2014).

Chen, P. B. et al. Sexually dimorphic control of parenting behavior by the medial amygdala. Cell 176, 1206–1221 (2019).

Lin, D. et al. Functional identification of an aggression locus in the mouse hypothalamus. Nature 470, 221–226 (2011).

Wu, Z., Autry, A. E., Bergan, J. F., Watabe-Uchida, M. & Dulac, C. G. Galanin neurons in the medial preoptic area govern parental behaviour. Nature 509, 325 (2014).

Falkner, A. L., Grosenick, L., Davidson, T. J., Deisseroth, K. & Lin, D. Hypothalamic control of male aggression-seeking behavior. Nat. Neurosci. 19, 596–604 (2016).

Miller, S. M., Marcotulli, D., Shen, A. & Zweifel, L. S. Divergent medial amygdala projections regulate approach-avoidance conflict behavior. Nat. Neurosci. 22, 565–575 (2019).

Gutzeit, V. A. et al. Optogenetic reactivation of prefrontal social neural ensembles mimics social buffering of fear. Neuropsychopharmacology 45, 1068–1077 (2020).

Swanson, L. W. Cerebral hemisphere regulation of motivated behavior. Brain Res. 886, 113–164 (2000).

Choi, G. B. et al. Lhx6 delineates a pathway mediating innate reproductive behaviors from the amygdala to the hypothalamus. Neuron 46, 647–660 (2005).

Li, Y. et al. Neuronal representation of social information in the medial amygdala of awake behaving mice. Cell 171, 1176–1190 (2017).

Bergan, J. F., Ben-Shaul, Y. & Dulac, C. Sex-specific processing of social cues in the medial amygdala. eLife 3, e02743 (2014).

Ishii, K. K. et al. A labeled-line neural circuit for pheromone-mediated sexual behaviors in mice. Neuron 95, 123–137 (2017).

Unger, E. K. et al. Medial amygdalar aromatase neurons regulate aggression in both sexes. Cell Rep. 10, 453–462 (2015).

Yao, S., Bergan, J., Lanjuin, A. & Dulac, C. Oxytocin signaling in the medial amygdala is required for sex discrimination of social cues. eLife 6, e31373 (2017).

Demir, E. et al. The pheromone darcin drives a circuit for innate and reinforced behaviours. Nature 578, 137–141 (2020).

Golden, S. A. et al. Compulsive addiction-like aggressive behavior in mice. Biol. Psychiatry 82, 239–248 (2017).

Venniro, M. et al. Volitional social interaction prevents drug addiction in rat models. Nat. Neurosci. 21, 1520–1529 (2018).

Martin, L. & Iceberg, E. Quantifying social motivation in mice using operant conditioning. J. Vis. Exp. e53009 (2015).

Jacobs, S., Huang, F., Tsien, J. & Wei, W. Social recognition memory test in rodents. Bio-protocol 6, e1804 (2016).

Hlinák, Z. & Krejcí, I. Social recognition in male rats: age differences and modulation by MIF-I and Alaptide. Physiol. Res. 40, 59–67 (1991).

Berke, J. D. What does dopamine mean? Nat. Neurosci. 21, 787–793 (2018).

Volkow, N. D., Wise, R. A. & Baler, R. The dopamine motive system: implications for drug and food addiction. Nat. Rev. Neurosci. 18, 741–752 (2017).

Fang, Y.-Y., Yamaguchi, T., Song, S. C., Tritsch, N. X. & Lin, D. A hypothalamic midbrain pathway essential for driving maternal behaviors. Neuron 98, 192–207.e10 (2018).

Kohl, J. et al. Functional circuit architecture underlying parental behaviour. Nature 556, 326–331 (2018).

Hennessy, M. B., Kaiser, S. & Sachser, N. Social buffering of the stress response: diversity, mechanisms, and functions. Front. Neuroendocrinol. 30, 470–482 (2009).

Nardou, R. et al. Oxytocin-dependent reopening of a social reward learning critical period with MDMA. Nature 569, 116–120 (2019).

Schultz, W. Dopamine reward prediction-error signalling: a two-component response. Nat. Rev. Neurosci. 17, 183–195 (2016).

Collins, A. L. et al. Dynamic mesolimbic dopamine signaling during action sequence learning and expectation violation. Sci. Rep. 6, 20231 (2016).

Prévost-Solié, C., Girard, B., Righetti, B., Tapparel, M. & Bellone, C. Dopamine neurons of the VTA encode active conspecific interaction and promote social learning through social reward prediction error. Prerint at bioRxiv https://doi.org/10.1101/2020.05.27.118851 (2020).

Padilla, S. L. et al. Agouti-related peptide neural circuits mediate adaptive behaviors in the starved state. Nat. Neurosci. 19, 734–741 (2016).

Berke, J. D. & Hyman, S. E. Addiction, dopamine, and the molecular mechanisms of memory. Neuron 25, 515–532 (2000).

Golden, S. A. et al. Basal forebrain projections to the lateral habenula modulate aggression reward. Nature 534, 688 (2016).

Beny-Shefer, Y. et al. Nucleus accumbens dopamine signaling regulates sexual preference for females in male mice. Cell Rep. 21, 3079–3088 (2017).

Kingsbury, L. et al. Cortical representations of conspecific sex shape social behavior. Neuron 107, 941–953 (2020).

Wu, Y. E., Pan, L., Zuo, Y., Li, X. & Hong, W. Detecting activated cell populations using single-cell RNA-seq. Neuron 96, 313–329 (2017).

Kupferberg, A., Bicks, L. & Hasler, G. Social functioning in major depressive disorder. Neurosci. Biobehav. Rev. 69, 313–332 (2016).

Matthews, G. A. et al. Dorsal raphe dopamine neurons represent the experience of social isolation. Cell 164, 617–631 (2016).

Vong, L. et al. Leptin action on GABAergic neurons prevents obesity and reduces inhibitory tone to POMC neurons. Neuron 71, 142–154 (2011).

Yang, C. F. et al. Sexually dimorphic neurons in the ventromedial hypothalamus govern mating in both sexes and aggression in males. Cell 153, 896–909 (2013).

Mahn, M. et al. High-efficiency optogenetic silencing with soma-targeted anion-conducting channelrhodopsins. Nat. Commun. 9, 4125 (2018).

Dana, H. et al. High-performance calcium sensors for imaging activity in neuronal populations and microcompartments. Nat. Methods 16, 649–657 (2019).

Broussard, G. J. et al. In vivo measurement of afferent activity with axon-specific calcium imaging. Nat. Neurosci. 21, 1272–1280 (2018).

Chan, K. Y. et al. Engineered AAVs for efficient noninvasive gene delivery to the central and peripheral nervous systems. Nat. Neurosci. 20, 1172–1179 (2017).

Patriarchi, T. et al. Ultrafast neuronal imaging of dopamine dynamics with designed genetically encoded sensors. Science 360, eaat4422 (2018).

Dimidschstein, J. et al. A viral strategy for targeting and manipulating interneurons across vertebrate species. Nat. Neurosci. 19, 1743–1749 (2016).
Acknowledgements
We thank K. Wassum, P. Golshani, L. Kingsbury, T. Raam, D. Wei, L. Gu, F. Sun and M. Zhang for critical comments on this manuscript and P. Chen, S. Hu, H. Li, Y. Wu and P. Zhao for technical assistance. This work was supported, in part, by NIH R01 NS113124, a Searle Scholars Award, a Klingenstein-Simons fellowship, a Brain Research Foundation grant, a Packard Foundation fellowship, a McKnight Scholar Award, a Keck Foundation Award, a Vallee Scholars Award and a Mallinckrodt Scholar Award to W.H. and a Marion Bowen postdoctoral grant to R.K.H.
Ethics declarations
Competing interests
The authors declare no competing financial interests.
Additional information
Peer review information Nature Neuroscience thanks Sam Golden, Olga Penagarikano and the other, anonymous, reviewer(s) for their contribution to the peer review of this work.
Publisher's note Springer Nature remains neutral with regard to jurisdictional claims in published maps and institutional affiliations.
Supplementary information
About this article
Cite this article
Hu, R.K., Zuo, Y., Ly, T. et al. An amygdala-to-hypothalamus circuit for social reward. Nat Neurosci 24, 831–842 (2021). https://doi.org/10.1038/s41593-021-00828-2
Received:

Accepted:

Published:

Issue Date:

DOI: https://doi.org/10.1038/s41593-021-00828-2