Abstract
Serotonin (5-HT) is a phylogenetically conserved monoamine neurotransmitter modulating important processes in the brain. To directly visualize the release of 5-HT, we developed a genetically encoded G-protein-coupled receptor (GPCR)-activation-based 5-HT (GRAB5-HT) sensor with high sensitivity, high selectivity, subsecond kinetics and subcellular resolution. GRAB5-HT detects 5-HT release in multiple physiological and pathological conditions in both flies and mice and provides new insights into the dynamics and mechanisms of 5-HT signaling.
Access options
Subscribe to Journal
Get full journal access for 1 year
$59.00
only $4.92 per issue
All prices are NET prices.
VAT will be added later in the checkout.
Tax calculation will be finalised during checkout.
Rent or Buy article
Get time limited or full article access on ReadCube.
from$8.99
All prices are NET prices.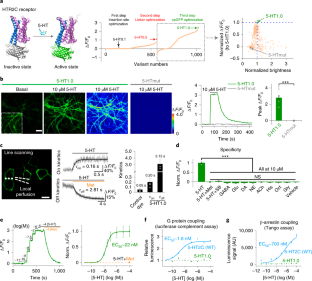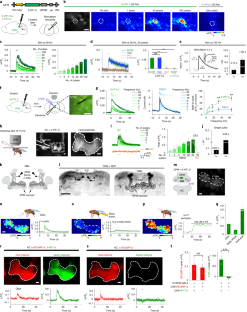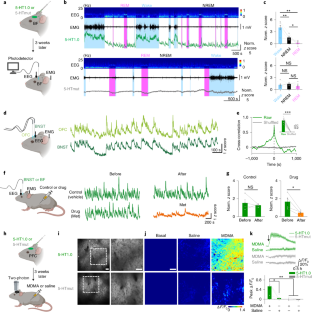 References
1.

Lesch, K. P. et al. Association of anxiety-related traits with a polymorphism in the serotonin transporter gene regulatory region. Science 274, 1527–1531 (1996).

2.

Li, Y. et al. Serotonin neurons in the dorsal raphe nucleus encode reward signals. Nat. Commun. 7, 10503 (2016).

3.

Portas, C. M. et al. On-line detection of extracellular levels of serotonin in dorsal raphe nucleus and frontal cortex over the sleep/wake cycle in the freely moving rat. Neuroscience 83, 807–814 (1998).

4.

Vaswani, M., Linda, F. K. & Ramesh, S. Role of selective serotonin reuptake inhibitors in psychiatric disorders: a comprehensive review. Prog. Neuropsychopharmacol. Biol. Psychiatry 27, 85–102 (2003).

5.

Fuller, R. W. Uptake inhibitors increase extracellular serotonin concentration measured by brain microdialysis. Life Sci. 55, 163–167 (1994).

6.

Bunin, M. A., Prioleau, C., Mailman, R. B. & Wightman, R. M. Release and uptake rates of 5-hydroxytryptamine in the dorsal raphe and substantia nigra reticulata of the rat brain. J. Neurochem. 70, 1077–1087 (1998).

7.

Candelario, J. & Chachisvilis, M. Mechanical stress stimulates conformational changes in 5-hydroxytryptamine receptor 1B in bone cells. Cell. Mol. Bioeng. 5, 277–286 (2012).

8.

Jing, M. et al. A genetically encoded fluorescent acetylcholine indicator for in vitro and in vivo studies. Nat. Biotechnol. 36, 726–737 (2018).

9.

Patriarchi, T. et al. Ultrafast neuronal imaging of dopamine dynamics with designed genetically encoded sensors. Science 360, eaat4422 (2018).

10.

Sun, F. et al. A genetically encoded fluorescent sensor enables rapid and specific detection of dopamine in flies, fish, and mice. Cell 174, 481–496 (2018).

11.

Feng, J. et al. A genetically encoded fluorescent sensor for rapid and specific in vivo detection of norepinephrine. Neuron 102, 745–761 (2019).

12.

Bajar, B. T. et al. Improving brightness and photostability of green and red fluorescent proteins for live cell imaging and FRET reporting. Sci. Rep. 6, 20889 (2016).

13.

Pedelacq, J. D., Cabantous, S., Tran, T., Terwilliger, T. C. & Waldo, G. S. Engineering and characterization of a superfolder green fluorescent protein. Nat. Biotechnol. 24, 79–88 (2006).

14.

Peng, Y. et al. 5-HT2C receptor structures reveal the structural basis of GPCR polypharmacology. Cell 172, 719–730 (2018).

15.

Ballesteros, J. A. & Weinstein, H. [19] Integrated methods for the construction of three-dimensional models and computational probing of structure-function relations in G protein-coupled receptors. Methods in Neurosciences 25, 366–428 (1995).

16.

Harada, K. et al. Red fluorescent protein-based cAMP indicator applicable to optogenetics and in vivo imaging. Sci. Rep. 7, 7351 (2017).

17.

Wan, Q. et al. Mini G protein probes for active G protein-coupled receptors (GPCRs) in live cells. J. Biol. Chem. 293, 7466–7473 (2018).

18.

Barnea, G. et al. The genetic design of signaling cascades to record receptor activation. Proc. Natl Acad. Sci. USA 105, 64–69 (2008).

19.

Ishimura, K. et al. Quantitative analysis of the distribution of serotonin-immunoreactive cell bodies in the mouse brain. Neurosci. Lett. 91, 265–270 (1988).

20.

Waddell, S., Armstrong, J. D., Kitamoto, T., Kaiser, K. & Quinn, W. G. The amnesiac gene product is expressed in two neurons in the Drosophila brain that are critical for memory. Cell 103, 805–813 (2000).

21.

Lee, P. T. et al. Serotonin–mushroom body circuit modulating the formation of anesthesia-resistant memory in Drosophila. Proc. Natl Acad. Sci. USA 108, 13794–13799 (2011).

22.

Keene, A. C. et al. Diverse odor-conditioned memories require uniquely timed dorsal paired medial neuron output. Neuron 44, 521–533 (2004).

23.

Yu, D. et al. Drosophila DPM neurons form a delayed and branch-specific memory trace after olfactory classical conditioning. Cell 123, 945–957 (2005).

24.

Xu, M. et al. Basal forebrain circuit for sleep–wake control. Nat. Neurosci. 18, 1641–1647 (2015).

25.

Ren, J. et al. Anatomically defined and functionally distinct dorsal raphe serotonin sub-systems. Cell 175, 472–487 (2018).

26.

Oikonomou, G. et al. The serotonergic raphe promote sleep in zebrafish and mice. Neuron 103, 686–701 (2019).

27.

Ren, J. et al. Single-cell transcriptomes and whole-brain projections of serotonin neurons in the mouse dorsal and median raphe nuclei. eLife 8, e49424 (2019).

28.

Rudnick, G. & Wall, S. C. The molecular mechanism of 'ecstasy' [3,4-methylenedioxy-methamphetamine (MDMA)]: serotonin transporters are targets for MDMA-induced serotonin release. Proc. Natl Acad. Sci. USA 89, 1817–1821 (1992).

29.

Bicks, L. K., Koike, H., Akbarian, S. & Morishita, H. Prefrontal cortex and social cognition in mouse and man. Front. Psychol. 6, 1805 (2015).

30.

Liechti, M. E., Saur, M. R., Gamma, A., Hell, D. & Vollenweider, F. X. Psychological and physiological effects of MDMA ('ecstasy') after pretreatment with the 5-HT2 antagonist ketanserin in healthy humans. Neuropsychopharmacology 23, 396–404 (2000).

31.

Hagino, Y. et al. Effects of MDMA on extracellular dopamine and serotonin levels in mice lacking dopamine and/or serotonin transporters. Curr. Neuropharmacol. 9, 91–95 (2011).

32.

Wang, Q., Shui, B., Kotlikoff, M. I. & Sondermann, H. Structural basis for calcium sensing by GCaMP2. Structure 16, 1817–1827 (2008).

33.

Kroeze, W. K. et al. PRESTO-Tango as an open-source resource for interrogation of the druggable human GPCRome. Nat. Struct. Mol. Biol. 22, 362–369 (2015).

34.

Pfeiffer, B. D., Truman, J. W. & Rubin, G. M. Using translational enhancers to increase transgene expression in Drosophila. Proc. Natl Acad. Sci. USA 109, 6626–6631 (2012).

35.

Dana, H. et al. Sensitive red protein calcium indicators for imaging neural activity. eLife 5, e12727 (2016).

36.

Gibson, D. G. et al. Enzymatic assembly of DNA molecules up to several hundred kilobases. Nat. Methods 6, 343–345 (2009).

37.

Yusa, K. et al. Targeted gene correction of α1-antitrypsin deficiency in induced pluripotent stem cells. Nature 478, 391–394 (2011).

38.

Shin, M. & Venton, B. J. Electrochemical measurements of acetylcholine-stimulated dopamine release in adult Drosophila melanogaster brains. Anal. Chem. 90, 10318–10325 (2018).

39.

Cantu, D. A. et al. EZcalcium: open-source toolbox for analysis of calcium imaging data. Front. Neural Circuits 14, 25 (2020).
Acknowledgements
We thank Y. Rao for providing the two-photon microscope and X. Lei at PKU-CLS and the National Center for Protein Sciences at Peking University for support and assistance with the Opera Phenix high-content screening system. We thank D. Lin and X. Xu for critical reading of the manuscript. This work was supported by the Beijing Municipal Science & Technology Commission (Z181100001318002), the Beijing Brain Initiative of the Beijing Municipal Science & Technology Commission (Z181100001518004), a Guangdong grant, 'Key Technologies for Treatment of Brain Disorders' (2018B030332001), the General Program of National Natural Science Foundation of China (projects 31671118, 31871087 and 31925017), the Science Fund for Creative Research Groups of the National Natural Science Foundation of China (81821092), the NIH BRAIN Initiative (NS103558), grants from the Peking-Tsinghua Center for Life Sciences and the State Key Laboratory of Membrane Biology at Peking University School of Life Sciences (to Y.L.), the Shanghai Municipal Science and Technology Major Project (2018SHZDZX05 to M.X.) and the Shanghai Pujiang Program (18PJ1410800 to M.X.), a Peking University Postdoctoral Fellowship (J.F.), an Alzheimer's Association Postdoctoral Research Fellowship (AARF 19 619387 to P.Z.), a Peking-Tsinghua Center Excellence Postdoctoral Fellowship (Y.Z.) and the Beijing Nova Program (Z201100006820100 to M.J.).
Ethics declarations
Competing interests
The authors declare competing financial interests. J.W., M.J., J.F. and Y.L. have filed patent applications, the value of which might be affected by this publication.
Additional information
Peer review information Nature Neuroscience thanks Adam Cohen and the other, anonymous, reviewer(s) for their contribution to the peer review of this work.
Publisher's note Springer Nature remains neutral with regard to jurisdictional claims in published maps and institutional affiliations.
Supplementary information
GRAB5-HT reports sensory-relevant 5-HT release in Drosophila.
About this article
Cite this article
Wan, J., Peng, W., Li, X. et al. A genetically encoded sensor for measuring serotonin dynamics. Nat Neurosci (2021). https://doi.org/10.1038/s41593-021-00823-7
Received:

Accepted:

Published: